Our fourth day of vacationing was the most relaxed which might be an odd statement once you read all that we did. The morning began as usual with eating breakfast in our room at All-Star Movies. We'd each bought cereal, milk, and fruit and had the same thing almost every day. I also had some Chobani Greek yogurt once in a while, ya know, to keep my mornings cutting edge.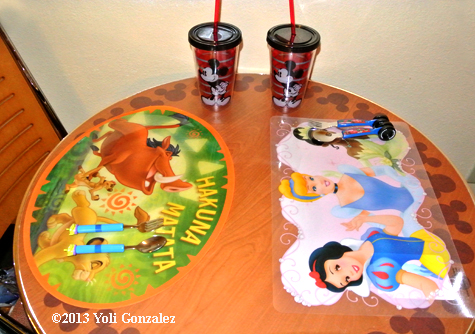 My place setting: Lion King placemat and Toy Story aliens flatware. Yoli's place setting: Disney Princesses placemat, Cars flatware. Matching Mickey Mouse cups were a gift from my friend Agatha.
Two of my Floridian friends very kindly brought Yoli and I on a shopping expedition at Company D and Cast Connection. These stores are exclusive to Cast Members and the occasional guest. Combined, we spent a total of $327.63. Dude! I can't believe it either and I was there! I'm looking at the receipts right now. Here's the breakdown: 15 pins, 2 canvas bags, 1 pair of sunglasses, 1 sunglasses case, 4 cookies & candy, 1 assortment of ice cream sprinkles, 7 T-shirts, 1 toy, 1 Cast Member costume shirt, 1 Mickey head display box, 2 Vinylmation vehicles, 4 Vinylmation keychains, 1 D23 magazine, 2 CM decals, 3 luggage tags, 3 pens, 3 keychains, 2 notepads, and a bib.
If you know someone who can get you into these stores, go! Company D sells items that you can't find anywhere else because they're exclusive to Disney employees. Everything is going to a good home, mine, until birthdays roll around. Cast Connection carries a lot of what's available in Character Warehouse shops at the outlet malls but wait, there's more. Furniture, fixtures, displays, electronics, housewares, bedding, and other items that are no longer need for theme parks, resorts, and wherever else on Disney property are sold here. I saw a bunch of stand alone video games for sale. Sonic the Hedgehog was marked $99.00.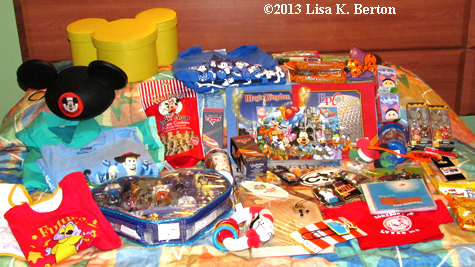 My bed. My assortment of purchases throughout the trip.

Yoli's bed. She bought everything and then some. Her suitcase weighed over 50 lbs. Her backpack ripped open at the top and her carry-on was puffed out like a Q-Tip. No? Puffed out like Puff Daddy. Still not there? Puffed out like the Stay Puft Marshallow Man. Yeaaah.
Next up was Downtown Disney. I went up to the Disney VISA kiosk only to find out they only sign up new cardholders there. To retrieve a rewards card, you have to visit Guest Services. Why? That doesn't make any sense. I write monthly checks to Chase Card Services not to The Walt Disney Company. Guess who's getting a very unhappy letter from me?!
I had bought a Groupon deal, $20.00 for two people to soar on Characters in Flight. One small problem, it was too windy and the balloon was grounded. (Grumble, grumble.) So we did what any young ladies would do, we went shopping in West Side. Yoli's friends met up with us and we walked through what used to be Pleasure Island. Don't get me started.
Lunch was at Raglan Road. On Tuesday afternoons, they don't have entertainment just so you know. A manager took good care of me and my dietary restrictions. Yoli and I both had the fish and chips. I love Raglan Road so I'm sad to say this meal was not up to their standards. We each had one medium size piece of fish and a bunch of chips (thick french fries) that cost $17. Yeesh! I'm a wee bit foggy on what Yoli's friends had but I think one had the lobster wrap and the other ate a burger. My main objective was to inhale Ger's bread and butter pudding. I ate about half and even shared a little with anyone who wanted to try it.
After a little walking, Yoli's friends decided to head home. We then began shopping our way through Downtown Disney. Thank goodness for cell phones, I kept losing my friend in World of Disney. At some point I plopped down on a slab of concrete outside Disney's Pin Traders. Yoli ran around window shopping. Upon her return, we braved additional walking for Goofy's Candy Company where, as I discovered, you can sample Goofy's Glaciers. These frozen drinks come in a variety of flavors. Pucker Purple tastes like grape gum. Blech. Gawrshly Berry Blue is blue raspberry. Yum.
I finally got my Disney VISA rewards card then called Chase to transfer my points. We popped into Ghirardelli for free samples then Arriba Bros in search of the cactus glass I should have bought years ago because they don't make it anymore. On the way out I whined about closing the Adventurers Club and Comedy Warehouse.
Among places to visit off-property was the town of Celebration. We still had some light so I drove us around and around, and around, looking at houses and the center of town. We selected which homes we'd buy in each neighborhood, something that came easily as I kept finding dead ends. Hey, I could see Route 192 up ahead, I simply couldn't find it.
A quick stop at the drug store was imperative as poor buddy learned the hard way that she's allergic to neoprene, the material from which nearly every camera strap is made. I believe she also replenished her Oreos and milk stock. See, I told you she likes cookies and milk, the party animal.
We summed up the day off from the parks while having dinner at our resort food court. We both had the chicken penne alfredo, hold the alfredo on mine. I think that was the night I got key lime pie from the fridge. Not so good.
Believe or not, we set out for Disney's Boardwalk. Where did we get the energy? I parked at Boardwalk Inn after driving up and down, over and under the parking lot multiple times until I caved and just parked. I never seem to get a spot near the sidewalk. Anyhoo, we walked thru the hotel, out to the back, and down the stairs. I pointed out shops and restaurants to Yoli as we walked but before we got too far, we stopped to watch a magician. He was excellent and hilarious. We laughed and laughed until his show ended. The next few hours were spent at Jellyrolls, the dueling piano bar. I've only been once before and they had a decent crowd but tonight, they were packed. IBM employees took up most of the tables, stools, and air. They were in town for the company's new exhibit at Epcot's Innoventions.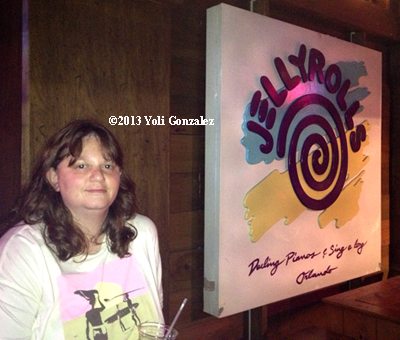 Cheers! Seinfeld! Wings! Night Court!
Neither Yoli or I drink so I had a Shirley Temple and Yoli didn't have anything. It was fun, I just wish people were quieter so I could hear the performers better. Sometimes it took me a while to figure out what they were singing. My favorite was the theme to Charles in Charge. Yoli rocked out to AC/DC.
We hobbled back to the SUV, I drove to the resort, and we hobbled some more to the room. Every night I helped my feet relax with my tried and true C.O. Bigelow Mentha Tingling Foot Cream. Nighty night.
Newbie and the Geek bonus videos/photos/recaps are only available on my Facebook page. Follow me on Twitter, my handle is lisano1.