As a longtime Sunshine State resident who has survived 18 hurricane seasons, I really feel for East Coast residents and what they are facing because of Hurricane Sandy. It's frightening, to say the least, to see a massive storm slowly approaching your home.
For my husband and I — and most of Central Florida — the scariest events in recent years occurred in August and September 2004 when Hurricanes Charley, Frances and Jeanne passed over the Orlando area. Our son was almost 2 years old and I was 8 months pregnant with my daughter when Charley devastated our area, ripping roofs off homes, knocking power out for days, and stopping traffic with a forest of downed trees.
Two of those storms forced Walt Disney World to close its parks, which is a rare occurrence. Last year, Hurricane Irene neared Disney Cruise Lines' private island, Castaway Cay, and Sandy just hit it on the way to Atlantic City. So, what can guests expect when a hurricane threatens their Disney vacation?
First, when you are planning a trip to Port Canaveral or Orlando, know that hurricane season runs from June 1 through November 30 — half of each year. The peak months for storms are August and September.
If a hurricane warning is issued by the National Hurricane Center for the Orlando area or your place of residence no more than seven days before your arrival date at Walt Disney World, you can cancel or reschedule your Magic Your Way vacation without any fees imposed by Disney. This policy only applies to stays booked directly through Disney, and it doesn't guarantee you will receive any offers or discounts from your original booking. It also does not apply to dining experiences, special events, or sports and group packages.
Guests who book their trips through travel agents or tour operators will need to contact them directly for information about cancellation policies. This also is true for airlines, rental-car companies and other related services.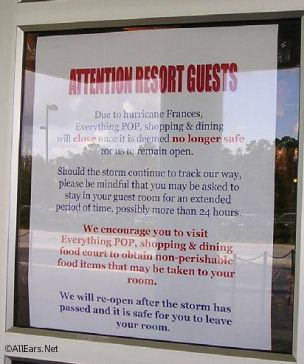 But what if you're already at Disney World? In 2004, the Disney World parks were open for half a day on the day Hurricane Charley was expected to make landfall. As you would expect, they were quite uncrowded. Then, guests were asked to hunker down in their hotels as the hurricane made a nighttime pass over Central Florida. Cast members worked to inform everyone what to expect, and even offered extra entertainment to pass the time indoors. The parks opened again in the morning, after what had to have been a very long night for maintenance crews working to clear debris.
AllEars' Anita Answer was staying at Saratoga Springs Resort when Hurricane Charley hit Orlando. Here is her account of that day.
Reader Barbara from Pennsylvania was staying at POP Century Resort during Hurricane Frances. You can read her report, too.
When a hurricane threatens Disney Cruise Line guests, there actually isn't much you can — or should — do. Ships have enough time to to steer clear of hurricanes. This may result in alternate ports or some rough waters, but passenger safety generally isn't an issue. Plus, at one week before departure, passengers will forfeit the entire cost of their cruises if they cancel. DCL may change the ship's departure date, as it did in 2004 when the three hurricanes affected Central Florida.
When Hurricanes Irene passed near Castaway Cay last year, it did damage the idyllic Bahamian island. Cleanup delayed one ship's visit by a day, but that was the only information DCL officials released. (There is a hurricane "bunker" on the island for permanent residents, I'm told.) Hurricane Frances also damaged the island.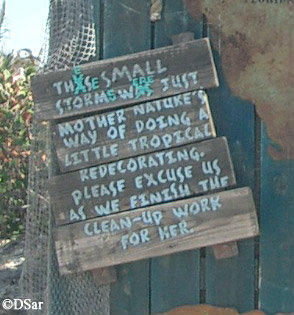 Hurricane Sandy, though, passed directly over the island, last week, which presumably would cause more damage. Disney Cruise Line officials, though, have not released any details and typically prefer not to discuss damages. The next ship is scheduled to dock at Castaway today.
Perhaps the best advice from longtime travelers and travel agents is to purchase trip insurance for your Disney vacation. Be sure you understand what your policy coves when it comes to weather.