Another year has rolled around, bringing us once again to D23's Destination D weekend. This time out, the theme is celebrating 75 years of animated features with a plethora of panels discussing Disney animation of the Past, Present, and Future.
To welcome us in, Steven Clark, head of D23 gave a short address, which was then followed by a dancing flash mob.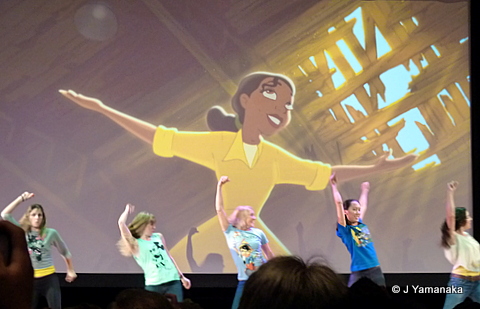 When they finally concluded, a taped message from John Lasseter was played, pumping up the excitement for the upcoming weekend.
The first panel started off with memories of Walt and the First Golden Age of Disney Animation, with people who were actually there: Animator and Disney Legend Burny Mattinson, animator and producer Joe Hale, and documentary director/son of Disney Legend Frank Thomas, Ted Thomas.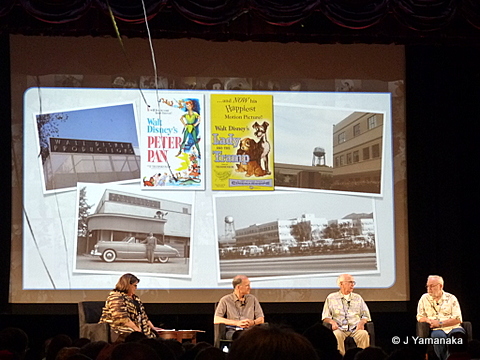 Subsequently, came three panels during which all photography or recording were forbidden. The first was Roy E. Disney and the Second Golden Age of Disney Animation, in which Roy Patrick Disney, son of Roy E. Disney and former Imagineer; producer Don Hahn; animation producers John Musker and Ron Clements; and creative director/head of special projects Dave Bossert, discuss how Roy E. ultimately saved Disney Animation, and by extension, the company.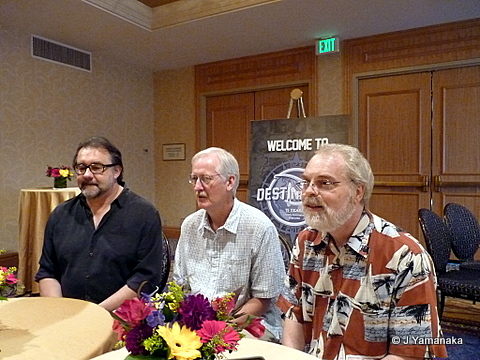 Upcoming animation projects were presented in the panel Inside Walt Disney Animation Studios Today.
One of the movies discussed was Wreck-It Ralph, the movie about a character's existential crisis, as experienced by a character in a video game.
Another was the work-in-progress Frozen, a contemporary musical film, loosely based on the Snow Queen. We were treated to a performance of one of the songs "Let it Go," which will be sung by Idina Menzel, from Wicked.
We were also given the first public screening of paperman, the new short film that will play before Wreck-it Ralph. It displays a new melding of CG and hand-drawn animation, in which the hand-drawn features are layered on top of CG renderings.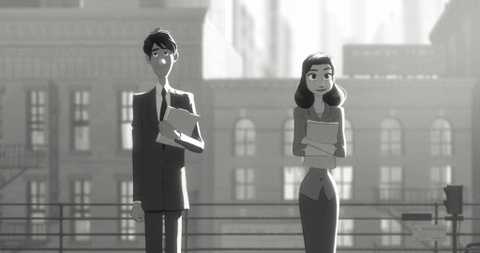 The next presentation, The Greatest Disney Animation You Never Saw, played videos that have been relatively scarce for some time. The preshow to the old Art of Animation attraction in then-MGM Studios, Back to Neverland, with Robin Williams and Walter Cronkite was one, along with footage from Song of the South.
Animating the Disney Parks was a terrific talk with the ever-entertaining Imagineering senior vice president Tony Baxter, talking about his mentor, legend Claude Coats; former Imagineer Eddie Sotto talking about his mentor, legend Herb Ryman; and Imagineering vice president of creative development Tom Morris discussing likewise legend Marc Davis and John Hench.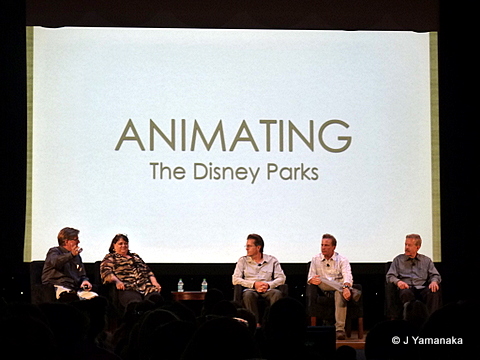 The evening closed out with a concert and screening: An Evening with Dick Van Dyke and the Vantastix, and a screening of the director's cut of Walt & El Grupo.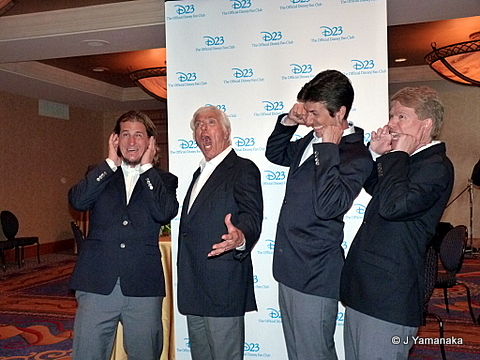 Dick Van Dyke is still amazingly spry for his 86 years, and if he occasionally has a senior moment during the performance (the song list of which was pretty similar to their performance at the Expo last year,) it detracts nothing from the enjoyment of the singing or his not-inconsiderable charm.
The documentary of Walt's goodwill trip to South America with his band of artistic talent is the product of Ted Thomas and producer Kuniko Okubo, and is a great look at all these famous Disney film makers when they were in their prime, and at the height of their talents.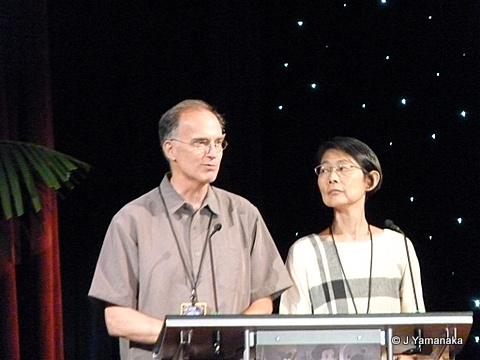 Day Two coming up!