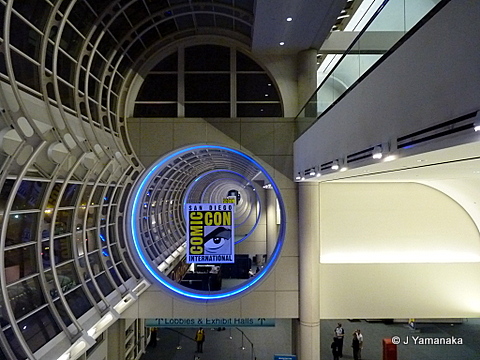 Another year's Comic-Con has come and gone, and if there was one overwhelming impression I got out of it, it was "Good Heavens, There's A Lot of People Here!"

This is all one line. And not even all of the one line. And the room was already partially full from people who sat through the panel before this one. And those people had probably spent the night before sleeping out on the sidewalks in line to assure themselves of a seat.
In the Exhibition Hall, most of the major studios were represented by huge elaborate booths, and Disney was no exception this year.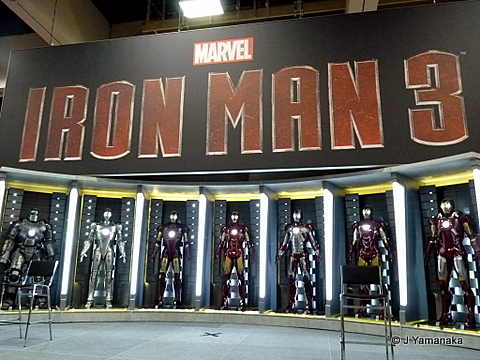 Although the Disney Studios had their own panel, their flashiest property was clearly Marvel. Through some annoying scheduling, it was impossible to see both the panel and the press conference, so I opted for the one that didn't require camping out overnight.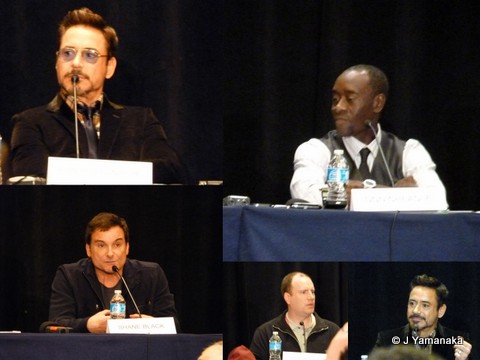 Attended by Marvel president Kevin Feige, director Shane Black, Don Cheadle, and Robert Downey, Jr., the press panel mostly answered questions pertaining to the upcoming "Iron Man 3" film, which they said would concentrate on the relationships the various characters have with each other, in addition to exploring Tony Stark's limitations in a post-Avengers world.
While I wasn't there, Marvel Studios released some B-Roll footage of various parts of the general panel, including this one of Downey entering the cavernous Hall H.
(Those of us who saw him at the last D23 Expo Studios presentation probably remember that he seems very fond of going immediately to tape once appearing on stage.)
The Walt Disney Studios had their own press event, showcasing three upcoming movies.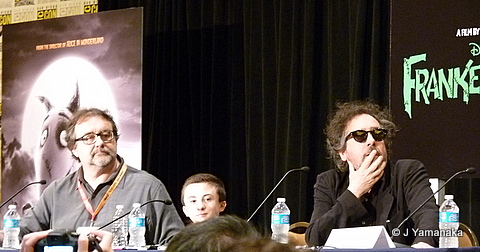 "Frankenweenie" was up first, with a panel including Executive Producer Don Hahn, Director Tim Burton, and voice talent Atticus Shaffer. Among other things, Hahn noted that this is the first black and white stop motion film ever. When asked about the state of current superhero movies, Burton commented that when he did his first one, he was told it was "too, too dark. Now it looks like Batman on Ice." Both felt that stop motion is a lost art, but is one of the purest forms where you can really see the hand of the artist in the medium.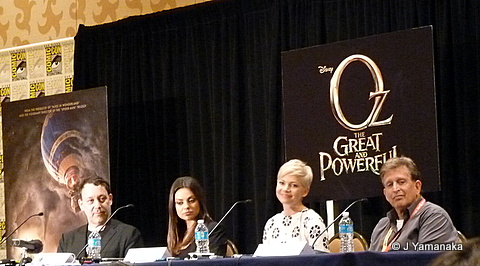 Next up was "Oz the Great and Powerful," with Director Sam Raimi, Actresses Mila Kunis and Michelle Williams, and Producer Joe Roth. Speaking generally about the movie, Raimi described it as a straightforward family/Disney movie, showing how some people can be "sinners and hurt people," and then realize that the things they do in the world have consequences and ultimately grow into the best person they can be. Roth commented that the film is a prequel to the famous musical film, and that none of them would want to simply do a remake (Raimi also said that they did not have the legal rights to use the original Emerald City or ruby slippers in any case.)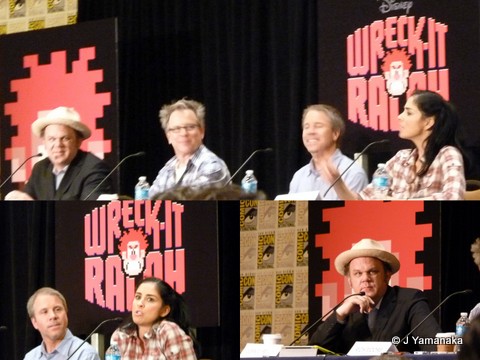 The third film on their docket was the highly-anticipated "Wreck-It Ralph" with voice talent John C. Reilly and Sarah Silverman, Producer Clark Spencer, and Director Rich Moore. This panel, largely because of the talent involved, was more humorous and a good deal more profane than the previous ones. When asked about violence, Moore stated that although there was a lot of violence, as would be obligatory when portraying shooter video games, it was never gratuitous or gory–they made an effort to represent each genre while still being a family film. A question about how they developed the voices for their characters was answered by Silverman as being more of a process that was influenced by everyone's contributions. "That's why when Disney movies come out, they're [expletive] masterpieces!"
One question they were surprised to be asked repeatedly through their press junket was whether they had any difficulty getting the rights to use the different video game characters. "If you made Frogger," Reilly replied, "a game no one plays anymore–is it really a difficult negotiation to say 'yes,' he could be in a movie?"
Finally, the question of whether people would necessarily need to be familiar with the video games in order to understand the movie was asked–Moore replied that the story was made emotional and the characters relatable without any connection to games, as he laid out a traditional story before laying on an accoutrement of video games. Spencer maintained that the relationship of Ralph and Penelope is the core of the movie, and Reilly commented that the main characters are made up and explained as they go along, so you don't need to know anything else. Silverman: "These are just avatars to tell a story as old as time."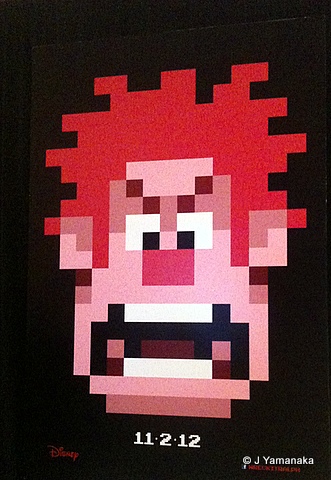 Next Time: Tron Uprising, and Epic Mickey II.