I'm back! Did you miss me? Wha…what do you mean, "oh, did you go somewhere?" Oh well…
Disneyland Paris celebrated it's 20th anniversary on April 12, 2012, which seemed like a good enough reason for me to make my inaugural trip out there. As I mentioned in my last blog, Jack Spence has already done a terrific job detailing the resort in his column (/blogs/jackspence/disneyland_paris/) I'll stick to relating my personal impressions and recent changes.
I flew over on British Air, connecting through Heathrow, and flew back on Air Tahiti Nui, non-stop. I know I've harped before on the importance of upgrading international flights…and I'm going to continue to do so. For me, being able to show up at a place without feeling like I've just been put through a meat grinder for the last 12 hours is a huge contribution to my travel experience. I would much rather get a cheap hotel room that I'm only going to use for showering and sleeping, and then put the money towards a better seat/bed that I'm going to be strapped into for a day.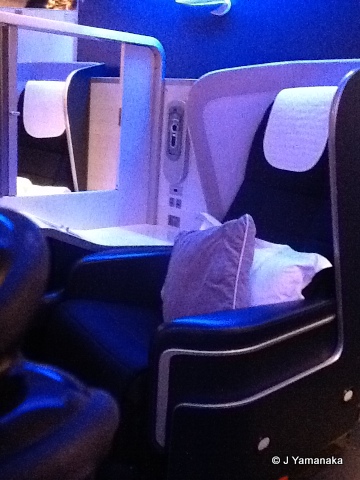 Plus, I got to fly in the same cabin as Ewan McGregor–which I texted to everyone I knew before takeoff. Of course then, during the flight, I got to ponder that if the plane went down, the last words anyone was going to have received from me was "Ewan McGregor." On the upside, I figured if we crashed, anyone who got a seat in his liferaft was golden, because you know that's the only one anyone's going to care about rescuing.
Arriving at the Charles de Gaulle Airport, I had the difficulty of located the VEA shuttle, for which I had previously bought tickets online (http://www.vea-shuttle.co.uk/). I'm told they typically have obvious signs, however due to construction they appear to no longer be obvious.
Travel Tip #1: Write down and take with you as much information as you can find out in advance. You cannot always be reliant on the kindness of strangers.
If you use the VEA shuttle, the advantage is that it will take you directly to the hotel and you won't have to maneuver your luggage around as much. The disadvantage is that it is slightly more expensive than taking the train, and only leaves from one terminal at CDG. If your flight comes into a different terminal, you need to figure out where to catch a separate bus, which will then take you to the that terminal. Faced with the prospect of waiting outside in the rain to then have to heave all my luggage on and off another bus, I ended up just walking around the airport to the pick-up point. I asked a number of people about the bus, most of which were happy to point you in the general direction of where you had to go, but were non-specific on details, and there were very few official people around to ask in any case. As a general rule, this was a theme I found for the entire trip–the number of people available to ask for directions or information were pretty sparse.
On arriving at Disney's Sequoia Lodge, one thing immediately noticeable was that there was again no one around the front to direct you…consequently, I had to make a couple of trips trying to check in before finding the correct place to do so. Although there is a baggage desk, it's located in a separate room off to the side of the hotel entrance, so there really aren't people readily available to volunteer to help you with your luggage. If you were expecting a folder-full of information as you usually receive when you check into a WDW hotel, you'd be disappointed on that aspect as well–I received a key card and an envelope with my new AP in it, and that was it. I asked whether they had a map of the resort in case I got a chance to go around and see the other hotels, and the response was "no."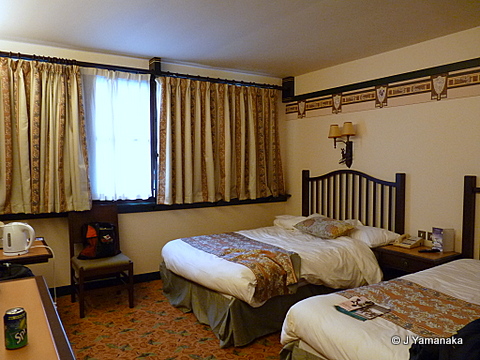 The rooms were relatively unexceptional. My room was in the main building (an asset, as the ones in the outer lodges could reputedly be a hike to the buses and restaurants,) and part of a block of rooms recently refurbished. Comparable to a moderate (although with prices closer to a low deluxe,) it was clean with reasonable furnishings, however the towels were pretty bad–your gym probably hands out ones about the same quality. If you like face towels, much like in the rest of Europe, you should probably bring your own, as they don't stock them here. There was no liner for the ice bucket which seemed unsanitary until I remembered that, by and large, they don't like terribly cold beverages, which probably means that they only use the bucket for chilling bottles. The room doesn't come with an electric kettle but one is available on request–if you know to ask. There's no folder or anything inside the room to let you know what's at the resort. There is information in the form of an electric menu on the TV, however some of it (hours of operation, etc.) was out of date. You could theoretically have gotten your account information on the TV as well, but mine said it was "unavailable," which was probably just as well, as it also had the wrong name on it.
The best thing by far on the TV was a "Stacy's Top Seven" equivalent–a British girl named Sophie, who would enthusiastically expound on various parts of the resort and then end each item on her list with "SORTED!!"
Next: I finally get over to a park.