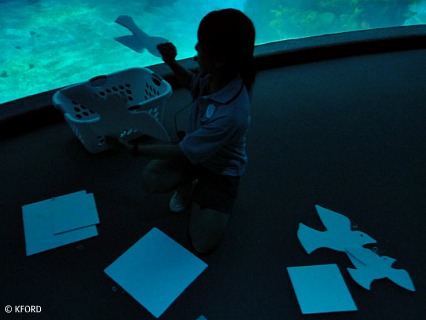 An Epcot cast member helps prepare the shape cards for dolphin training.
My almost-8-year-old daughter loves dolphins these days, something that's not uncommon for little girls, it seems. And, certainly, last year's Dolphin Tale movie inspired kids to to find out more about the mammals and other marine life.
Moved by my daughter's new passion, I began looking into what types of interactions and experiences with dolphins Walt Disney World offers its guests.
At Epcot, four dolphins — Malabar, Rainier, Khyber and Calvin — live in the aquarium at The Seas with Nemo & Friends. Visitors can watch them glide by and play from both the lower-level windows and the upper-deck viewing areas. And when the dolphins need a break, they can swim through a gate to pools "back stage" that guests cannot see.
Three times a day, trainers educate interested visitors about dolphin behavior with 15-minute presentations with the animals in the Observation Deck on the second floor. (A daily schedule is posted near the second-floor walkway to the dolphin tanks.)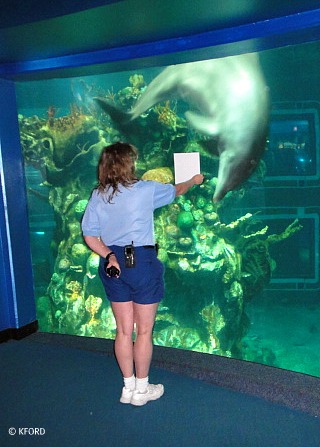 A Disney dolphin looks at the shape card he is supposed to match.
"It's interesting to see how surprised guests are at how smart dolphins appear to be," said Kim, a long-time dolphin trainer at Disney World.
She said trainers try to show guests something different every day, but one of their current projects involves cognitive research to study how dolphins perceive surface area. For example, can a dolphin learn to recognize a triangle it has just seen because of its shape, size, or both? Kim said it can take a dolphin up to a year to learn to discriminate between shapes, something they hope translates to a useful skill in the dolphin's environment.
A dolphin tries to match a shape card he's seen by pointing to a bird outline.
During the presentation, one trainer will hold a shape card to the tank's glass and a dolphin will swim over to take a look. Then, the dolphin receives a signal to move to the next window and choose between two shapes to find a match. If he succeeds, he gets whistle and hand signals from the trainer and applause from the audience before heading to the surface for a food reward from another trainer. Guests usually find it amusing when the dolphin blows bubbles, pleased with himself for choosing the correct answer.
Disney's focus on dolphins is a scientific one, Kim said, rather than an entertaining one.
Disney World does have one up-close dolphin interaction called Disney's Dolphins in Depth. During this three-hour, behind-the-scenes program, participants learn how Disney cares for the dolphins each day, how researchers study and train them backstage and what issues are affecting marine life worldwide. During the last 30 minutes, guests stand in waist-deep water and interact with the dolphins. There is no swimming involved, and the group is limited to 8 people per day.
Participants must be at least 13 years old, and those 17 and younger must be accompanied by a parent. The cost is $194 plus tax per person; theme park admission is not required or included in this experience. Disney's Dolphins in Depth takes place at 9:45 a.m. Tuesday through Saturday.
To read more about The Seas with Nemo & Friends, see the AllEars resource page at /tp/ep/e_seas.htm