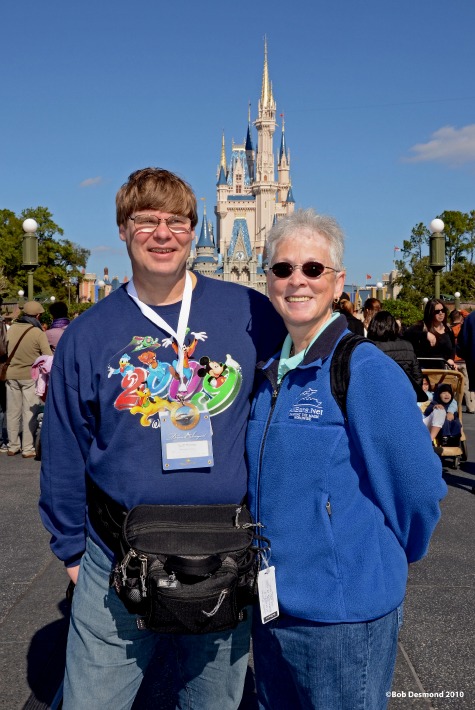 Deb Wills and Scott Thomas in the Magic Kingdom.
Photo by Bob Desmond.
Being an early Internet user back in the 1990's and a Disney fan, I found Deb's website soon after it launched. It was and continues to be invaluable in getting up to date news about Walt Disney World and a source of great ideas and tips to enjoy the parks to their fullest. I later learned about her successful battle with breast cancer and all the work she does in raising funds in support of cancer research and people in their own cancer fight.
In 2000, I launched my PS Calculator website and Deb contacted me to do an interview and later got to meet her at Epcot (click here to read the interview and see my first meeting with Deb). This lead to a long term relationship wherein AllEars.net hosts a version of my priority seating tools and information.
After I started sharing my Walt Disney World photography online, Deb asked me to join Barrie (and later Lisa) in writing a weekly article for AllEars.net's new blog central about photography. Thus, I became an official team member of AllEars.net and have been enjoying sharing photography information geared towards us, fans of Walt Disney World, for the last three and a half years. In fact, it was at a photowalk I hosted in January on Main Street USA where Deb and I had our photo (see above) taken by freelance Disney photographer, Bob Desmond, in front of Cinderella Castle. Ten years later and we both look great…right?
Today, I am at Walt Disney World and will be joining Deb, other AllEars.net team members and many fans and friends of Deb and her website in celebration of 15 years of AllEars.net. Maybe I will see you there. If not, you can be sure I will be sharing the special adventures Deb has planned for everyone with you here.