Water Parks
Tours and
Special Experiences
Sports-Related
Activities
Community/
Gatherings
Other Fun Things
SeaWorld Orlando
Writers' Corner
Orlando Area
Information
Archives
Meet Deb Wills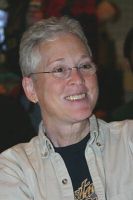 Deb Wills
Creator and Founder of AllEars.net®
Deb's Independent Disney Travel Guide (allears.net) and ALL EARS® Weekly Newsletter
Bitten by the Disney bug at an early age, Deb Wills has combined her skills in computer technology with her love of the Disney theme parks to create Deb's Unofficial Disney Travel Guide. In the last seventeen years, she has developed the site into one of the most up-to-date, independent resources about Walt Disney World, Disneyland and the Disney Cruise Line on the Internet, with tens of thousands of pages of information, thousands of photos, menus from every WDW restaurant and more than 10.0 million "page views" and over 700,000 unique visitors per month.
In conjunction with the website, Deb publishes ALL EARS®, a free weekly electronic newsletter that has over 145,000 subscribers from around the world. ALL EARS®, which started publication in September 1999, informs readers on what's happening at Walt Disney World with previews, interviews, news, reviews and much more. A promotional companion newsletter, Ears the Deal(tm) goes out 2-3 a month to over 105,000 subscribers.
Deb is internationally recognized as an expert Disney Vacations ranging from Walt Disney World to the Disney Cruise Line and to Disneyland. A veteran of countless trips to Walt Disney World and Disneyland, Deb also set sail on over 35 cruises. She has appeared on numerous podcasts as a guest host/speaker and has made several presentations to standing room only crowds at MagicMeets (a summer gathering of Disney fans in PA.) and the Pacific Northwest Mouse Meet.
Deb has contributed to Bob Sehlinger and Len Testa''s Unofficial Guide to WDW book the last several years and previously was a member of the Passporter Guide Books review team.
Deb actively participates in events designed to raise funds and awareness in the fight against Breast Cancer, of which she herself is a survivor in 1986. Deb has participated in 12 Avon Breast Cancer Walks (both as a walker and a crew member) for which she has raised over $400,000 since 2001. Deb was the featured speaker at the 2010 Washington DC Avon Walk for Breast Cancer closing ceremony. For her special efforts in the fight against breast cancer, Deb received the 2006 Food & Friends Spirit of Friendship Award.
Some of Deb's earliest Disney memories are of attending the New York World's Fair and experiencing It's a Small World and Carousel of Progress. Deb's first trip to Walt Disney World was in 1972. Later in the 1970s, Deb organized and managed several trips to the Orlando theme parks for disabled adults from the Washington, DC area. She began yearly trips to Orlando in the early 1990s and soon she was at the Guest Services window in the Magic Kingdom, purchasing her first (of many) annual passports. Originally from the New Jersey shore, Deb has spent most of her adult life in the Maryland suburbs of Washington, DC.
She co-authored the 2nd edition of "Passporter WDW for Your Special Needs", with Debra Martin Koma. The new title is Passporter's Open Mouse for Walt Disney World and the Disney Cruise Line. In its 400-plus pages, the bookdelivers in-depth, painstakingly researched information on a wide spectrum of accommodations for special needs travelers.
Deb is available for interviews, podcasts, appearances, live "chats", and presentations -- please use this contact form.