by John Bowers
Guest Blogger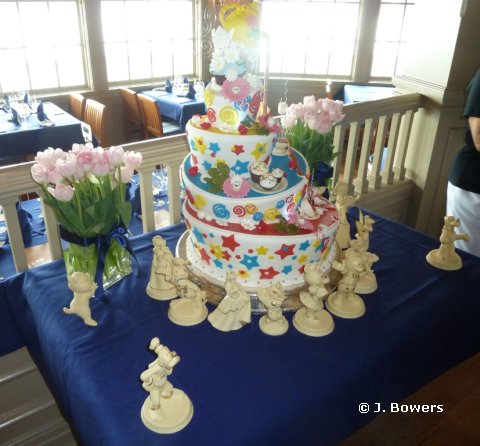 On Sunday, July 10, 2011, Tables in Wonderland hosted a Sunday Brunch at Narcoossee's at the Grand Floridian Resort and Spa. The featured wines were from Domaine Chandon, the highly regarded winery in Yountville, California Domaine Chandon is especially known for its sparkling wines, of which we had two. We were also treated to a chardonnay, a pinot meunier, and a pinot noir. Why those three in particular? That's the answer to a trivia question! Read on….
Narcoossee's sits on the shore of the Seven Seas Lagoon, and sometimes seems kind of forgotten amidst the fame of both Victoria & Albert's and Citricos, which are next to each other on the second level of the main hotel. You take a little stroll out to the lagoon to get to Narcoossee's, but once there the dining room offers a great view toward the Magic Kingdom. You can see the top of Cinderella Castle and almost all of Space Mountain, as well as a view of the monorails coming and going. It's a lovely view; if you haven't seen it, you should.
We started with a reception, which (as you might expect) featured a variety of hors d'oeuvres, plus sparkling wine (Moet Chandon Extra Dry Riche) and Bloody Marys. The Bloody Marys were made with Belvedere Bloody Mary Vodka. Belvedere combines separate vodkas that have been flavored with seven different ingredients, including black pepper, lemon, horseradish, and tomato The resulting vodka is very spicy, and all you do is add tomato juice.
If you're a Bloody Mary fan, I definitely suggest you try this vodka for an easy and fabulous drink. The bar had quite a selection of garnishes for our Bloody Marys. No plain old celery stick here! There was a skewer that held a single jumbo shrimp, one that held three kinds of olives, one that held bites of roasted garlic and sweet pickles, one that held a whole roasted/smoked pepper, and finally one that had little rolled up slices of flatbread, cheese, and ham. At least I think that adequately describes it all. One could have made a meal just out of these treats. And all of it just to garnish your Bloody Mary!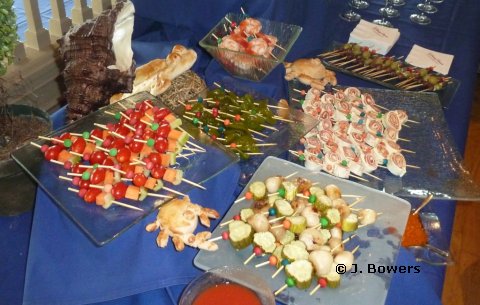 Hors d'oeuvres-wise, we had a selection of three delightful choices. We had a Spiced Shrimp Skewer with Horseradish Foam (I didn't detect much foam, but come on, why be picky when there's this much good stuff?), Caviar on Potato Cakes with Lobster, Crème Fraiche and Chives, and Smoked Salmon with Haas Avocado and Mascarpone Cheese on Romaine Hearts. All three were, as they say, to die for. The salmon was especially wonderful.
Following the reception, we were all seated at tables and Mike Ehrbar of Moet Hennessy talked about the process of making sparkling wine. Mike is the Training and Development Manager for the Moët Hennessy Brand. Domaine Chandon is a French-owned partnership between the famous Champagne producer Moet & Chandon, and the equally-well-known cognac producer Hennessy. Mike tossed out trivia questions, and the first person with the correct answer received a bottle of sparkling wine. Here's a sample question: Name the three grapes that go into making sparkling wine. Pinot noir, chardonnay, and pinot meunier. Here's another: the formula for sparkling wine is "blank plus blank equals blank plus blank." The answer will come later.
Our first course, the appetizer trio, was a beauty. Tuna Niçoise with a Poached Quail Egg, Seared Scallop with Basil-Citrus Emulsion, and Jumbo Lump Crab Cake with Remoulade Sauce. Dazzling. Paired with these three ocean-going delights was a mouth-watering Domaine Chandon Chardonnay.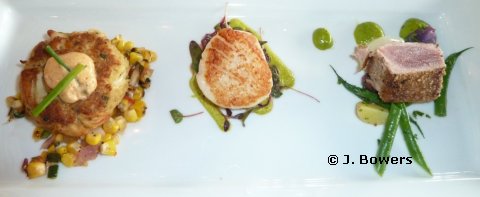 The salad course was beautiful to look at, and a treat to eat. Roasted Beet Salad with Watercress, Frisée, Goat Cheese, Candied Pecans, and Orange-Honey Vinaigrette. The beets were golden beets, not the red beets most of us are more familiar with. I'm still swooning over the flavors. Paired with the salad was a Domaine Chandon Pinot Meunier. You don't see too many pinot meuniers on menus, or in wine stores, at least not here in Central Florida. Pinot meunier is a red grape, and it's mostly used in the production of sparkling wines, not so much as a still wine grape. But I'm here to tell you, this California pinot meunier was a stunning red wine. A little lighter than pinot noir, both in color and flavor, it was full of cherry, lavender, and plum. I would highly recommend finding a bottle of it if you can and giving it a try. I knew almost nothing about it, and I was very impressed.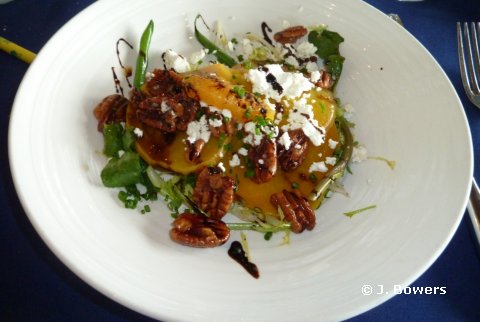 On to the main course. Let's see, we've had two kinds of shrimp, some lobster, smoked salmon, tuna, crab, and scallops. Not bad so far! The main course was a choice between Maine Lobster Frittata, Potato Crust, Chorizo, Asparagus, and Brie…or…Steak and Eggs with Crabmeat, Grilled Asparagus, and Bearnaise Sauce. Can I have both?
I went with the lobster frittata, my three tablemates all went with the steak. The steaks were full-sized filet mignons (or is that filets mignon?), and they were big enough to take some home for dinner. The lobster frittata? Awesome: rich and delicious. Problem was, everyone was so full, there was no way to finish either the steak or the frittata. Beautiful presentations, both of them. The artistry with which the Disney chefs can present food is something to behold.
The wine we were served was the Domaine Chandon Pinot Noir, Carneros. If you need to find a wine that goes with both steak and lobster, pinot noir is a good choice. Most pinots are light enough to complement all but the simplest seafood dishes, but they do have some of those earthy flavors to them, which pairs just fine with beef. Really good pinots are delicious (and usually expensive), and this one was wonderful.
Take a deep breath, it's time for dessert. Almond Crusted Cheesecake with Lambert Cherry Sauce. I need a thesaurus to find adequate superlatives. Rich, decadent, delectable, scrumptious. I'm sure I saw a few eyes rolling back in a few people's heads. This is one of Narcoossee's Signature Desserts, and rightly so. The recipe can be found HERE.
Our dessert wine was the exotic Domaine Chandon Etoile Rose, Napa and Sonoma. We started with a sparkling wine three hours ago, and this was our sparkling exclamation point. A small amount of pinot noir and pinot meunier are added to the chardonnay to get the distinctive salmon color of a rose. The winery's web site suggests you 'try this on a romantic picnic.' Yes, that would be quite the thing to try.
The only downside of the event was that it lasted a bit long. It was originally scheduled to last from noon until 2 p.m., but it was between 3 and 3:30 when we finally finished. A minor quibble, really, when you're being treated to such fine food and wine.
Narcoossee's has had some highly favorable publicity recently, and it is one of the very few restaurants at Walt Disney World that merits a 'Signature Dining' experience. Like Disney's other top tier restaurants, it isn't inexpensive. However, you get a beautiful view of Seven Seas Lagoon, a great view of the Magic Kingdom fireworks if it's that time of the evening, and certainly wonderful food. Dining there, I think, has always been very enjoyable.
And the answer to that trivia question? Yeast plus grape juice equals carbon dioxide plus alcohol.
Cheers!