What if you do not have or want a tripod with you when vacationing at Walt Disney World and you still want to steady your camera? Do a search for camera bean bags or pods like the one pictured here. This model goes by the name of Cam Pod and is a specially designed bean bag. As you can see, it can be folded so an SLR camera with a lens sits comfortably on top of it. This does a couple of things, it raises up the lens angle and keeps your camera off dirty surfaces.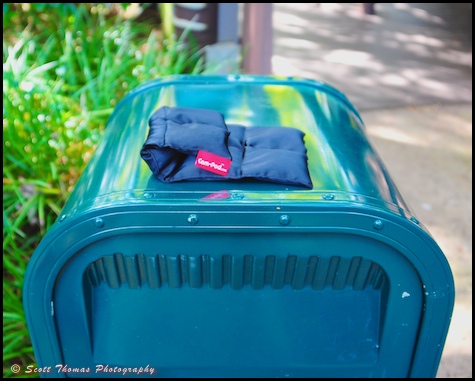 A Cam Pod bean bag sitting on a Disney Quadpod or garbage can.
The Cam Pod is placed on a natural helper, the Disney Quadpod which most people call a garbage can. I lined up my shot, set the aperture to f/22 for maximum depth of field and set the camera to use its timer delay to keep camera shake down to a minimum. Pressed the shutter and stood back as the camera took this photo of the Alligator Bayou section of the Port Orleans – Riverside Resort.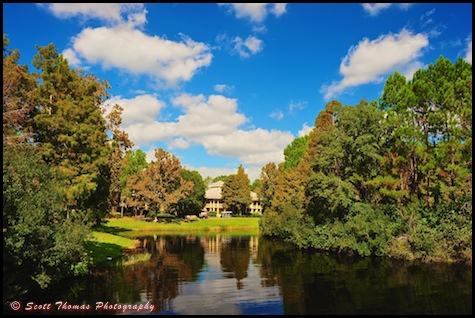 Port Orleans – Riverside Resort's Alligator Bayou section.
Nikon D700/28-300VR, 1/20s, f/22, ISO 200, EV 0, 28mm focal length, Cam Pod
If you are a Do-It-Yourself kind of person, you can make your own camera bean bag. Other people have filled up plastic freezer sized bags with everything from sand to popcorn for their camera pod.