I just finished updating the Disneyland Hidden Mickeys book, so now we're involved with proofing and readying the book for the printer. I want to mention several more compelling Hidden Mickey images at Disneyland.
This classic Mickey image in the cement may be relatively new. In California Adventure's Sunshine Plaza, face away from the Sun Fountain and locate to your right a cement bench that surrounds a planted area. A small classic Mickey is etched in the ground under the right side of the round lip of the bench that juts out. Cast Members and Security Guards nearby may know about this Hidden Mickey, so ask if you need help! (Thanks to Kristi B., Annie Lin, and Phillip Lemon).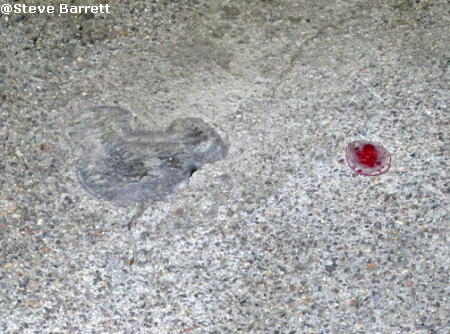 The second Hidden Mickey may have been recently placed as well. After the ballroom scene on the Haunted Mansion ride, as soon as you enter the attic, look to the right for a clock on a bureau. It's to the right of the round portrait of a bride and groom and just to the right of a bright orange and blue lamp. A brown classic Mickey is behind the pendulum of the clock. Remember, look for this gem as soon as you enter the attic. (Thanks to Sarah, Alex Goslar, Brad Steinbrenner, Sylvia McNeil and Matt Dickerson, Tamera, and Jennifer Peterson).
You know how excited you feel when you spot a Hidden Mickey that's hard to find? (At least, that's how I feel!)
Well, I finally found this reference to Mickey in Indiana Jones Adventure. Across from the first drinking fountains in the inside Standby queue, Mickey's initials "M M" in Mara script are on the left wall, just above a horizontal crack in the wall. "M M" is on the far left of the photo below. (Thanks to Luis Valdez).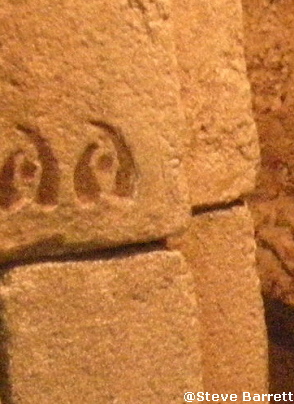 Read more about Steve's Hidden Mickey finds on AllEars.net
Steve maintains a Catalog of Hidden Mickeys on the Hidden Mickeys Guide.