The technique of panning to convey a sense of motion is one that takes practice. Instead of worrying about depth of field as you would for a landscape or a portrait, slow shutter speeds and steady hands are what is needed to get a good panned photo. For unlike most photography, panning means you move your camera instead of keeping it still. Walt Disney World is full of opportunities for panning images. Rides, running children, shows, parades, moving parts of attractions, transportation vehicles and most anything which moves in and around the parks and resorts.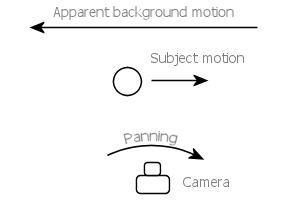 The diagram shown here gives the setup for taking a panning photo. In the diagram, the subject is moving from left to right. The subject could be moving in the other direction or up or down. As long as you can follow it evenly throughout the time it takes to capture the image. How fast and how close the moving subject is will determine the shutter speed to use. I start at 1/60th of a second for people sporting events. For auto racing events, I use 1/125 which often freezes the cars but shows movement in the wheels. For your son or daughter on a bicycle, 1/30 or slower may be in order. I've even experimented at 1/15, 1/8 and as low as 1/4 of a second.
The slower the shutter speed, the more pronounced the sense of movement and the harder it will be to keep your camera steady. Using an image stabilized (IS) lens can help. Most of today's IS lenses detect a panning motion. Nikon's version of IS called vibration reduction or VR for short, is what was used in the example photos for this article.
You still need to do the following to give yourself the best possible panning results. Plant your feet, tuck your arms into your body, hold the camera firmly and rotate the top half of your body as you track your subject. You want to pan as fast as the subject moves keeping it in the same position in your viewfinder as much as possible. Press the shutter down as you continue your motion and follow through even after the shutter has closed. You can use continuous shooting modes if you have time for more than one exposure.
Watching the Big Thunder Mountain Railroad trains from the observation area, I put my panning skills to the test. Of the many photos I took, this was the best one. Be prepared for a low percentage of images you'll find acceptable when trying this technique. Panning at places with lots of opportunities, like a themepark ride, will give you a better chance of getting a few good panned photos.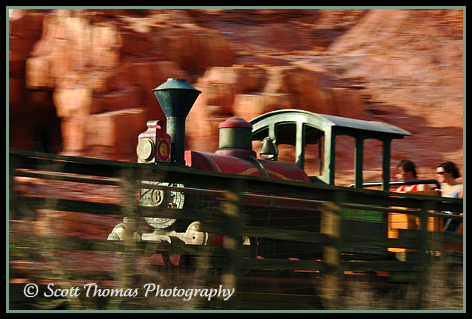 Panning for Gold on Big Thunder Mountain.
Nikon D70/18-200VR, 1/50s, f/22, ISO 200, -0.6 EV, 95mm Focal length
Next I went over to the Tomorrowland Indy Speedway. Can you tell how fast this car is going? Tomorrowland Indy cars can only reach a maximum speed of 7.5 mph. If this photo looks familiar I used it for the Disney Pic of the Week on Motion a couple of weeks back.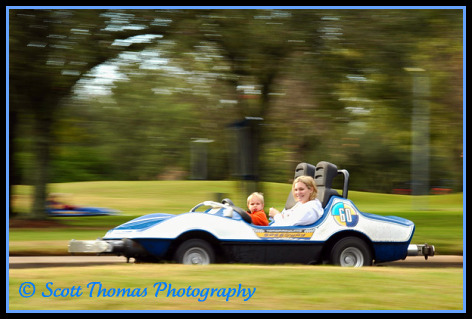 Panning shows how fast 7.5 miles per hour can look.
Nikon D70/18-200VR, 1/20s, f/18, ISO 200, 0 EV, 95mm Focal length
Panning is a worthwhile technique to learn. All you need is to find a place to practice. A local park where people like to roller blade or bicycle is ideal. I went to a local drag strip and, after a couple of visits, became very comfortable with panning the cars going down the quarter mile strip of asphalt. You'll have to take a lot of photos to get a few great panning ones but the results are often stunning and grab a viewer's attention right away.
Next week I'll be at Walt Disney World and will be taking a break from blogging. If you have any questions regarding photography at Walt Disney World, leave a comment and I'll try and cover some of them when I get back. Aloha!
NOTE: Comments have now been activated for the Picture This! blog. The comments will appear at the bottom of our posts and Barrie, Lisa and myself would like to encourage you to ask questions and leave comments by clicking the link below each post. Thank you and we hope this will further increase your enjoyment of the AllEars.net Picture This! blog. The Comment link to use is the one on the far right with a number in parenthesis.