Well I'm back in Orlando for 10 days of willfull suspension of disbelief and along the way we all know that I'll be sharing some observations with all of you and hopefully also provide some insight and some tips to help you on your next visit to Walt Disney World.
And of course it would not be any fun unless from time to time I place a photo in this blog and ask you to guess as to from where I snapped this photo.
Here's one…and a hint…it's from an attraction.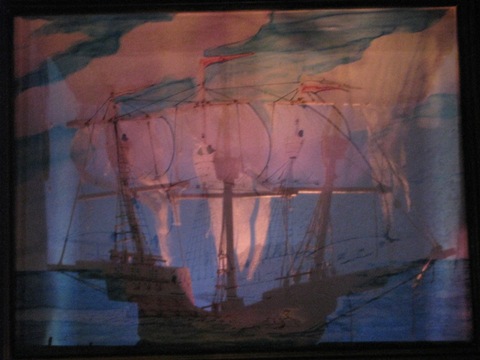 Any guesses?
Now on to other things.
One observation that I need to share with you is best shown in the following picture. I had just enjoyed a performance of the Festival of the Lion King and when Carol and I exited the theater she pointed out this group of strollers.
Notice anything?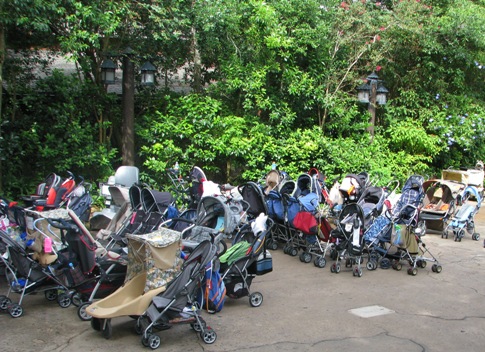 It sure seems that there is a larger percentage of personal strollers in the theme parks than in the past..at least on this particular morning.
Here's something new for all of you who are planning to visit Walt Disney World in the next few months and are on one of the Disney Dining Plans.
Le Cellier in Epcot is currently running a "pilot" as it was described to me, which offers guests a special menu.
This menu has a yellow box at the top and in this yellow box are appetizers, entrees, and desserts.
Here's the deal. If for instance you are on the basic Disney Dining Plan you know that appetizers are outside the plan.
However, if you choose your appetizer, entree, and dessert from those offerrings in this yellow box then Le Cellier will honor all three, yes that includes the appetizer, on the Dining Plan.
Is there a catch? Well, I will tell you that the entrees offerred in the yellow box are certainly not their signature entrees so that's something to consider.
For the record, I did order an appetizer and paid for it and then ordered a signature entree and dessert.
The entrees and desserts in that yellow box just did not appeal to me.
Anyway, if you are lucky enough to have an Advanced Dining Reservation at Le Cellier be aware of the yellow box pilot.
Here's another observation and that is if you are using Disney transportation while in Orlando be sure to always, always, always double-check the bus routes whenever possible.
Some of them are very specific.
For instance, as of the date of this blog entry if you are staying in Pop Century and want to go to Blizzard Beach you would take the bus that goes to Disney's Animal Kingdom from Pop Century. From DAK that bus will continue to BB.
However to get from Pop Century to Typhoon Lagoon you would take a bus that goes to Downtown Disney which will then continue to TL.
Those two routes may change without notice so just be sure you ask before assuming that a particular bus will be going to a particular destination.
That's it for now….
….except for one more photo for you to ry and figure out just where it came from.
Are you ready?
Here it is…and a hint….this cannot be found in a theme park.
Any ideas?
Watch for more from me as I make more Orlando Observations in the days to come.