I spent Saturday morning enjoying breakfast with my fellow AllEars Team members. Then we were off to the ballroom for group photos, mingling, and any last minute touch-ups to the table. Scott and I kept having shootouts because we're cool like that.
As you can imagine, I spent most of the day running around taking photos. This year however, I was able to bid in the silent auction and actually wound up winning but we'll get to that later.
This year's keynote speaker was David Anderson, an Imagineer. He's a college professor and listening to his albeit too short stories about working for Walt Disney made me want to go back to school just to take his classes.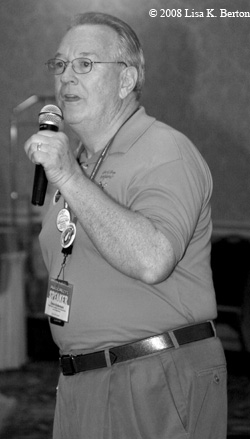 Next came a series of breakout sessions. Deb spoke about how much fun it is for adults to set sail on the Disney Cruise. There was a raffle and here we have Linda Lou amidst the crowd handing out tickets inbetween filming the informal lecture.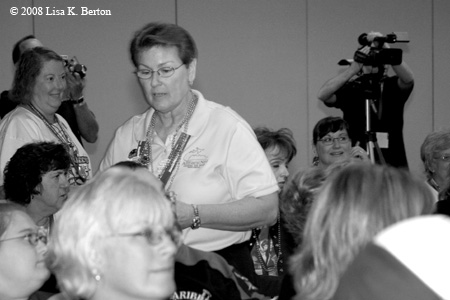 At various intervals throughout the day, door prizes were awarded. We each had a unique number on our ID tags and constantly checked to see if we were the lucky winner.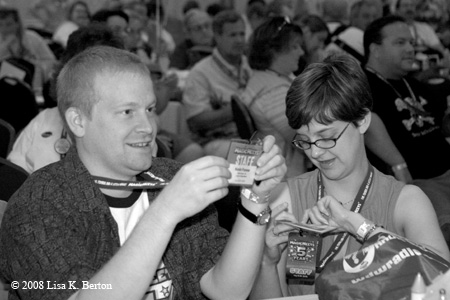 With a headset and cell phone, Fred was communicating with…well I have no idea who with but his trusty Segway was always by his side or under him.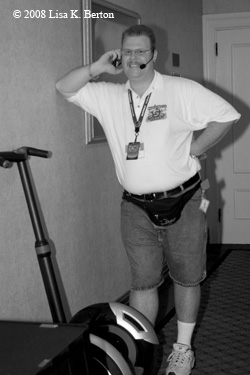 Shortly before the auction ended I made another round or two to check on my bids. Pretty much everything I was interested in had a fantastically high bid. Great for the Dream Team but not me. I found one item that I wanted to get for my friend's birthday and I'd tell you what it is but she reads my blog. After i made my last notation I was stuck in auction traffic. As I stood in the middle of 2 tables, surrounded, the moment they started counting down seconds, a woman who had previously tried to distract me from checking on an item pushed me aside and wrote down one last bid. In the midst of this she also knocked that clipboard onto the ground. It's nice that we all want to help raise money for a fabulous cause but pushing and shoving is not necessary.

The auction is over. Walt Disney Trivia.com Dream Team members collect all clipboards.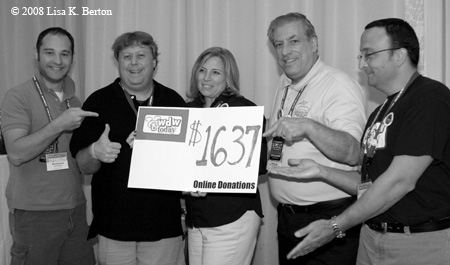 The WDW Today podcasters collected donations from listeners who were tuning in live.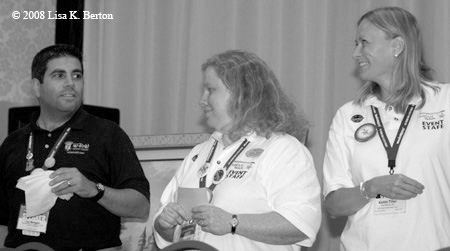 Lou Mongello and his hard-working staff gleefully and tearfully raised $20,000 for the Make-A-Wish Foundation.
When all was said and done, it was an enjoyable day spent with friends old and new. I learned a lot from David Anderson and hope to see him again at Magic Meets.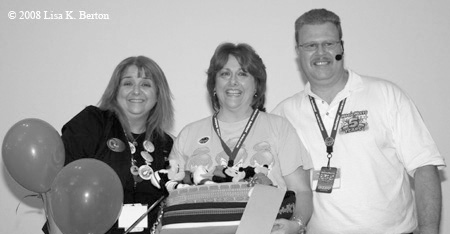 The big winner of the day was this woman who won a Disney Cruise donated by MouseFanTravel. Woo hoo!