MouseFanTravel President Beci Mahnken was part of the first ever Adventures by Disney Backstage Magic!
Here is Day 2 of her blog: Lights, Camera, Adventure! – the Morning Report
Yes, I will admit it. I am not a morning person. There. I said it. Even in my own time zone having to be up around 7:45 is hard enough, but being awake, showered, dressed and ready to tackle a day on nothing but hotel room coffee. Well, it's a challenge. But today was the first full day of exploring Hollywood the Disney way which made it a little easier to accept.
We met our fellow band of adventurers in the hotel lobby and once gathered we were on our way in search of food and yes, coffee. Luckily we were just a short walk to our exclusive Breakfast with Ariel inside Disney's Soda Fountain and Studio Store.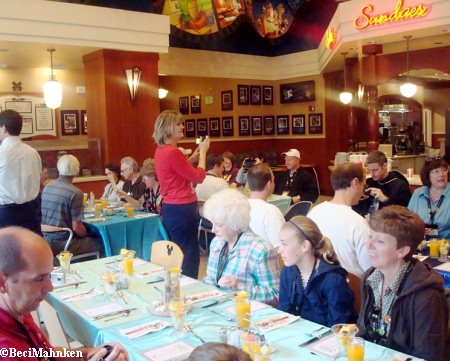 The room was set up with festively decorated tables and Little Mermaid music playing to set the stage. Servers brought beverages and we were given few breakfast options that included the regular breakfast fare along with some especially themed choices.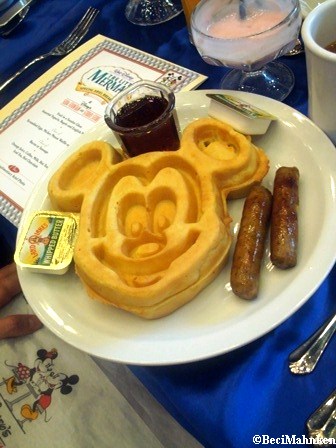 Our first surprise of the day? Ariel stopped in for a visit!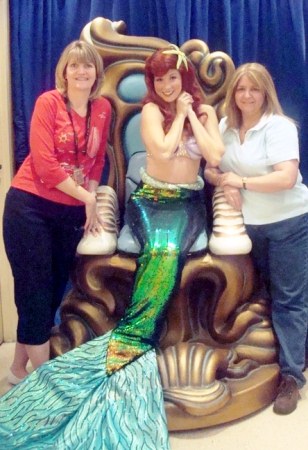 And we also found a not-so Hidden Mickey!
They also had activities for the kids and kids at heart. They set up an activity station at the counter complete with pics of the Little Mermaid characters that you could cut out and assemble to make your very own mobile.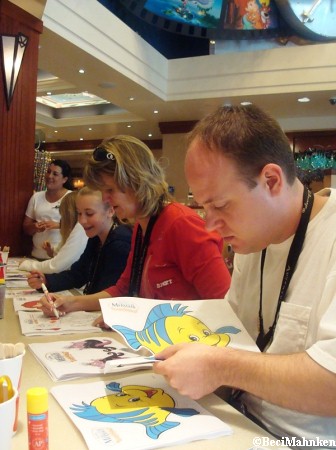 After we were all fed and caffeinated, it was time for the first of 4 major tour spots, the El Capital Theater which was conveniently located adjacent to the Disney Soda Fountain.
Our guide to this treasure was Ed. He was on the restoration team and had a wealth of knowledge to share. The El Capitan Theatre opened in 1926 and was known as "Hollywood's First Home of Spoken Drama" due to the fact that it was host to live stage productions until the mid-1930s when showing movies. In 1941, the theater played host to the premier of "Citizen Kane" and in 1989 it was lovingly restored to showcase it's populate detail.
The El Capital Theater is also home to the a fascinating 1920s era Wurlitzer pipe organ that not only plays what you would expect, but is also able to replicate all kinds of sound effects, birds, drums, sirens, etc – all the bells and whistles which ironically is exactly where the phrase the was born. We were treated to a serenade of sounds and a rendition of happy birthday for one of our group members before moving onto the stage itself for a short tour of the backstage area.
We then moved to our next tour of the day. Right next door is the historic former home of the Hollywood Masonic Temple which was renovated by the Walt Disney Company and now is the location of the Jimmy Kimmel Live Show.
As we entered the building we were informed this is one of the many locations on the Adventure where photography is a very big no, no, so unfortunately we do not have any visuals for you on this one. We were met inside the door Operations Manager Kelly Wong, and Production team member Chris Nuzzi. We started the tour with a clip video to familiarize us with the show and then we visited all the nooks tucked away in the corners of this historic building.
We were taken into the control room to see how the logistics of the live show that goes to tape, is executed. We also views the editing areas, dressing rooms, green rooms (complete with pool table and video games) and stage area that holds less the 200 people. Most of us were a little surprised that the audience area was as small as it was but makes for a wonderfully intimate experience. If you ever want to see the show.. get there early.
Or better yet, when the guides say "who wants tickets?", raise your hand… fast!! Unfortunately they had only a few tickets so when the demand exceeded the supply, they did a drawing for winners. 10 lucky winners attended the show tonight and we can't wait to hear about it over breakfast!
I think the highlight of the tour was a chance meet and greet with the infamous "Uncle Frank" – yes, he is actually Jimmy's Uncle and has become somewhat of a celebrity himself, as well as Guillermo. They talked with us for about 10 minutes sharing their background and stories of their adventures with Jimmy. Very cool.
We did do a group photo with the only camera allowed – the guides camera. So we are looking forward to seeing that one. OH! And apparently the restoration didn't get rid of a few tenants! Kelly told us about a few happy haunts that seemingly call the historical building home. From the kids laughter near the elevator to the mysterious man in the Zoot Suit wandering the halls, there are characters hanging out ready to say hello at the most unexpected times.
After exiting the building we were able to view the outside stage area and waved good-bye as we boarded our buss for the next destination – Jim Henson Studios. Look for those details in my next post!
Read Beci's Entire Backstage Magic Blog!
Beci Mahnken is the President/CEO of MEI & MouseFanTravel.com . To date she is a veteran of 3 Adventures By Disney trips, more then 40 cruises including 16 with Disney and countless Walt Disney World and Disneyland adventures. Read her blog on the London and Paris Adventure by Disney.