In our quest to eat at all of the Disneyland Resort restaurants (all in
the interests of research, you know!) Lee and I had dinner at Ralph
Brennan's Jazz Kitchen in Downtown Disney last month.
We arrived at 5:30 for our 5:30 Priority Seating. The restaurant was
almost completely empty, and the hostess directed us upstairs (there is
seating both upstairs and downstairs – it's a big restaurant!).
It was a chilly evening, and we were given the choice of sitting
inside or out – we chose outside next to a propane heater. Though
we didn't have a table right on the wrought-iron railing overlooking
Downtown Disney, we could still look out towards House of Blues
and Tortilla Jo's.
Our server arrived quickly with the menus, and brought water while we
were deciding on wines. Lee had a glass of the Rock Rabit Syrah, while
I tried the Columbia Riesling, which was quite good.
For appetizers we split the Soups 1-1-1, which was small servings
of three different soups – the Creole Onion Soup, Gumbo Ya-Ya, and
the
Soup of the Day, which was a Roasted Pepper soup. Surprisingly that was
my favorite of the three – it had a really nice flavor and just a bit of
a kick, but not too much. We also had the Paneed Eggplant, Spinach, &
Goat Cheese Napoleon – Pan-fried parmesan, herb breaded eggplant,
layered with spinach and goat cheese, finished with a Gulf shrimp New
Orleans bordelaise sauce. It sounds really different, and I thought it
was very good. There were actually several things on the appetizer menu
that looked good – maybe sometime we'll come back and just order
appetizers! (Sorry that there are no pictures of the appetizers – we
were so hungry that I forgot to take pictures before we dug into them!)
I ordered the Blue Crabmeat Topped Blackened Salmon as an entree.
Blackened salmon topped with blue crabmeat, served with garlic roasted
fingerling potatoes, fresh watercress and a green onion herb
vinaigrette. The salmon was disappointing – I expected something a bit
more "kicky", but the only spice I could taste was chili powder. And
once I got about 1/3 of the way into it I discovered it wasn't cooked
all the way through. (For some reason that seems to be a problem for me
when I order salmon – half the time it isn't cooked through, and I am
NOT into sashimi!) Unfortunately our server didn't check back with us
until I'd eaten around the edges and had all that I wanted anyway,
so by that time there was no use sending it back. The potatoes
were good, though…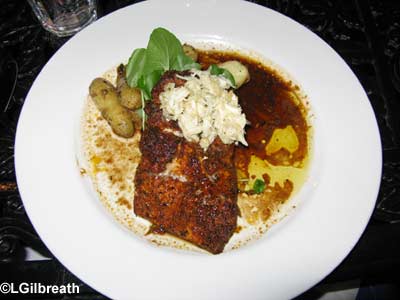 Lee had the Creole Filet Mignon – a grilled 8 oz filet mignon, dusted
with Creole seasonings, served with bacon buttermilk mashed potatoes,
fried oyster mushrooms, wilted spinach and Creole mustard bourbon cream
sauce. He likes his meat cooked medium well, so he asked to have it
butterflied, which was no problem. He really enjoyed his dinner – the
steak was nicely cooked and flavorful.
For dessert we knew that Lee was going to want the Double Chocolate
Bread Pudding, which requires a 25-minute preparation time, so had told
our server about that when our entrees were delivered. It arrived 5
minutes or so after our entrees were cleared. It's a "rich, dark
semi-sweet chocolate bread pudding served with white and dark chocolate
ganache." Lee really enjoyed it – the chocolate sauce was dark and
rich, though the white chocolate didn't have a lot of flavor.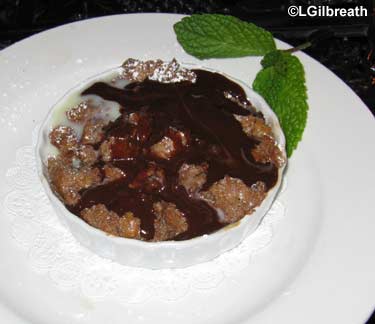 The dessert menu had a lot of interesting-looking choices and
I ordered the Fresh Fruit Cobbler, which was supposed to be apple and
blueberry. As I started eating it I discovered there were no
blueberries – just apples. Had I known that I would've ordered
something else. As cobblers go it was just so-so – I wouldn't order it
again. I mentioned to our server that the kitchen had deceived him
about the blueberries. Given what had already happened with my salmon
he was even more apologetic. When our bill came I saw that he had
not charged us for the salmon, which was nice.
The "signature" dessert there is the Bananas Foster, which is prepared
at your table. We didn't order it, but the table next to us did, so we
were able to see the whole production, which towards the end involves
both flame and sparks.
By the time we finished our meal and left the restaurant (about 7:00)
the place was PACKED – *and* there was a line of people standing outside
waiting to get in – all of the Downtown Disney restaurants were busy on
that Friday night, and there were 45 minute waits at most places. So
I'd advise either eating early or making sure you have a Priority
Seating time – and preferably both.
So Ralph Brennan's Jazz Kitchen…would I eat there again? Well…maybe.
But I'd probably order just appetizers (since they had several that
sounded good) and dessert. Lee was really happy with his meal, though.