All Ears reader Kim Howe had the "dream of a lifetime" in December, when the Walt Disney World Dream Team awarded her a night's stay in Cinderella's Castle.
Part 3 – Logistics, Epcot, Dream Squads, and MouseFest, oh my!
Part 4 – Grand Marshalls in the Magic Kingdom Parade
Part 5 The Cinderella Castle Suite
Part 6 – DInner with Cinderella
This is part 7 – A Special Night in the Magic Kingdom
Matt arrived when we were finished with dinner and he escorted us down the stairs. He asked if there was anything we wanted to do and I suggested a ride on Cinderella's Carousel. Marge and Lisa decided to join me.
Paula, Dylan and Paul watched and Dylan also took some pictures as we circled around. As we waited in the standby line, I was trying to find Cinderella's horse but couldn't remember what characteristic distinguished it as hers. I asked Matt what it was and asked if I could ride it. He said her horse had a bow on its tail and when the carousel stopped it was right in front of us.
After the previous riders got off, he unhooked the chain and ushered us onto it before the other guests. We rode three in a row with Marge on the Prince's horse on the outside and Lisa on another on the inside. Matt took our pictures for us. He took lots of pictures of us throughout the night and he is a good photographer.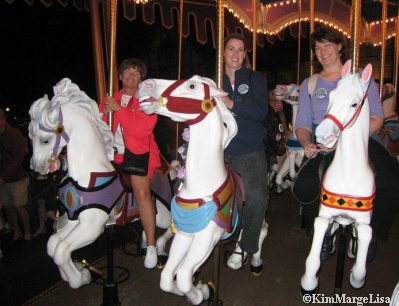 Afterwards Matt brought us back up to the suite so Paula and Dylan could get jackets they forgot to take with them when we left earlier. It was a little chilly and we were going to watch Spectromagic next.
When we opened the door to the suite, we found some wonderful surprises. The beds were turned down, each had four pillows standing up on them, there were chocolate squares wrapped in gold foil with the castle printed them on both beds accompanied by cards.
One card had Cinderella in her blue dress with long white gloves on it and the other a pink pillow trimmed with gold braid and tassels with her glass slippers. Their messages read:
GOOD NIGHT
And may your dreams come true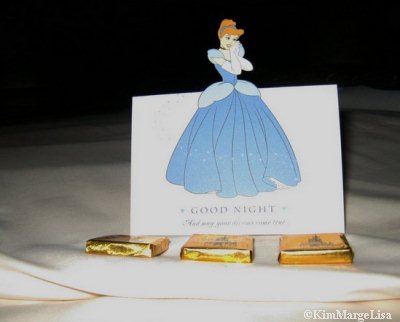 On the backs was the Cinderella Caste Suite logo which is a "C" with the caste pictured inside the "C" with a flourish of flowers and leaves around it. Very classey. Under to logo the following words read:
CINDERELLA CASTLE SUITE * Fantasyland * Magic Kingdom
But that wasn't all. On a mirrored tray was a beautiful display consisting of two solid white chocolate horses pulling a hollow white chocolate Cinderella coach. The top of the coach came off like a candy dish lid and it was filled with huge milk chocolate covered strawberries. There were more of the strawberries on the tray itself as well as three other candies in pastel colors with a "D" written in chocolate on them.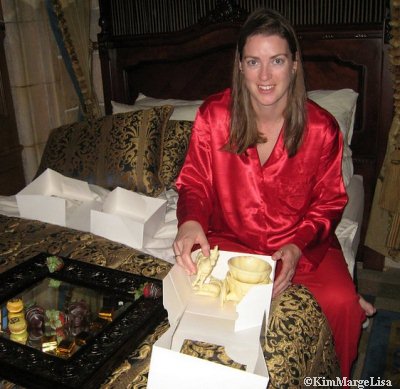 In the bathroom were fresh red rose petals strewn on the tub and a big bottle of Disney princess bubble bath. Matt must have remembered that Lisa mentioned she liked taking bubble baths. On the vanity was Disney towel art featuring a towel pillow with the corners tied with black ribbons. On the pillow was a towel slipper and more fresh red rose peddles strewn around.
We were giddy and snapping pictures like crazy. In hindsight, it was a good thing that we came to the suite at this time because we had the opportunity to "ohh and ahh" and take pictures. When I returned at the end of the evening with Marge and Lisa, Paul, Paula and Dylan had already gone to bed and it would have been disturbing to them.
Now it was time, to head back into the park to watch SpectroMagic. Matt led us out the Fantasyland side of the castle and along the walkway past Sleepy Hollow again. The announcement that SpectroMagic was about to begin played and Matt knows it so well, he motioned to the lights just as they went off. I thought to myself, he's spent way too much time here!
The park was packed with guests so, as you can imagine, they staked out their parade viewing spots early and were several deep along the parade route by now. We, on the other hand, had the luxury of walking to the VIP viewing area on just off the Liberty Square bridge and sat in chairs. There were already some other people sitting in the front row of seats but we could still see fine.
After we were seated, there were a few minutes before the parade began. We took this time to chat among ourselves and call people to tell them where we were and what we were doing. I called my friend from work who shares my love of Disney and left a message. Later she called and left one for me telling me to say, "Hi!" to the castle mice. I also called Bill to update him since I hadn't called him since before we watched the afternoon parade. He was sorry he was missing it and I told him if he had been there we could have had a nice romantic evening in the castle. Marge pipes up that she was glad he wasn't there because she wouldn't be able to stay with me. We all laughed but Bill said he would have still invited her to join us.
The view from our seats was of the castle but obstructed by trees. That didn't matter as soon as the parade began. I noticed some changes in the beginning since the last time I'd seen SpectroMagic. The clown characters no longer had those scary looking "heads" on. Instead, they had masks and/or make up on (can't quite remember which). The rest of the parade was the same as usual and we enjoyed sitting back and watching it go by. As the parade was passing by someone pointed out to me that since there were no guests on the other side of parade route from us, all the characters gave us all their attention. Except for one dragon fly who was definitely flirting with the CMs who were across from us.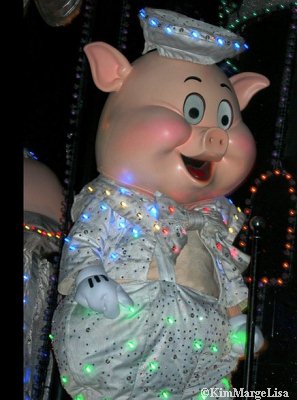 Wishes! was to follow but Paul, Paula and Dylan decided to call it a night and return to the castle suite. It must have been after 9 p.m. and Paul had been up since 4 a.m. to go to work at Epcot. Dylan wanted to watch TV and Paula was tired, too, and wanted to be with Dylan. Matt had to keep us together so we all made our way, staying together in the mass of humanity as best we could, through the hub to the castle stage area. Here, Matt took us behind ropes and I could hear a woman complaining that she was told that the walkway was closed so they could not go up it. I felt really uncomfortable, walking by her and being escorted right up the walkway into the front of the castle. I would have this feeling throughout the evening as we were escorted past standby lines.
Alexis met them at the door and Matt, Marge, Lisa and I headed back out into the crowd to find a place to watch Wishes! I asked Matt where he had planned to go and he said in the rose garden. I asked if we could watch from my favorite spot which is the hub in front of the castle between the "Partners" statue and the end of Main Street. We found an area where we weren't shoulder to shoulder with other guests.
It may have been here in talking with Matt that he pointed out the suite elevator shaft was in the highest turret and it only went to the third floor which is where the suite is. He also pointed out that the suite is located in the area behind the clock tower roof. From inside the suite we noticed the stained glass windows looked out over the back left side of the castle (Liberty Square/Fantasyland). Matt was a guide for the Keys to the Kingdom tour at the Magic Kingdom and he was full of information which he was willing to share if asked. Being with him throughout the evening was like being on a private Keys to the Kingdom tour.
Wishes! soon began and I enjoyed simply watching it. I usually take pictures but this time decided to just watch. Lisa, on the other hand, was snapping pictures the entire time. Matt knew the show so well he was coaching her whether the next fireworks explosion was going high, wide or whatever. This allowed her to have her camera positioned appropriately. Afterwards, a guest approached her and told her he'd watched her throughout the show and it gave him pleasure seeing a huge grin on her face the entire time. Throughout the show, I was thinking that my friends are actually inside that castle right now!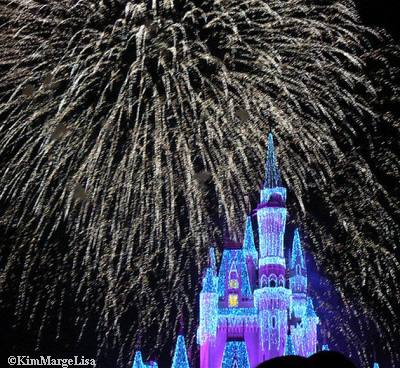 As the crowd started to move, we joined in heading for Tomorrowland and Monsters, Inc. Marge hadn't seen it yet, Lisa saw it once with me on Thursday and I'd seen it twice but wanted to see how it would differ from the first two times.
To be continued…..