All Ears® feature writer Michelle Scribner-MacLean visited Walt Disney World with her son during Marathon weekend. She shares this trip report.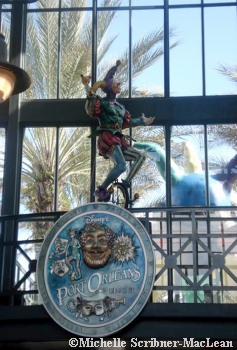 It happens every time I come back from WDW. A day or two after I return, my husband looks at me and says, "You have that glimmer in your eye again"¦.I know what you're thinking"¦!" And he's right. I'm usually starting to think about my next trip to WDW. So, with MouseFest a month behind me, I knew it was time to return.
I'm fortunate enough to have a job that is very flexible in January, as well as a friend who has an Orlando timeshare during this time of year, so making the trip in January has been something I've been able to do for the past several years. This trip has evolved into a time when I bring one of my kids to WDW – for some alone time together. This year I brought Evan, my 14 year old for some Mom and teen bonding. It is such a treat to visit WDW with just one kid. When we go alone I allow each of my two kids to set the agenda for the trip. They get to visit the parks they want to visit and ride the attractions they choose (as many times as they want – within reason, of course).
I peeled him out of bed so that we could make our super-early trip out of Manchester. We were running away from the cold, but also the impending snow storm that would add another 10″ of snow to the nearly 40″ we've had so far in New Hampshire. We made our way down to Orlando with ease and, before we knew it, found ourselves at the Magic Kingdom sitting down at Aloha Isle for Dole Whips by 1 p.m"¦..when who should come ambling by"¦well, who would we expect to be walking in the direction of a Dole Whip but Mike Scopa, who had just completed his running of the Disney Half Marathon. After a quick chat we headed over to the Tomorrowland Noodle Station to congratulate some of the other runners.
It was quite a rainy day – and we found ourselves running for cover more than once. The lines were moderate to long – there was about a 40 minute wait for Space Mountain.
At the advice of a good AllEars.net friend, each time I visit WDW I try to do something new, something that I've never tried before. This trip we opted to stay one night in a new resort. We checked in to Port Orleans French Quarter and explored. What a beautiful resort! I'm always amazed that an area that was once Florida swamp land can take on so many personalities with some Disney magic – the theming at POFQ is terrific, from lush vegetation and quaint and colorful units, with wrought iron fences – I felt like I was in the heart of a historic New Orleans neighborhood. The Sassagoula Floatworks and Food Factory Food Court offers stations with a wide-variety of choices and some terrific, Mardi Gras-inspired theming. Very fun. I feel like I have some more exploring to do at that resort so I will definitely stay there again.
The next day we made our way over to EPCOT and got to cheer on some of the marathoners as they made their way toward the end of the race through Future World.
When we entered the park we saw that SpaceShip Earth was open and all of the scaffolding that had been there in December when I was there for MouseFest was down. The attraction is a still officially in the "soft-opening" phase and there is a sign indicating that the grand re-opening until February (meaning that it can close at any time). Of course we jumped on! The script is very different, the animatronics are spectacular, but the ride descent part of the ride is sort of a let down (no pun intended). To me, the interactive screens doesn't provide that Disney "WOW" that we're accustomed to.
After jumping on to Soarin', we joined fellow All Ears® blogger and photographer extraordinaire, Barrie, for a quick bite to eat at Sunshine Seasons. This is one of my favorite vegetarian spots in all of WDW. There are lots of choices for kids and adults.
We had one of those rare days in the parks where we did just about everything there is to do in the park, we left no stone unturned, no attraction unvisited in EPCOT. As we rounded World Showcase at the end of the night, we ran into more friends in time for Illuminations. Perfect end to a perfect day.
The next day was Animal Kingdom"¦and we spent half the morning doing just one thing – riding Expedition Everest. By getting there early, using FastPass, and queuing in the Single Rider line, we ended up riding the attraction six times in a row. If that doesn't a bond a mom and her teenage son, I don't know what does!
We met my long-time friend Sharon and her family for lunch at Pizzafari. Sharon had just completed her first ½ marathon and raised lots of money for diabetes research. Her family was there to cheer her on – and it was their first trip to WDW, so it was really fun to listen to their perspectives on touring the parks.
That night, my teenager wanted some "me" time in one of his favorite Disney attractions – Disney Quest. I know that this attraction is not on the top of a lot of people's lists, but my kids really enjoy this five-story interactive theme park and we try to visit every time we visit WDW. My son and I parted with this request from him: "Please just leave me here for five or six hours." Although he wouldn't exactly have his wish, this afforded me some time to meet a colleague from work at the Animal Kingdom Lodge.
Boma. I love Boma. It is one of my top three favorite WDW restaurants because of the variety of different foods available and because of the setting. The Animal Kingdom Lodge is just spectacular and, having spent much time in real African lodges, I can tell you with certainty that they got it right when they created this resort. My friend had never visited AKL and it was such a thrill to see her face when she first entered the resort and to hear her say how much she loved Boma, too.
The final day started with breakfast at the Polynesian's Kona Café, where Evan experienced his first Tonga Toast, followed by a whirlwind tour was a visit to Disney's Hollywood Studios.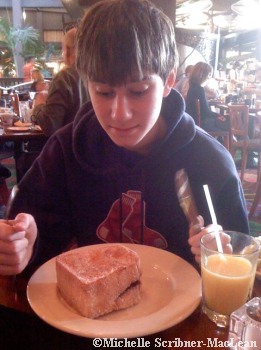 While we focused on the thrill rides in the morning (hardly a surprise if you've followed this blog carefully from the beginning), we took the rest of the day to take in shows such as Indiana Jones and the Lights, Motor, Action Stunt Show, two shows on top of a teenage boy's To Do list at the Studios.
Later that night, we made our way back to snowy and cold New Hampshire"¦and the next day my husband said, "You have that glimmer in your eye again"¦."