Well, the good news is that I woke up early enough on Friday to go out and run. The bad news is that I said to myself, "Let me close my eyes for just another 15 minutes."
We call that a "mistake."
Next thing I know its 6:47 and we have an 8:10 ADR at the Grand Floridian Café.
Arrrghhh, another morning without a run.
When we got to the Café they told us that our ADR was for the day before! Huh? First at Hollywood & Vine the night before they had us down for two ADRs at the same time now this!
They honored our time and we had a very nice breakfast. We did not eat everything as we turned down the final course which was Mickey waffles.
We had visits from Tigger, Pooh, Mary Poppins, the Mad Hatter, and Alice.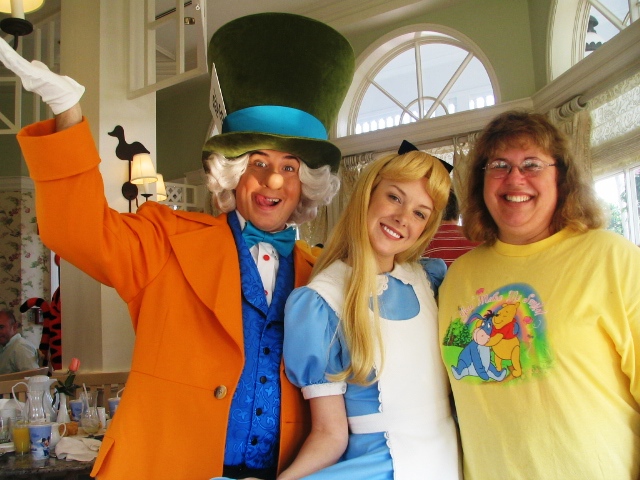 1900 Park Fare will soon reopen. Our server said that they are hoping that the new 1900 Park Fare will open in late September and it will be able to serve even more guests as the restaurant will be bigger.
We left the Grand Floridian and headed back to Pop Century to do our final packing as we were moving to Port Orleans French Quarter.
We didn't think our room was going to be ready but surprise, surprise it was.
We tossed our bags onto the bed, stashed our water in the frig, and headed over to the Magic Kingdom.
As we entered the town square I scooted over to City Hall to ask for a birthday button for Carol and also a brochure for the Pirate & Princess Party.
We are not going until Tuesday evening but it's never too early to plan how best to navigate the park for this party.
There are some general guidelines I suggest to families going to any of the MK parties, be it Pirate and Princess, Mickey's not So Scary, or Mickey's Very Merry Christmas Party.
Here they are:
"¢ First and foremost grab a party brochure a day or two before going to the party.
"¢ Review the brochure and put together a plan as to how you will navigate the park during the party.
"¢ Get your MK attraction fix the day before the party because you don't want to put attraction touring at the top of your list"¦remember, you are paying extra to get into the park at this time for the special events"¦not the attractions.
"¢ If possible do the Extra Magic Hour Evening the night before the party. Stay out late because you really should think about sleeping in on the morning of the party.
"¢ Take it easy in the morning, perhaps go to DisneyQuest for a few hours, and then have an early dinner, say no later than 5 P.M.
"¢ Wear a watch with a lighted dial so you can keep track of the time.
"¢ Try to arrive at the Magic Kingdom at least 30 minutes before the start of the party.
"¢ If you can, do the later scheduled events such as a show or a parade because it will be less crowded than the earlier ones.
"¢ Plan any attraction touring around the special events. That is, if you can fit in Big Thunder Mountain or Pirates of the Caribbean around your schedule then go for it. Remember that you are paying for these special events so make sure you get the most of the party.
The last few days have been somewhat hot and we have felt the need to hydrate as often as possible. We grabbed light lemonade at Casey's.
We then made our way over to Adventureland to finally ride Pirates. The wait time was about 75 minutes. No thanks.
We rode Aladdin's Magic Carpet and then took in the Tiki Room.
There was a guest sitting next to us who had what looked like baby who was no more than a few weeks old.
Not only was the baby probably the youngest person to se the Tiki room, he/she may have been one of the few chosen to be nursed by his mom too"¦.yes"¦but discreetly.
Homework Assignment: next time you're in The Magic Kingdom look for this sight.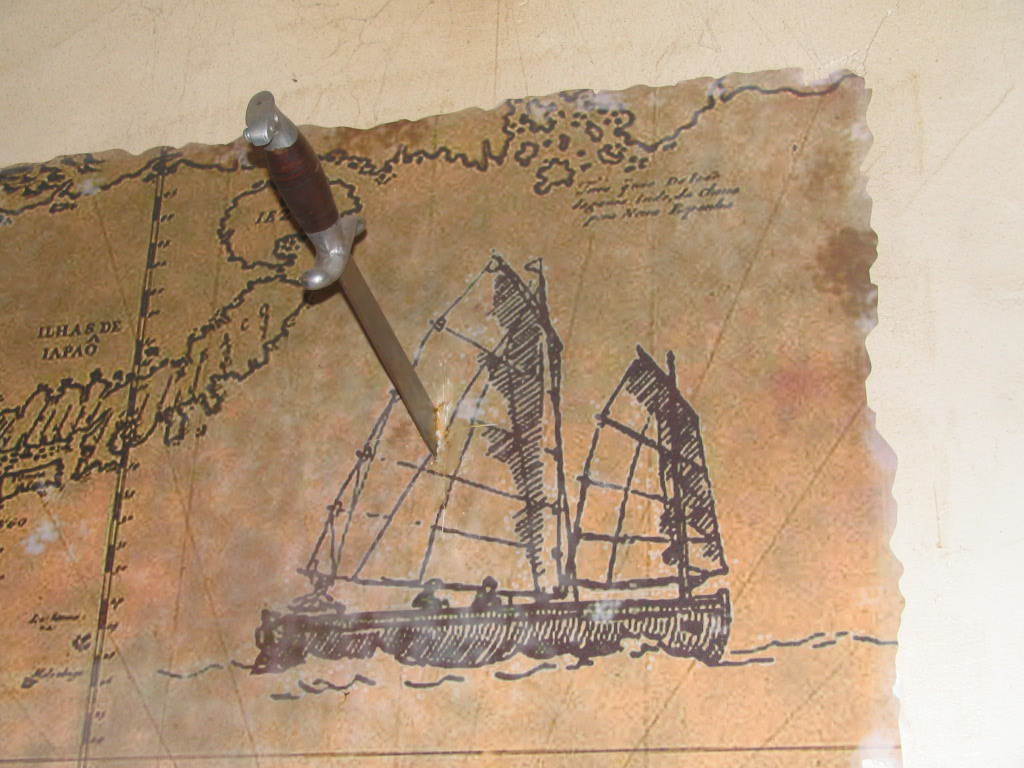 Pirates was still full so we visited the Country Bears.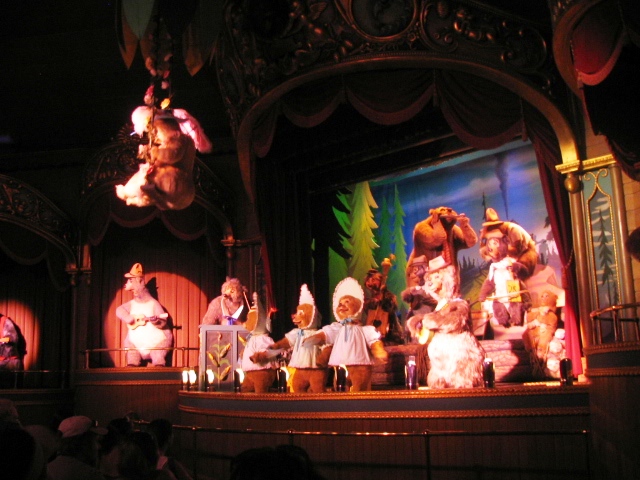 We then watched the "Disney Dreams Come True" parade.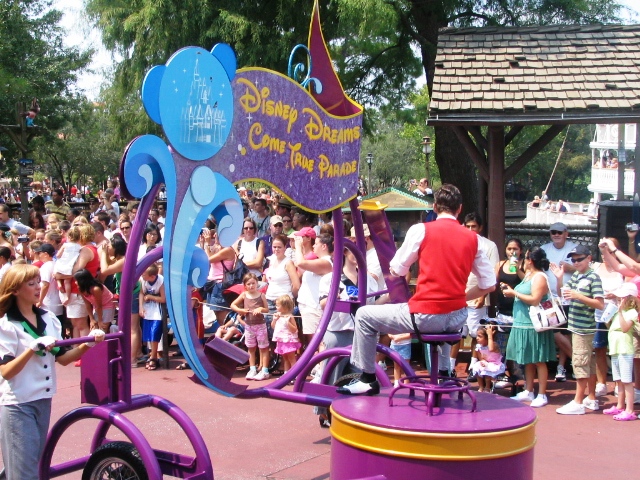 It was getting close to our Crystal Palace ADR time so we strolled over to Main Street and looked in the shops.
I was selected by a cast member to participate in the flag lowering ceremony. Unfortunately I am not a veteran so I had to turn them down.
Dinner was at Crystal Palace.
After dinner we watched the castle show"¦twice.
We then took in the Hall of Presidents. It's a favorite of Carol's because it was one of the first attractions we ever saw. Back in the mid-70's when the HoP opened it was FREE. Back then you used tickets A thru E and HoP was free for a whole year.
From the presidents we went to Mickey's Philharmagic.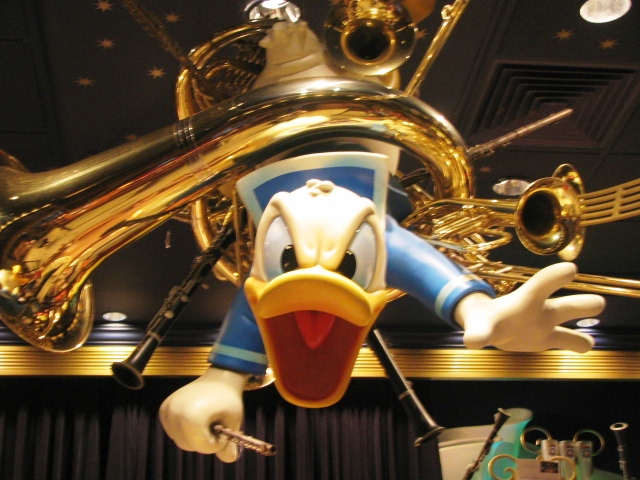 Then we got our wristbands for EMH and then took in Small World.
Are you as tired as we were becoming?
We grabbed lemonade and made our way to Tomorrowland. We rode the TTA and when we got into the Space Mountain potion of the ride all of a sudden the lights in Space Mountain came on"¦pretty spooky.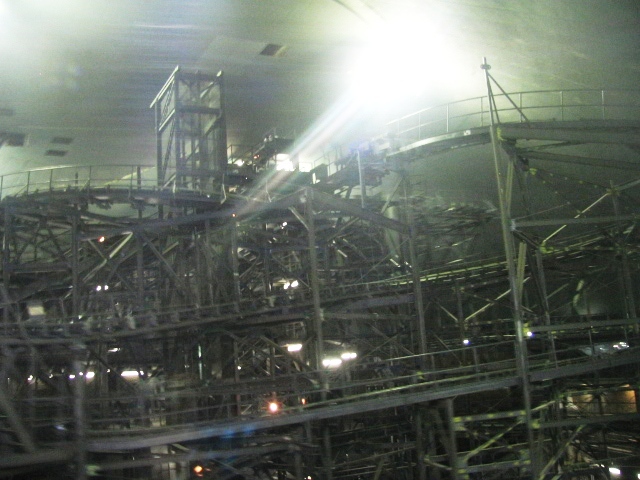 We asked to stay on the ride and we rode it again and once again got to see the insides of Space Mountain.
Then the TTA broke down for about 10 minutes"¦seemed it was not the night to be in Tomorowland.
We headed to Main Street to watch "Wishes." About 4 minutes into the show someone tapped me on the shoulder and asked me to move because his girl friend could not see.
Huh?
I was stunned at first but decided to hold my tongue and I stood behind Carol instead of next to her.
As I stood there watching:"Wishes" I thought, "Okay, now what do I do if I'm blocking someone else's view?
Gee, do I ask the dad in front of me to take his son of his shoulders because I can't see?
Carol had a good point. No one is tall enough to block the fireworks; she wanted to see the castle.
I'm such a softie.
After the fireworks we headed to a special spot to watch Spectromagic, the late parade.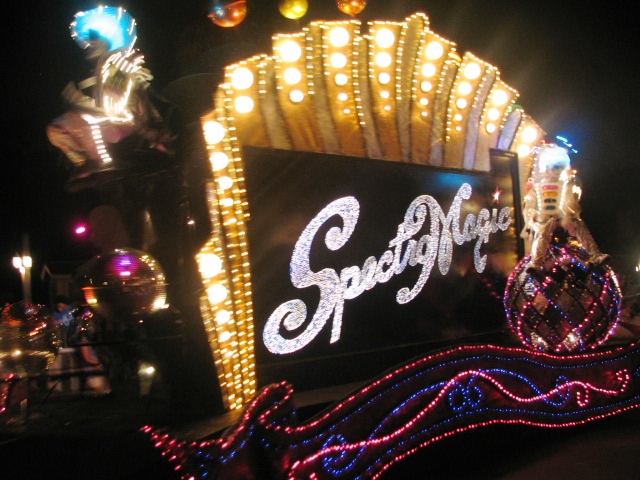 It's been some months since I've seen Spectro but I noticed the Spectro Men are gone, and I could have sworn the three fairy godmothers used to be on one float not three separate floats and finally Chernobog's horses used to be all one color"¦blur, right? Now they are different colors.
Wow, it was late. My day was already 18 hours long and it wasn't over. Also, my aching ankle, yes the one I broke during the 2006 WDW half-Marathon was talking to me and saying, "Mike, I thought we had an agreement. I would give you no problem while running if you refrained from walking on me in excess of 12 hours a day!"
He had me there.
We went over to Pirates. There was no line"¦.because the attraction was down.
So we decided it was time to call it a day.
We got back to our room around 1:15 A.M. and found this waiting for us.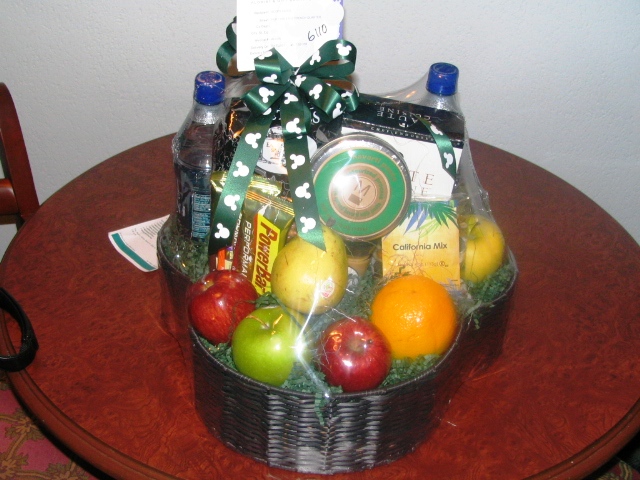 It is a very thoughtful birthday gift to Carol from some very dear friends and I thought I'd just post a picture before we "made use" of this wonderful gift.
Thank you dear friends. You know who you are!
So now you know why this blog entry is a little late.
More tomorrow.