Help, I'm beginning to panic. I woke up at 4:30 Tuesday morning. Hmmm, too early to run. I'll just close my eyes and then wake up at 5:30 and then go out and run.
Big mistake.
It's been almost five days since my last run and I need to run Wednesday morning"¦but we have an 8:10 ADR at Donald's Breakfastsaurus"¦..yes I'm panicking but anyway"¦.
"¦we headed to EPCOT this morning and here's an up to date picture on the state of Spaceship Earth"¦at least regarding Mickey's Arm and wand"¦
"¦yep"¦practically gone.
A Soarin'
We headed over to Soarin' and as always, I head over to the leftmost FastPass distribution box and that box is never crowded.
I noticed the huge pictures in the queue area had changed quite a lot. See for yourself.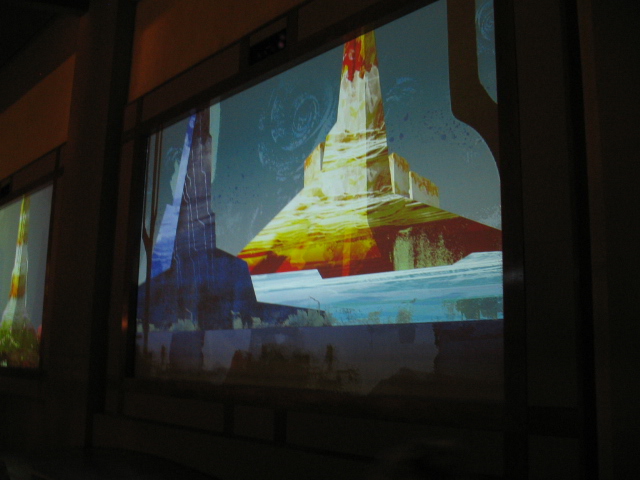 After we got the FastPasses We got into line and hen we got to the loading area we ASKED to sit in the top row"¦we were guided to the next area and we were top center row"¦cool
After our first ride we needed to burn 30 minutes so we did "Living with the Land" and that attraction no longer has a Cast member riding with you.
Get a load of this"¦
We returned to Soarin'; and Carol AGAIN asked for the top row. This time not only did we get top row center but I was sitting in seat #6. That is the best seat in the house folks.
So there's your second tip of the day"¦if it looks like you can get into the top row then ask.
We then did the Nemo attraction at the Living Seas. We got a kick out of this t-shirt
A Sailing
After Nemo I called my buddy Matthew from Reedy Creek emergency Services. Carol and I had plans to spend some time with Matthew and his fiancée Kristen today.
We planned to meet at DTD and take a pontoon ride to Old Key West.
As Carol and I left EPCOT we cut through Innoventions.
Now here's a Segway I'd like to try.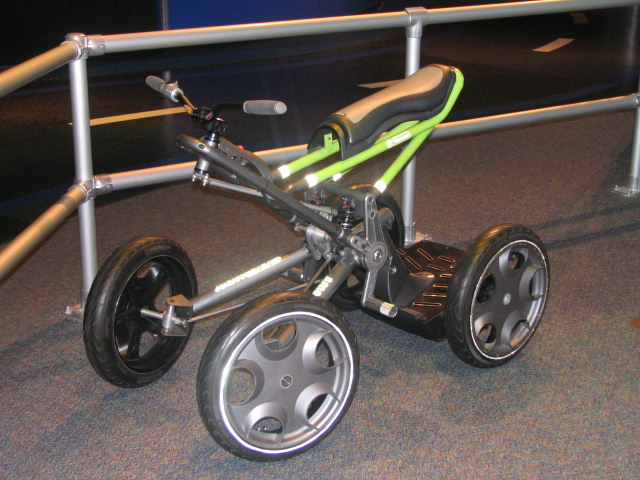 We met Matthew and Kristen at the Marina at DTD and we took off for Old Key West. On a pontoon boat like this one which was docked at the Old key West Marina.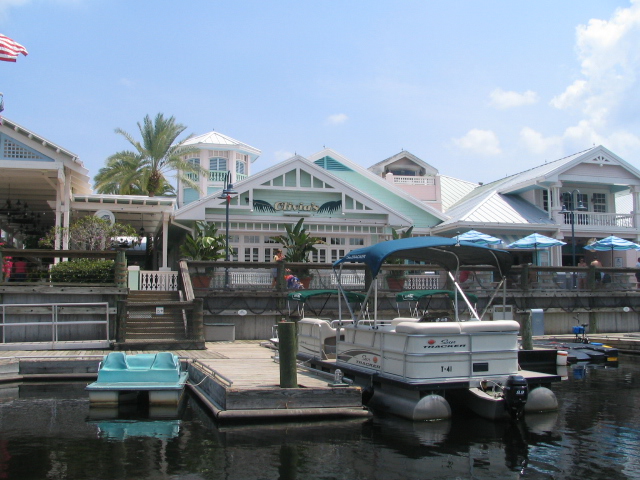 Along the way we past Saratoga Springs and Port Orleans
It was a nice comfortable quiet boat ride. It was refreshing too because the high for the day in Orlando set a new record"¦98 degrees.
We helped, or I should say Matt and Kristen (they both work for Reedy Creek Emergency services) helped a woman whose small boat kind of conked out on her.
Kristen edged the pontoon boat close to the woman's boat and Matt got her boat working again.
We returned and had lunch at the Rainforest Café before heading our separate ways.
We made arrangements to get together again next week
Carol and I checked the stores.
Here's a homework assignment. Where in DTD can you find a bee's nest with bees?
We then headed back to EPCOT and took in American Adventure. I was very curious about the new "Golden Dream" and I was not disappointed. As much as I would like to say they just tweaked it I'd have to say it was more than a tweak and it will move you even more than its predecessor.
Also, look for a slight change to the ending of the AA attraction after 'Golden Dream"
AA is my favorite WDW attraction.
I'm always the last one to leave the theater.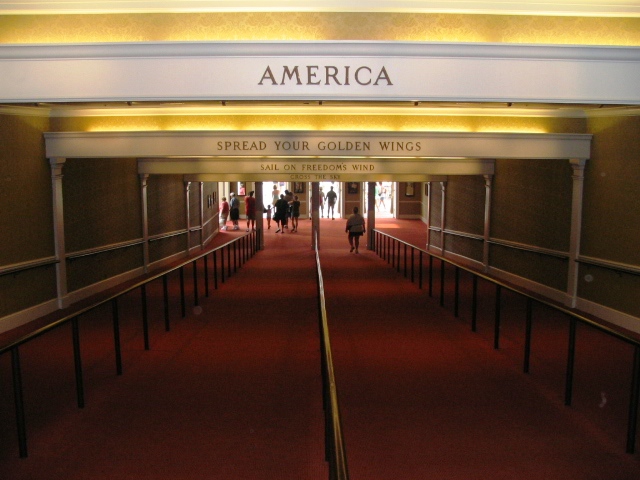 A Soaking
As we made our way around World Showcase everyone jumped as without notice a huge crack of thunder came out of nowhere. We were surprised because half the sky was sunny"¦we didn't notice what was behind us.
Then the rains came ans we got soaked.
Here's proof that half the sky was rainy and the other half sunny.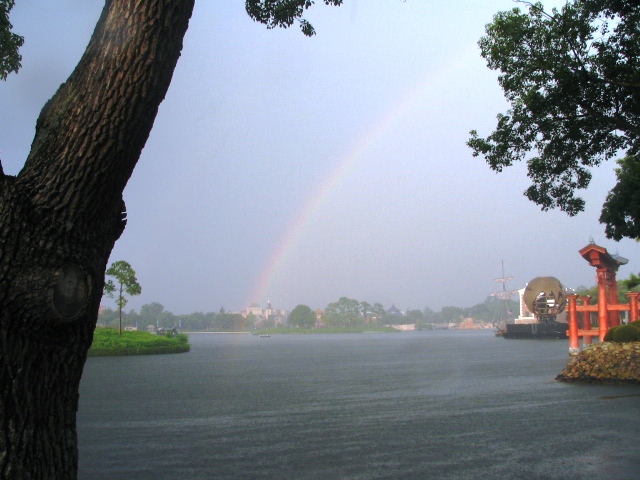 We watched Illuminations and it looks as though the video globe has been given some enhancements.
I took some pictures but they don't do the globe justice so here's a token torch picture.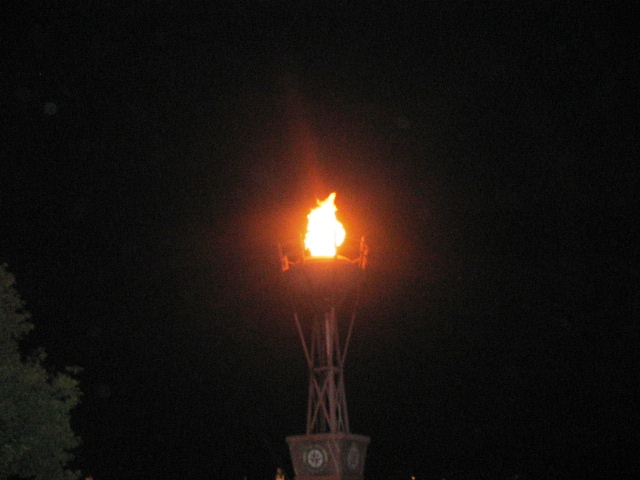 We checked out Mouse Gear before leaving the park.
Hmmmm, I kept seeing the following logo on a lot of merchandise"¦
"¦could this be the new EPCOT logo?
We'll see.
That was it for Tuesday.