Periodically, I am reminded and yes, reinforced, for my notion that whenever possible plan to arrive at your destination a day early. We don't tend to do it as much with trips to WDW, but for cruises – oh yea! Today really solidified that for me.
We got up bright and early, eager to start our adventure. Arrived at BWI about 8:30am for our 10:10am flight and the lines for everything were worse than I have seen since 9-11. We couldn't believe it! Skycaps told us that for the last several weeks there had been lots of cancellations, all over, due to weather and it really messed things up.
At first we were worried we'd miss our flight, but the lines steadily moved. Once the bags were checked, we then got in the even longer security line. Again, it steadily moved until we were walking to the gate. With Southwest there is no reserved seating. Normally not a problem for us flying 2 hours to Florida. Today, however, would be a 5 hour flight to Phoenix so we wanted to have our choice of seats.
There were already about a dozen folks in the A line, and boarding began about 20 minutes after we arrived. Flight was smooth and we were relaxed.
Until, we got to Baggage Claim in Phoenix. The flight we were on started in Baltimore, stopped in Columbus OH to drop off and pick up passengers, then onto Phoenix and from there was going to LA. So now you have the picture! Well, the first 2 bags came out right away and then we waited. You know where this is going, right?
Eventually, we were the only ones left standing at baggage claim. My suitcase with most all of my clothes, my sneakers AND my hiking boots, not to mention everything else…was MIA. I reminded myself that it was just Sunday and we didn't leave on the Adventures by Disney tour until Tuesday morning. So I just looked at Linda, shrugged my shoulders and then went off to Southwest Baggage.
The man who helped me was very nice, but of course, he didn't have my suitcase LOL. He did say they had reports that things were really messed up in Baltimore – uh huh! Took all my information and filed a report. Sigh.
Only one other time we lost luggage and it was returning home. Linda's suitcase was no where to be found. But, when you're back at home, you don't care quite as much as when the trip is starting!
I'll give it until tomorrow afternoon and then I'm going to have a heck of a time getting footwear, not to mention everything else to replace.
So off we went to the Rental Car Shuttle bus. There is a separate building, which actually was very nice and organized for all rental car agencies. We had to sign a zillion papers since we were renting a GPS for the car. Soon, we were off to locate our vehicle. All the National employees were very friendly and very helpful.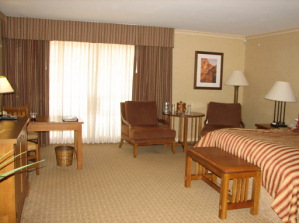 Within about 20 minutes we arrived at the Arizona Biltmore Resort and Spa. We stayed here using Disney Vacation Club points exchange. Our use year ends the end of August and we were going to have some extra points, so figured why not! The resort is simple yet elegant but everything is VERY expensive! Our room was not yet ready, so we got something to eat and chilled until the room was indeed ready. Off we walked and our room is large, simple, yet very nice.
Both of us are exhausted from the long day and screwy meals we had. We are both ready to hit the sack and get a fresh start tomorrow. Our plan is to visit the Desert Botanical Gardens. It opens at 7am and since Arizona is 3 hours behind the east coast, shouldn't be a problem. After that, we'll check on my suitcase and then either go shopping or continue sightseeing.
Hopefully this rocky start is just that and things will be smooth as silk from here out.
Tomorrow some of our friends arrive and we look forward to seeing everyone again.
That's about it from Phoenix! Until tomorrow…
Deb and LindaLou