General Info
Attraction Info
Parades and Shows
News
January
February/
March
Spring
April
May
June/July
August
September
October
NovemberDecember
OTHER THEME
PARKS
Cinderella Castle Suite

Year of a Million Dreams
October 1, 2006 - December 31, 2007
Where over a million dreams will come true…one at a time.

Click HERE for interior photos of the Cinderella Castle Suite!

Click HERE for the Official PRESS RELEASES
Click HERE for a list of PRIZES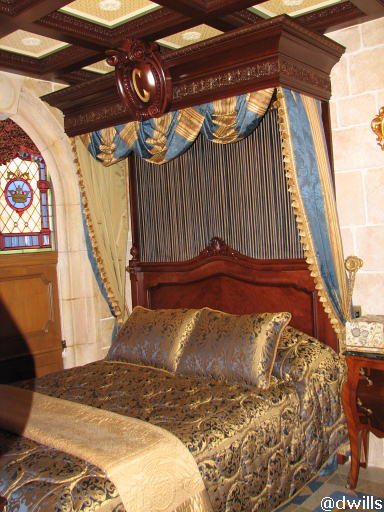 The Year of a Million Dreams, a first-of-its-kind event, celebrates your dreams and the dream-making magic Disney Cast Members create for guests every day at the Disneyland® Resort in Southern California and the Walt Disney World Resort in Florida.
An exciting part of this incredible celebration is the chance to win an overnight stay in the all-new Cinderella Castle Suite -- in the heart of the Magic Kingdom.
Here's what the prize entails:
A Day (and a Night) in the Life of the Cinderella Castle Suite
* Each morning, a magical time and place is randomly selected from anywhere on Walt Disney World property to find a winner of a night in the Cinderella Castle Suite.

* A Disney Dream Squad of cast members is advised of the selection, heads to the location and identifies the winning guest from the selection criteria.

* The Disney Dream Squad informs the guest of their prize, explains the details of the prize and asks if they want to accept it.

* If they accept, after a short verification process, the fanfare begins. (If the guest does not accept the prize, the computer randomly selects another lucky guest. The computer will select up to three guests each day.)

* The winner and up to five guests head back to their hotel to pack an overnight bag. Then it's on to their day of royalty.

* First event is a photo session on Main Street, U.S.A. in Magic Kingdom. They are proclaimed royalty for the day and led down Main Street to their suite.

* The Royal Concierge checks them into the suite and gives them a formal tour, regaling them with the history and spectacle of the suite's royal heritage.

* After a bit of free time to explore their imperial quarters, the winning family is awarded one of the highest honors bestowed on guests of Magic Kingdom as they become Grand Marshals of the "Disney Dreams Come True" parade.

* Following more luxurious relaxation time in the suite, the winner's magical evening begins with dinner at Cinderella's Royal Table, a feast fit for a monarch, with a meet-and-greet with Cinderella.

* Dinner is capped with VIP viewing of the "SpectroMagic" nighttime parade and "Wishes" fireworks spectacular. (Available most non-special-event nights.)

* For up to two hours after the scheduled close of the park, the family will have access to Magic Kingdom with a VIP Guest Relations cast member. This will allow them to enjoy the atmosphere of the park before they retire for the evening. Suggested after-hours tours will be available which include modified versions of "Art of the Theme Show" and "Keys to the Kingdom," which are tours that explore the history and creativity behind Magic Kingdom. This special "after hours" opportunity gives these guests an amazing opportunity to see Magic Kingdom in a way that few guests have experienced.

* Then it's back to the suite for a night of "suite dreams." At the suite, they discover their beds turned down with royal sweets, and their room stocked with a variety of snacks and drinks. (The Royal Concierge is just a stone's throw away should the family require anything during the night.)

* After a glorious night's sleep in the royal chamber, the winning family is awakened by a personalized wake-up call from Cinderella.

* Then, as with every fairytale, the clock strikes and the family returns to their magical vacation, checking out of the Cinderella Castle Suite, which is then readied for the next day's royal visitors.
Cinderella Castle Suite: A Regal Tour
Foyer
* Cinderella's Coach mosaic tile floor contains more than 30,000 tiles, including 3,400 24-carat gold and more than 120 white-gold pieces.
* The tile creation entailed four months of hand-cut work by four craftswomen who share more than 100 years of experience working with mosaics.
* Custom-made -- and priceless -- glass slipper (Steuben Glass).
Royal Bedchamber
* From the Netherlands, a Dutch secretary desk (17th century) with inlaid wood and velvet-lined shelves.
* From Thailand, three hand-woven rugs.
* Two authentic antique "slipper" chairs. They look like children's furniture, but were actually used during the 17th and 18th century by adults who sat in the chairs to put shoes on.
* Two custom designed headboards stand 8 feet, 2 inches with "C" (for Cinderella) crest.
* Venetian glass sconces adorn either side of the fireplace and contain a Cinderella and prince likeness etched on each.
* A painted portrait of Cinderella magically changes to a television above the fireplace, using newly created special effects dreamed up by Imagineers.
* Inspired by the Cinderella story, playful carved mice cavort on support columns.
* 600-pound antique limestone fireplace -- 17th century Gothic molded from an original wood fireplace from France. The fiber optics give the appearance of a fire with glowing embers.
* Two cinder pots reflect Cinderella's humble roots. Made from hand-hammered copper. French reproduction, red with gold accents.
* Rich wood furnishings. Mahogany and maple throughout.
Royal Sitting Room
* Magic mirror -- based on French design. Special glass mirror that transforms into a TV as part of the entertainment center.
* Custom designed sofa bed -- one-of-a-kind with French-carved details.
* Stained-glass windows telling the story of Cinderella. They face west fittingly toward Cinderella's Golden Carrousel in Fantasyland. Crystal jewels adorn the windows.
* Right and left mirrored spaces in the parlor open to reveal hidden drawers and space for hanging clothes. (Castles always were full of hidden doors.) The center space opens to reveal the DVD player and small refrigerator.
Royal Bath
* Grotto-inspired design.
* Ceiling features a dome of twinkling stars.
* Custom-made 4 x 4, multi-jet Jacuzzi tub with waterfall faucet and Chromatherapy Lighting.
* Three mosaics containing a total of 30,000 tiles made of Italian smalti glass, hand-cut and placed by Disney artisans. Features include a crystal slipper, a crystal pumpkin, the initials "WD" (Walt Disney) and a mouse looking up toward the castle -- plus a few other surprises.
* Hand-hammered copper leaf basins with silver leaf.