General Info
Attraction Info
Parades and Shows
News
January
February/
March
Spring
April
May
June/July
August
September
October
NovemberDecember
OTHER THEME
PARKS
Walt Disney World Celebrates....

100 Years of Magic!
100 Years of Magic Attractions and Events
The 100 Years of Magic Celebration Has Been Extended
through February 2003
Special Report from Jennifer Watson and Dave Marx
authors of Passporter WDW guidebook
Sorcerer Mickey's Hat
Walt Disney: One Man's Dream
Share a Dream Come True Parade
Disney Stars and Motor Cars Parade
Mickey's Jammin Jungle Parade
Tapestry of Dreams Parade
DISNEY PRESS RELEASES

100 Years of Magic Celebration
Making Music Magic: Disney's 100 Years of Magic a Musical Celebration
The History of Walt and Parades
100 Years of Magic
Year-Long party Begins October 1, 2001
Entertainment Spectacles in All Four Theme Parks
What's New - New Attractions for 100 Years of Magic

**********
100 Years of Magic Celebration
LAKE BUENA VISTA, Fla. -- For the first time ever, a parade spectacle will unfold daily in all four Walt Disney World theme parks during the 100 Years of Magic Celebration beginning Oct. 1, 2001. And that's exactly as it should be, according to Disney entertainment experts.
More news about the 100 Years of Magic Celebration at Walt Disney World Resort
• 100 Years of Magic Celebration to Feature New Spectacles in All 4 Walt Disney World Parks
• Sorcerer Mickey Hat, 122 Feet Tall, Crowns Disney-MGM Studios As Newest Icon at Walt Disney World Resort
• FedEx Delivers Historical Walt Disney Memorabilia To Walt Disney World Resort
"The 100 Years of Magic Celebration is a tribute to the imagination of Walt Disney," says John Haupt, managing producer for the parades. "We have tried to tie our live entertainment to his penchant for creativity."
That creativity, according to Marty Sklar, vice chairman and principal creative executive for Walt Disney Imagineering, often involved parades. "Walt loved parades," says Sklar, who worked with Walt for many years. "Parades were important at Disneyland from 'Day One'."
Adds Haupt, "Nothing beats a parade when we want to create an entertainment spectacular for lots of people."
So during the 100 Years of Magic Celebration, Disney milestone moments are presented in parade units inspired by snow globes in the Magic Kingdom. Motorcars take on the visual personality of Disney characters in Disney-MGM Studios. The jungle beat is a pageant of party animals in Disney's Animal Kingdom. The dreams of children float on the evening air in Epcot.
The magic of the four parades is brought to life by legions of entertainers -- a total of more than 300 -- plus nearly 60 parade-unit drivers and other support personnel.
Then there's the "supporting cast" -- thousands of theme park guests who are invited to take a role in the fun. Some are selected to actually ride along. Some have the chance to step off the curb and join the Disney characters in a brief activity. Others help make the magic happen when the characters musically invite them to shout a special phrase.
All four parades incorporate the new "Suite of Dreams" music written especially for the 100 Years of Magic Celebration.
**********
Making Music Magic: Disney's 100 Years of Magic a Musical Celebration
LAKE BUENA VISTA, Fla. -- Walt Disney World Resort is a 47-square-mile music box crowned by a castle. To the delight of millions of guests across the decades, music has been as much a part of the Vacation Kingdom as Mickey Mouse, dating to 1971 when the first opening-day parade stepped off on Main Street, U.S.A.
And so it will be during Disney's 100 Years of Magic celebration -- when Walt Disney World Resort makes more music magic in honor of the 100th anniversary of the birth of founder Walt Disney. What resonates from Disney's music box will inspire, entertain and thrill guests coming for the celebration of a lifetime.
Dates for the 15-month gala are Oct. 1, 2001-Dec. 31, 2002.
"Because 100 Years of Magic is a celebration across all four theme parks, we asked ourselves, 'What is something that ties all the parks together?'," said Disney's Steve Skorija. "The obvious answer was music."
Adds Rich Taylor, vice president, Walt Disney Entertainment and Costuming: "Music is such a critical component for us. No other show element can trigger the emotions or recall special memories the way music can. It's truly the heart and soul of our business, and is the emotional thread that connects all the new product we've created for the 100 Years of Magic celebration."
According to Skorija, musical director for Walt Disney World Entertainment, a milestone event such as 100 Years of Magic rated milestone music. Planners knew the main theme had to connect to Walt and be a musical celebration "global" to the Vacation Kingdom -- yet be flavored with the unique "personalities" of all four parks.
Disney's "Suite of Dreams" was born.
The 20-minute original orchestral piece consists of five four-minute movements. Movements take the themes of adventure (Disney's Animal Kingdom), discovery (Epcot), fantasy (Magic Kingdom) and show business (Disney-MGM Studios). A fifth movement, the finale called "Share a Dream Come True," is "like the anthem for the event, the ribbon around 'Suite of Dreams'," says Skorija.
"Suite of Dreams" may be experienced two ways during the celebration.
A two-CD set has been produced by Walt Disney Records and Walt Disney Entertainment that features "Suite of Dreams" and parade music. It will be available exclusively for purchase in Walt Disney World theme parks and resorts.
Or, Disney guests can hear "Suite of Dreams" as parade tracks in the parks. "The idea is that a theme from 'Suite of Dreams' goes into each parade at all four parks," Skorija says. "In the Magic Kingdom parade, for instance, we thread the fantasy theme from the 'Suite of Dreams'."
Here's a look inside Disney's music box for the 100 Years of Magic celebration:
Magic Kingdom (fantasy)
Disney guests won't believe their ears. Remarkably, selections from 65 Disney songs were pieced together to accompany the "Share a Dream Come True" parade of snow globe floats. Composer of the fantasy movement is Gavin Greenaway, Emmy award-winning composer for the Disney Millennium music. According to Ted Ricketts, music director for the parade, the music of "Share a Dream Come True" was conceived to be "majestically orchestral while maintaining the traditional Magic Kingdom happy and upbeat musical style." Dynamic and heartwarming new musical themes created for the parade are featured along with 65 of the best-loved Disney songs in a counterpoint musical style inspired by Disney's "Main Street Electrical Parade."
Threading 65 songs into one four-minute score "wasn't easy," Skorija says. "Share a Dream Come True" makes starts and stops along the parade route, inviting Magic Kingdom guests to share in the fun. Technicians devised a way to program music specific to each float during the "stops." When the parade is rolling again, Skorija says, "everything plays."
Disney's Animal Kingdom (adventure)
This movement was composed by two-time Emmy award-winner John Debney of "Emperor's New Groove" fame as well as Dan Stamper, Walt Disney Entertainment Emmy-nominated music director and Reed Jones, parade show director. The orchestration for "Mickey's Jammin' Jungle" parade is the up-tempo, brightly whimsical work of composer Gordon Goodwin, Grammy nominee for the Big Phatt Band CD, "Swingin' From the Fences." The score for the parade also draws on high-energy songs that represent different areas of the world.

Explains Stamper: "Mickey, Rafiki and friends lead a high-energy musical caravan through the Animal Kingdom celebrating the harmony between man and animals with high-energy rhythm, chants, songs and instruments from around the world."
Epcot (discovery)
Gavin Greenaway, John Debney and Jonathon Barr brought their composing genius to the score for "Tapestry of Dreams," a celebration of children, dreams and the legacy of Walt Disney. The first three musical minutes of "Tapestry of Dreams" is brand new. Then the music segues into a score created for "Tapestry of Nations" -- with dreamseeker musical treatments.
"We overlay a dream sequence at the top of the parade and it creates a whole new musical statement: dreamlike, tinkly, lots of wind chimes," says Skorija, music director and conductor for this parade.
Disney-MGM Studios (show business)
Befitting this cavalcade of resident Disney-MGM Studios stars in outrageously customized classic cars, composers Gordon Goodwin and Greg Smith honor Walt Disney's 43-year moviemaking career. Music from more than 30 songs representing Disney characters, Muppets and "Star Wars" are heard by Disney-MGM Studios guests as the "Disney Stars and Motor Cars" parade rolls through the park, in the very shadows of a 122-foot-tall Mickey's Sorcerer's Hat, new icon of the park and centerpiece of the 100 Years of Magic celebration.
"This parade," musical director Dan Stamper says, "represents a glamorous symphonic salute to Walt Disney, featuring your favorite heroes and villains from the big and small screen."
All-new musical scores are a Disney tradition, Skorija notes.
"Music was always important to Walt's vision of entertainment. It played a leading role for Walt in putting all the animated features together.
"Music is always everywhere at Walt Disney World. You can't go into any park or resort without hearing music."
Making Music Magic: 100 Years of Magic Celebration "Suite of Dreams"
Five four-minute movements, themed to each Disney park with the "Share a Dream Come True" final movement
Original music by various composers including two-time Emmy award-winner John Debney, Emmy award-winner Gavin Greenaway and Grammy award-nominee Gordon Goodwin
Twenty minutes in length
Available on Walt Disney Records CD in Walt Disney World parks and resorts
Mixed by Emmy award- and Grammy award-winning engineer Tommy Vicari, whose numerous credits include recording and mixing for Barbra Streisand, Quincy Jones, Christina Aguillera and Prince, as well as orchestra mixer, since 1996, for the Academy Awards Show
**********
The History of Walt and Parades
Walt Disney was infatuated with parades from the time of his youth in Missouri. "When the circus came to [Kansas City]," chronicles author Bob Thomas in Walt Disney: An American Original, "Walt followed the parade from beginning to end, his sister Ruth striving hard to keep up with him. He devised his own circus parade, enlisting Ruth and the neighborhood children to help decorate floats atop play wagons."
More than 40 years later, Walt's love of parades had a whole new "stage": Main Street, U.S.A. at Disneyland in California.
"On 'day one,' Walt read a dedication and then the parade started," says Disney historian Dave Smith. That was July 17, 1955. The Disney characters -- Mickey Mouse, Cinderella, Snow White and others -- took on a new, three-dimensional life in a procession that marched to the beat of the Disneyland Band. Actors Fess Parker (Davy Crockett) and Buddy Ebsen joined in the fun. The parade featured TV commentary by Ronald Reagan.
On Thanksgiving Day in 1955, Walt introduced a circus parade. The following Easter, there was an Antique Automobile Parade. In December 1957, the Christmas in Many Lands Parade premiered. Then came Cavalcade of Bands. And The Parade of Toys. Then the Christmastime extravaganza Fantasy on Parade. And Tencennial Celebration Parade in 1965 to salute Disneyland's first decade.
**********

100 Years of Magic
Year-Long party Begins October 1, 2001
Lake Buena Vista, FLA - Beginning October 1, Walt Disney World Resort pulls out all the stops for a yearlong extravaganza of special events, new attractions and ground-breaking live entertainment in honor of the 100th anniversary of Walt Disney's birth.
Paying tribute to the legacy of Disney's creativity and spirit of adventure, the 100 Years of Magic celebration will encompass all four Walt Disney World theme parks.
"The emotional connection that our guests have to the Disney legacy of innovation, imagination and family entertainment, combined with new entertainment and attractions, will make this our most magical celebration ever," says Walt Disney World President Al Weiss.
Recognizing the extraordinary show-business contributions of Walt Disney, 100 Years of Magic will have an especially strong focus at Disney-MGM Studios, which will unveil a gigantic, 12-story Sorcerer Mickey hat, a symbol representing the magic of show business and the entertainment wizardry of Disney that is captured through-out shows and attractions at the park.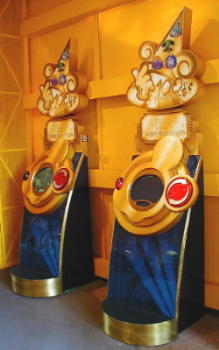 Brilliant blue and decorated with moon and star shapes of glittering gold, the giant showpiece is inspired by the hat worn by Mickey in the animated classic, "Fantasia." An equally gargantuan Mickey hand tips the hat, which rests on two shimmering ribbon loops that are stylized versions of Mickey's ears.
Disney-MGM Studios guests will be treated to a magical Disney "starcade" - a daily parade of classic cars in regalia inspired by the characters of Disney stories.
And for the first time ever, cherished memorabilia from the Disney archives and taped interviews with Walt Disney will be open to the general public in Walt Disney: One Man's Dream, a multi-media tribute to Walt Disney, the man.
All four theme parks will host elaborate parades themed to the imagination and fantasy of Disney entertainment. New attractions, including a whole new "mini-land" at Disney's Animal Kingdom, will debut, along with 100 Years of Magic interactive kiosks (left) that let guests dig through a computerized treasure trove of information that shows the heritage behind the family-entertainment fun of today's Disney parks.
The 100 Years of Magic festivities are especially meaningful to many Walt Disney World cast members who are preparing for the celebration with fun facts, trivia and Disney lore to share with guests.
A Fascinating Journey - Walt Disney was one of the great visionaries of the 20th century, and a new attraction at the Disney-MGM Studios pays tribute to his work.
Walt Disney: One Man's Dream showcases Disney's career in an emotional journey that starts with Disney's birth in 1901 and ends with the company's vision for the future.
As guests enter the corridor leading to the Lights! Camera! Action! Theater, a gallery will house a collection of exhibits that includes Disney artifacts - animation art, sketches, paintings, storyboards, models, costumes and sets. Many come straight from the Walt Disney Archives and are on display for the first time ever.
Included in the display will be Walt's working office from the Walt Disney Studios and a re-creation of the Project X Florida room where Walt Disney World Resort was first envisioned.
"When we were researching the attraction, we found that many of our guests under the age of 15 did not know Walt Disney was a real person," said Roger Holzberg from Walt Disney Imagineering. "They thought it was just a company name."
Throughout the gallery, scenic pieces and props create an experiential trip through each era of Disney's life, beginning with a brief look at Disney's early years, from his birth in Chicago and his formative years in Marceline, MO., a period that was crucial to his development as an artist and storyteller. Throughout, colorful cards highlight significant dates in the story. And in one of the attraction's most exciting features, Walt Disney himself talks about the most meaningful and emotional moments of his life through a rare collection of audio tapes from the early 1960s, many heard publicly for the first time.
The attraction ends with a short film of Walt Disney's life that explores the extraordinary hardships he overcame to achieve what he did in his lifetime. "He is an individual, not an icon," said Holzberg. "This tells the story of Walt the man, and we hope that guests will be moved by the scope of his imagination, what he accomplished, and what he inspired."
"It's important to note that 'One Man's Dream' is in no way a retrospective," said Holzberg. "Walt always said he had one foot in the past and one foot in the future. We want to inspire the young creative minds of today to help invent the future."
1901: Birth of Walt Disney
1923: Walt Disney leaves Kansas City to start the Walt Disney Company
1928: The debut of Mickey Mouse in Steamboat Willie
1937: Release of Snow White and the Seven Dwarfs
1950: First live-action film, Treasure Island
1954: First television series, Disneyland
1955: Opening of Disneyland
1955: Launch of Mickey Mouse Club
1966: Death of Walt Disney
1971: Opening of Walt Disney World Resort
1982: Opening of Epcot at Walt Disney World Resort
1983: Opening of Tokyo Disneyland
1984: Michael Eisner joins the company
1989: Opening of the Disney-MGM Studios at Walt Disney World Resort
1992: Opening of Disneyland Paris
1998: Opening of Disney's Animal Kingdom at Walt Disney World Resort
2001: Disney's California Adventure opens
2001: 100 Years of Magic

**********
Entertainment Spectacles in All Four Theme Parks
For the first time ever, three of the four Walt Disney World theme parks - Magic Kingdom, Disney-MGM Studios and Disney's Animal Kingdom -will feature Disney character parades and the Epcot Tapestry spectacle will be expanded, all part of the 100 Years of Magic celebration.
The 100 Years of Magic celebration is a tribute to the imagination of Walt Disney...and nothing celebrates imagination more joyously than live entertainment.
All four parades will incorporate the new Suite of Dreams music written especially for the 100 Years of Magic celebration.
Mickey Mouse and 100 Disney characters star in the Magic Kingdom parade, Share A Dream Come True, highlighting favorite moments from the early days of Mickey Mouse cartoons to the newest animated Disney characters. Vignettes are captured in giant snow globes with live Disney characters inside. The spectacular opening float features Mickey Mouse waving form inside his snow globe atop a Mouse-ment of Mickey statuettes depicting Mickey through the years.
Producer Bill Anoka calls each float "a moment to remember," from the charming Snow White and the Seven Dwarfs and Pinocchio to the adventure of flight in Mary Poppins, Dumbo and Aladdin.
The parade stops momentarily along the route to invite guests into the street to celebrate with the characters. The finale is a magnificent castle floating on clouds, with Tinker Bell's magic wand revealing a character carousel rising from the clouds inside the final snow globe.
Managing Producer John Haupt says of the parade, "It's heartwarming and playful. Disney fans are going to love this tribute."
The Tapestry of Nations street festival at Epcot has been transformed into a parade celebrating children, dreams and the legacy of Walt Disney. "This parade surrounds World Showcase with enormous drums, fanciful puppets and spectacular pageantry," says Haupt. "It celebrates the dreamer in all of us."
Throughout the day at Epcot, Kidcot activity kiosks around World Showcase will offer children cardboard compasses illustrating the 11 World Showcase countries with a press-out "coin" in the center of the compass. As the nightly procession begins, recorded voices of children tell their dreams for the world as three "dream spinners" dance along.
During the parade, young guests can make a wish as they toss their "coins" into a dream catcher that passes by the procession. "The dream spinners call upon the guests to imagine a vision of the future where all of our best dreams come true," says producer Taz Marosi.
The dreams are woven into a tapestry of vibrant sights and sounds as the parade, with brilliant puppets that conjure up spirits, angels, birds and other ethereal creations encircling World Showcase. "The parade explodes with rhythm, color and music," said Marosi. "It's a brand new experience."
Mickey's Jammin' Jungle Parade - The new parade at Disney's Animal Kingdom is a traveling, interactive island street party that features Disney characters "on expedition" and a tribute to their animal friends. As the procession winds through the park, a menagerie of abstract animals comes to life in handcrafted theatrical designs - "bursts of living color," says producer Paul Nichols.
During each parade, nearly two dozen guests get in on the action in customized rickshaws that accompany the Disney characters in their own safari jeeps. Minnie Mouse, for instance, appears as if she brought all the comforts of home along on her safari, with steamer trunks, wardrobe cases, hat boxes, even a bathtub (with bubbles continuously floating out.)
Party Animals and energetic Party Patrols coax the audience into a singalong music fest as the parade winds throughout the park.
Disney Stars and Motor Cars - All the resident stars at the Disney-MGM Studios create a celebrity cavalcade worthy of a red-carpet event in the new Disney Stars and Motor Cars parade.
"We bring the stars to you," said producer Tax Marosi. The luminaries - Aladdin and Jasmine, Luke Skywalker, Rolie Polie Olie, Miss Piggy, Mary Poppins, Mickey Mouse and more - all are on hand for a Hollywood celebration honoring Walt Disney's 43-year career in motion pictures.
More than a dozen stars ride in customized cars, many of them vintage models. The Aladdin car is outfitted to look like the Genie, the Toy Story car is in the shape of Andy's bed. The final car, a 1929 Cadillac, will carry Mickey, Minnie and friends.
Walt Disney, who got his start in motion pictures, is honored in a pre-show that pays homage to his pioneering creativity. Commentators along the parade route will share Walt wisdom as the parade makes its way through the park.
**********
What's New - New Attractions for 100 Years of Magic
There's something new all across Walt Disney World Resort for the year-long celebration, from resorts to attractions and live entertainment. Here's a rundown:
In the Magic Kingdom, the Magic Carpets of Aladdin, the first new attraction for Adventureland since the Pirates of the Caribbean opened in 1973, takes riders for a dream flight around Agrabah.
Also in the Magic Kingdom is a new Disney live entertainment extravaganza in the Cinderella Castle forecourt, starring favorite Disney characters.
At Disney's Animal Kingdom, Chester & Hester's Dino-Rama! "mini-land" adjacent to DinoLand U.S.A. features Triceratop Spin, a flying, twirling journey up, down and around in four-passenger vehicles that move around a giant spinning toy top, and Primeval Whirl using roller-coaster technology to create spinning "time machines" that transport riders through curves, short drops and the jaws of a dinosaur skeleton.
At the Disney-MGM Studios, Who Wants To Be A Millionaire - Play It! re-creates the excitement of the hit ABC-TV game show, complete with a detailed replica of the New York studio set. Guests can play along from their seats in the audience for a chance to get in the "hot seat" and win prizes.
Nearby at the theme park is Playhouse Disney, with Bear in the Big Blue House, Rolie Polie Olie and other favorites from The Disney Channel.
Opening soon with 5,760 rooms, the value-priced Disney's Pop Century Resort salutes American popular culture with icons representing each decade from the 20th century, like a giant jukebox from the 1950s and an oversized yo-yo from the 1960s.
The 1,293 room Disney's Animal Kingdom Lodge offers a remarkably authentic experience with zebras, giraffe and other exotic animals on a 33-acre African savannah. The resort offers deluxe and luxury suites with views of the freely roaming wildlife.

**********
News Briefs
Hat Size: 605 7/8...and Mickey Mouse, to scale, would have to be 350 feet tall to wear it. The Sorcerer Mickey's hat, the icon for the 100 Years of Magic celebration, represents "fun and mischievousness," said Walt Disney Imagineer Roger Holzberg. The gargantuan hat is 100 feet tall - rising 122 feet in the air resting atop mouse ears, and weighs in at a whopping 27 tons!
Suite of Dreams...The 100 Years of Magic celebration even has its own musical composition, with four movements representing each of the four theme parks. Fantasy (Magic Kingdom), Discovery (Epcot), Show Business (Disney-MGM Studios), and Adventure (Disney's Animal Kingdom). A fifth movement is the overall theme song, "Share a Dream Come True." Noted composer Gavin Greenaway (Tapestry of Nations) penned the Fantasy movement, while John Debney (Emperor's New Groove) wrote the Adventure piece. Other composers are under consideration for remaining movements. It's the job of veteran Disney producer Steve Skorija to pull it all together as the music is recorded in London and Los Angeles. The CD will be released this fall.
Disney's Magical Moments Pins...These amazing, high-tech twinkling pins - five in all, one for each theme park and one exclusively for the 100 Years of Magic Celebration - will "magically" illuminate during parades, fireworks shows and select theme park attractions. Guests may purchase the pins at locations across Walt Disney World.
Discover the Stories Behind the Magic...for the 100 Years of Magic celebration, each of the four Walt Disney World theme parks will feature new Discover the Stories Behind the Magic interactive kiosks. The kiosks will offer games and trivia specific to each park that touch upon the dreams and events that inspired various chapters of Disney history. For instance, in the Magic Kingdom, one of the questions: If Mickey's Toontown Fair had been created in 1928, what would have it been called? Answer: Mortimer's Toontown Fair, as Mortimer was Walt's original name for Mickey Mouse until wife Lillian suggested Mickey.