TOURING
AT A GLANCE...
--Animation Academy
--Courtyard Gallery
--Sorcerer's Workshop
--Art of Animation Gallery
--Turtle Talk with Crush
Disney Junior Dance Party!
Five & Dime
Red Car News Boys
Red Car Trolley
--Francis' Ladybug
Boogie
--Princess Dot Puddle
Park
Wilderness Explorer
Ceremony
Inside Out Emotional Whirl (Coming in 2019)
Jessie's Critter Carousel (Coming in 2019)
ENTERTAINMENT
SPECIAL EVENTS
OTHER THEME PARKS
Mickey's Fun Wheel

Paradise Pier
Disney's California Adventure
The Fun Wheel closed on January 8, 2018. It has been re-imagined as the Pixar Pal-A-Round.

Introduction | Attraction | Touring Tips | Kids/Characters | Dining | Shopping | Interesting Facts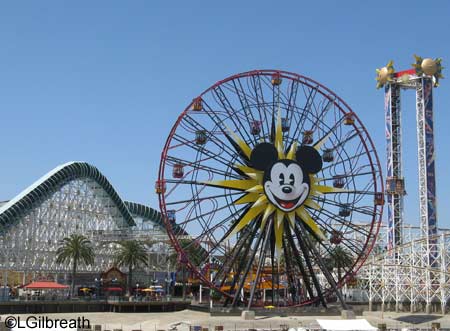 INTRODUCTION
Located right on the edge of Paradise Bay is Mickey's Fun Wheel, one of the most distinctive attractions on Paradise Pier.
ATTRACTION
Mickey's Fun Wheel may look like an ordinary Ferris wheel, but it's not. As the 150' wheel turns, the attached gondolas revolve with it. While the cars on the outside (those with Mickey's face) are stationary, the inner Donald, Goofy, and Minnie cars hang on an interior track, and they move in and out and swing as the wheel turns.
There's no Fastpass for this attraction, and the queue is completely outdoors. There are two lines - one for the stationary (Mickey) cars, and the other for the swinging cars. The gondolas hold up to six people, three on each side.
The loading area can load three cars at a time - two swinging cars and one stationary car. Riders get to go around the wheel twice - it takes one revolution of the wheel (eight stops) to get all the cars loaded/unloaded, and then the wheel makes one complete revolution without stopping. Then the stop-and-go starts again as the cars are unloaded/loaded with the next set of passengers.
The gondolas are completely enclosed and there is no way to fall out, nor even to lose small items. There's an excellent view of DCA, Disneyland and the surrounding area, though the wire mesh makes it difficult to take pictures.

TOURING TIPS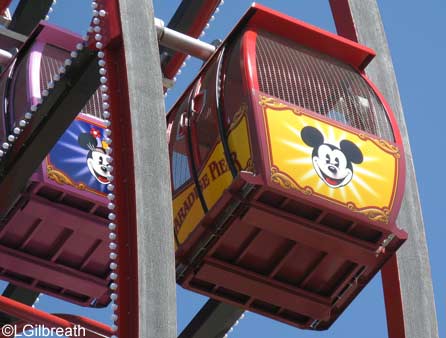 This ride is not recommended for those who are afraid of heights. Those prone to motion sickness might want to consider riding the stationary cars only. And it can be a bit of a shock when the car starts sliding toward the outside of the wheel and swinging back and forth.
The complete load/unload cycle takes about 15 minutes. There will be a total of 8 stops - depending on your position in the load cycle, you might have 4 stops before the complete revolution and 4 after, or you might get on and immediately make one revolution, then experience 8 stops.
This is a slow-loading attraction, and it's best to ride early in the day. When the line is long it can overflow the queue and spill out into the Paradise Pier area.
There is no height requirement.
Wheelchairs and ECVs enter the attraction through the regular queue then transfer into the car.
Restrooms are located behind King Triton's Carousel.
KIDS AND CHARACTERS
This attraction can be fun for the entire family, but those with younger children or those who might be bothered by the motion might want to choose the stationary cars.
DINING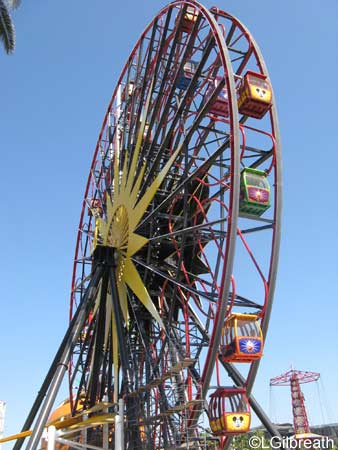 Boardwalk Pizza & Pasta - pizza, pasta and salads
Restaurants At A Glance
Menus From the Disneyland Resort
SHOPPING
Man Hat'n'Beach - Swimwear, hats, beach towels and other seaside accessories.
Point Mugu Tattoo - Paradise Pier-themed merchandise, t-shirts, and souvenirs.
Sideshow Shirts - T-shirts, casual beachwear, toys and souvenirs.
INTERESTING FACTS
Mickey's Fun Wheel is modeled after Coney Island's Wonder Wheel which opened in 1920.
This attraction was originally known as the Sun Wheel and featured a golden sun face in the center. As part of the DCA expansion project it was re-themed to Mickey's Fun Wheel, and opened in May, 2009.
On Mickey's face, notice his eyes - they are the "pie-eyes" of the early Mickey Mouse cartoons.
Part of the loading area is actually below the water level of Paradise Bay.
If you have comments or tips to share with others about touring Disney's California Adventure, please email us. Thank you.