ACCOMMODATIONS
General Resort Information
Value Resorts
All Star Movies
All Star Music
All Star Sports
Art of Animation
Pop Century
Moderate Resorts
Caribbean Beach
Coronado Springs
Fort Wilderness
Resort &
Campground
Port Orleans - French Quarter
Port Orleans - Riverside
Deluxe Resorts
Animal Kingdom Lodge
Beach Club
Boardwalk Inn
Contemporary
Dolphin
Grand Floridian
Polynesian Village Resort
Shades of Green
Star Wars Immersive Luxury Resort
Swan
Wilderness Lodge
Yacht Club
Disney Vacation Club Resorts
Animal Kingdom Villas
Kidani Village at Animal Kingdom Lodge
Bay Lake Tower
Beach Club Villas
Boardwalk Villas
Disney Riviera Resort - Opening Fall 2019
Old Key West
Polynesian Villas and Bungalows
Saratoga Springs Resort & Spa
Treehouse Villas at Saratoga Springs Resort and Spa
Villas at Grand Floridian
Disney Vacation Club at Disney's Wilderness Lodge
FEATURED NON-DISNEY ACCOMMODATIONS
Sheraton's Vistana Resort
One - Two Bedroom Villas
Sheraton Vistana Villages
One - Two Bedroom Villas
OTHER LOCATIONS
Aulani - Disney's Resort and Spa
w/DVC Villas - Hawaii
Disney's Hilton Head Island Resort
Disney's Vero Beach Resort
All Star Resorts Room Locations
Disney's All Star Resorts are all very similiar in layout. All the buildings have been constructed in the shape of the letter "T". The top part of the T faces inwards towards the pools and/or courtyards while the stem of the T points back towards the parking areas. The buildings are all three stories high.
Each resort room is numbered with a four digit number - example: 0422. Each digit carries a meaning. The first digit is a constant throughout all three All Stars. It's the building number (0-9). There are 10 buildings at each resort.
Each resort has a unique numbering pattern. The second digit will indicate the floor that your room is on. The pattern runs like this:
Sports: 1 thru 3 with 1 being the ground floor and 3 the top floor
Music: 4 thru 6 with 4 being the ground floor and 6 the top floor
Movies: 7 thru 9 with 7 being the ground floor and 9 the top floor
Finally the last two digits will indicate the actual room number on the specific floor. So our example of room #0422 would indicate that the room is number 22 in building #10 (the zero indicates 10) on the ground floor of All Star Music.
The following picture will show you the location of each room at any All Star building: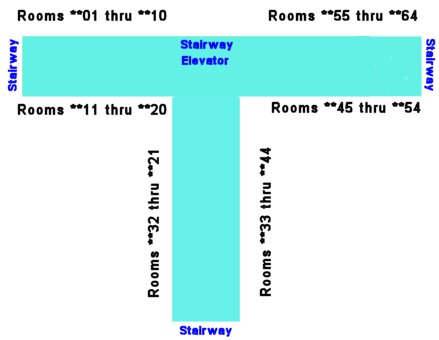 The buildings in the three resorts are numbered as follows:
Sports
Music
Movies
Building #1 - Surf's Up


Preferred Location - $10+ extra per night

Building #1 - Calypso


Preferred Location - $10+ extra per night

Building #1 - 101 Dalmatians


Preferred Location - $10+ extra per night

Building #2 - Hoops Hotel
Building #2 - Jazz Inn


Preferred Location - $10+ extra per night

Building #2 - Mighty Ducks
Building #3 - Hoops Hotel
Building #3 - Rock Inn
Building #3 - Mighty Ducks
Building #4 - Center Court
Building #4 - Rock Inn
Building #4 - 101 Dalmatians


Preferred Location - $10+ extra per night

Building #5 - Center Court
Building #5 - Country Fair
Building #5 - Fantasia


Preferred Location - $10+ extra per night

Building #6 - Surf's Up


Preferred Location - $10+ extra per night

Building #6 - Country Fair
Building #6 - Love Bug
Building #7 - Touchdown


Preferred Location - $10+ extra per night

Building #7 - Broadway Hotel
Building #7 - Love Bug
Building #8 - Home Run Hotel
Building #8 - Broadway Hotel
Building #8 - Fantasia


Preferred Location - $10+ extra per night




Building #9 - Home Run Hotel
Building #9 - Jazz Inn


Preferred Location - $10+ extra per night

Building #9 - Toy Story


Preferred Location - $10+ extra per night

Building #10 - Touchdown


Preferred Location - $10+ extra per night

Building #10 - Calypso


Preferred Location - $10+ extra per night

Building #10 - Toy Story


Preferred Location - $10+ extra per night