As AllEars.Net team members have been visiting Walt Disney World over the last few months we've been seeing a more active promotion of the Service Your Way Program.
The program offers guests a chance to opt out of daily housekeeping services during their visit in exchange for an electronic gift card. The amount of the gift card is based on the duration of your stay.
On our first encounter with this program, we were told that if we chose to opt out of housekeeping services, we could receive $10 for each night of our stay, for a total of $30. The second time we were offered the program, we were told we'd get $5/night, a total of $10 for our two-night stay. When we asked about the change in price in just a matter of weeks, the cast member showed us this card and stated the amounts are aggregate amounts for the number of nights you stay. They did not know exactly why we were quoted a different amount at a different resort. (The hotels were in the same category, so that was not the variant.) A six-night stay under this program yields a $50 gift card total.
If you want to take advantage of this program and have completed the online check-in process, visit the front desk on your arrival day and they will sign you up. You'll get your electronic gift card via email about four hours later.
So far, no one on our team has taken advantage of the Service Your Way program, but we did find out exactly what you can expect if you decide to opt out. If you take advantage of this program you can request:
— refills of amenities
— trash removal
There is no mention of requesting fresh towels during your stay or any linen change.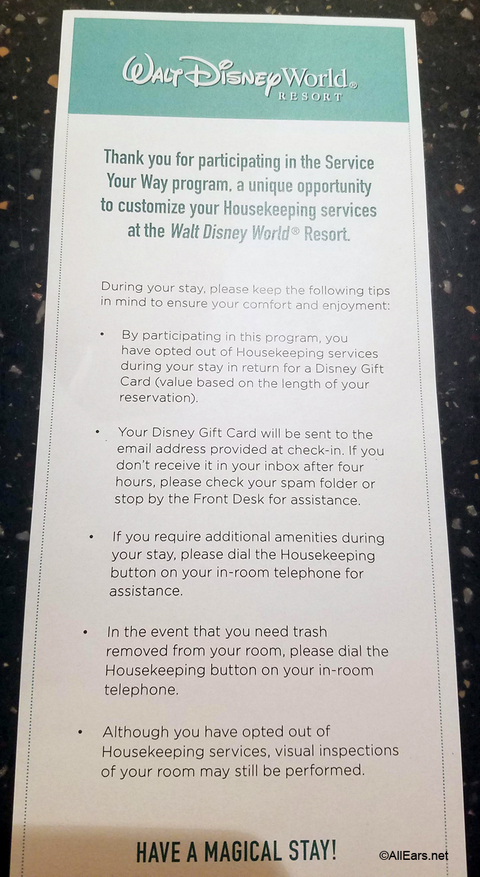 Note that if you choose to take advantage of this program, visual inspections of your room may still be performed.
What do you think of this program? Would you opt out of housekeeping in exchange for a gift card? Let's face it, a family of four can generate a lot of trash and towels during a week-long vacation — so do you think the savings would be worth it? Give us your feedback below.