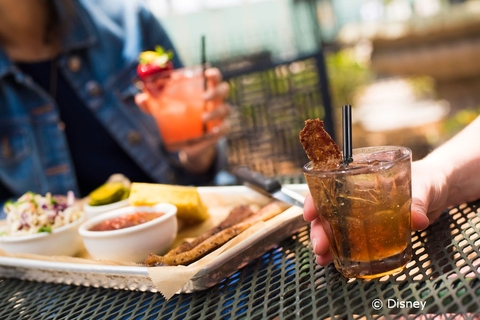 As of today, May 1, Disney Springs is offering a new way for guests age 21 and older to discover bourbon-inspired beverages and food pairings.
Restaurants and other venues around Disney Springs have paired a special bourbon drink with a delicious dish. The map below shows the various locations. Whether you're a bourbon aficionado, or just enjoy sipping and savoring new drinks, this new offering is perfect for an afternoon stroll or a night out with friends.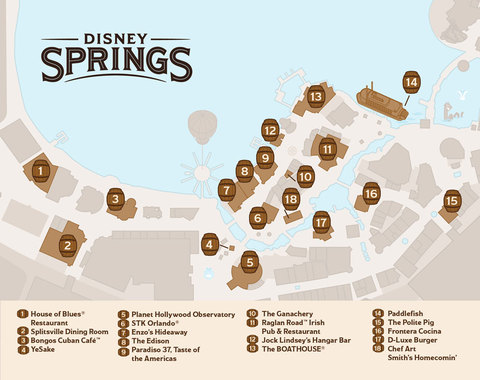 These offerings will only be available through June 17.
Take a look below for the venues and food and beverage pairings that will be available:
House of Blues Restaurant & Bar
Fine and Mellow — featuring Knob Creek Bourbon, St. Elder, lemon juice, strawberry, and rhubarb bitters
Hurry Sundown Old Fashioned — featuring Maker's Mark Bourbon, Benedictine, butter pecan syrup, bitters, and caramel pecan bacon
Smoked Brisket or Smoked Pulled Pork Sandwich
Homemade Bread Pudding — topped with toffee sauce and bourbon butter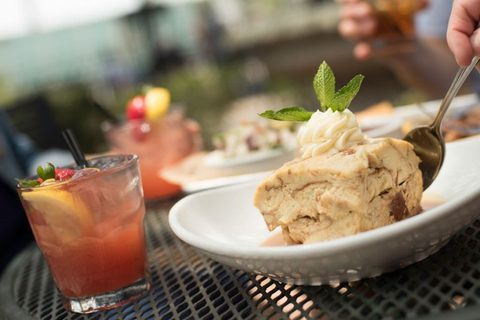 Splitsville Dining Room
The Trifecta — a stirred concoction of Old Forester 100, Carpano Antica Vermouth, Benedictine, and Pimento Dram
BBQ Chicken Pizza — smothered in BBQ sauce, topped with marinated grilled chicken, BBQ sauce, smoked gouda, mozzarella, cilantro, and red onion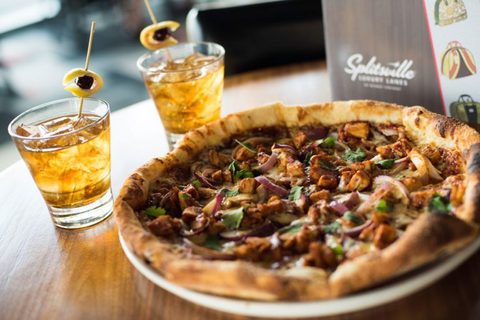 Bongos Cuban Café
Angel's Envy Bourbon Mojito — featuring Angel's Blue Envy Bourbon, simple syrup, soda water, and fresh mint leaves
Authentic Cuban Style Churrasco Certified Angus Beef — a 10-ounce skirt steak hand-cut and served with house-made chimichurri sauce, white rice, and beans

YeSake
Strawberry Bourbon Sour Slushie — bourbon, sweet strawberry puree, and lemonade
Citrus Fresh — salmon, green leaf lettuce, cucumber, onion, spinach, and jalapeño tempura crunch wasabi ponzu sauce (available as a bowl or wrap)
Planet Hollywood Observatory
Bulleit Frontier Old Fashioned — featuring Bulleit Bourbon, sugar, and bitters
BBQ Ribs — fall-off-the-bone St. Louis-style ribs, slow cooked in-house, smothered with BBQ sauce, and served with triple fries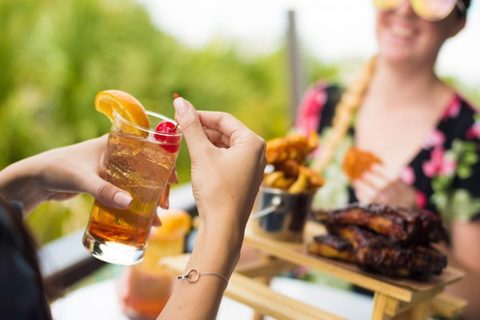 STK Orlando
Double Down — featuring Woodford Reserve and lemon juice
Double Smoked Bacon — served with date chutney, oven-dried tomatoes, and crispy garlic
Bag O' Donuts — enhanced with dulche de leche filling and spice chocolate and raspberry sauces
Enzo's Hideaway

Enzo's Bourbon Swizzle — featuring Bulleit Bourbon, lemon juice, ginger syrup, bitters, and fresh mint sprigs with notes of spice, rye, and cedar
Salumi and Formaggi Board — an impressive selection of meats and cheeses
The Edison

Peach Tree Downs — a refreshing peach mint julep with a nutty pecan finish featuring Knob Creek Bourbon and Old Camp Peach Pecan Whiskey, with a rich, sweet, woody, full-bodied and almost-fruity flavor and aromas of toasted nuts, grain, and oak
DB Clothesline Candied Bacon — maple and black pepper-infused bacon served with a sour pickle (below)

Paradiso 37, Taste of the Americas

Kentucky Sunrise — featuring Jim Beam Bourbon, orange juice, and grenadine
Argentinian Skirt Steak — 10-ounce char-grilled skirt steak topped with caramelized onions and chimichurri and served with wasabi or truffle fries
The Ganachery
Woodford Reserve Bourbon — comprised of more than 200 delectable flavor notes, from bold grain and wood to sweet aromatics: spice, fruit, and floral notes
Raglan Road Irish Pub & Restaurant
The Gold Cup — featuring Bulleit Bourbon, Jameson Black Barrel Irish Whiskey, fresh lime juice, simple syrup, and muddled mint, lime, and cucumber
Dub Schpuds — herb roasted potato wedges with a Smithwick's & Dubliner cheese dip
Jock Lindsey's Hangar Bar
Coffee Old Fashioned — Woodford Reserve Bourbon, Kahlua Coffee Liqueur, Joffrey's Cold Brew Coffee, Vanilla Syrup, Aromatic Bitters, and served with a coffee ganache square
Snakebite Sliders — three gourmet beef sliders with tomato-bacon jam, house-made pickles, shredded lettuce and cheese
The Boathouse
Orlando Pride — featuring Old Forester Bourbon and a homemade blackberry citrus purée
Calamari — hoisin chili marinated calamari rings lightly fried with a medley of peppers and served with a side of hoisin chili sauce (below)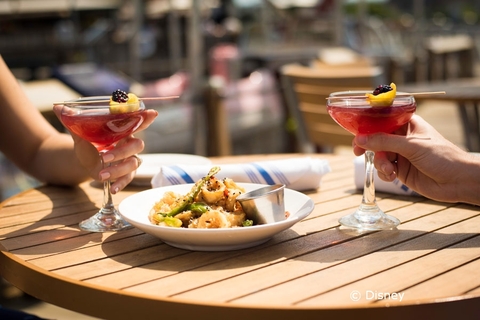 Paddlefish
Southern Sangria — featuring Medley Bros. Kentucky Straight Bourbon Whiskey, peach liqueur, Tempranillo, and seasonal fruit with warm notes of caramel, oak, and spices that are followed by touches of creamy vanilla, milk chocolate, and caramelized sugar
The Pork Chop — a 10-ounce pork chop served with house-made applesauce and fresh green beans
The Polite Pig

Winner's Circle — featuring Buffalo Trace Kentucky Straight Bourbon Whiskey, Pamplemousee grapefruit liqueur, and elderflower tonic, with a rich and complex flavors and hints of vanilla, toffee, and candied fruit
The Southern Pig Sandwich — mouthwatering pulled pork, fennel-apple slaw, tangy mustard BBQ and Dukes Mayonnaise
Frontera Cocina
Bórbon Néctar — featuring Basil Hayden's Bourbon, 3 dashes of organic agave, 5 drops of Elemakule Tiki Bitters, and orange peel with lean oak, corn, and caramel flavors and finishes of warm toffee, spice, and drying wood
Carne Asada — garlic and red chili-marinated Creekstone Natural Black Angus Steak, black beans refritos with queso fresco, and caramelized plantains with crema and Cotija cheese and served with tomatillo salsa and warm tortillas
D-Luxe Burger
Smoked Bourbon Gelato Shake — vanilla gelato blended with Knob Creek Single Barrel Bourbon, hickory smoke, and dark chocolate sauce and topped with a bacon strip
Southern Burger — signature blend beef patty topped with a fried green tomato, pimento cheese, lettuce, grilled onion, and bacon (below)
Chef Art Smith's Homecomin'
The Old Fashioned Elder — featuring Michter's Bourbon and St. Germain Elderflower
Basil Hayden's Mint Julep — featuring Basil Hayden's Kentucky Straight Bourbon Whisky, simple syrup, and sprigs of fresh mint
Famous Thigh High Chicken Biscuits — three biscuits topped with Chef Art's fried chicken thighs, drizzled with hot honey, and served alongside bread and butter pickles