Expo time has come and gone–that once-every-two-year weekend where D23 throws a huge celebration of all things Disney for just you and around 65,000 of your closest friends. I covered some of the major presentations earlier (Animation, Live-Action Studios, Video Games, Day 1, and Day 2) so we're now down to a summation of the rest of what the 2017 D23 Expo had to offer, and some quick thoughts on each.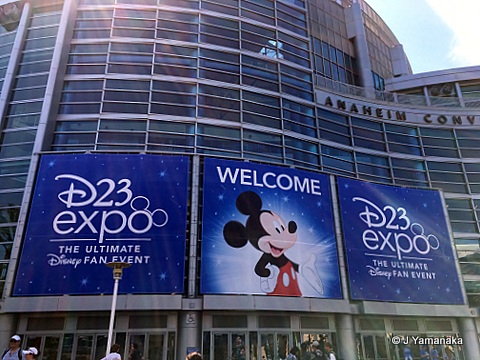 [Unattributed photos and video courtesy of Disney.]
So the last day of D23 Expo started off with another run through on the floor checking out some of the many smaller displays and exhibits.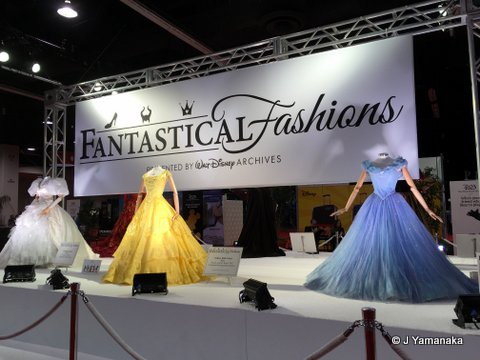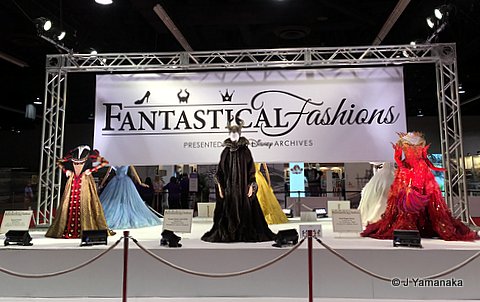 The first panel of the day for me was "Celebration of an Animated Classic: 'The Lion King,'" hosted by producer Don Hahn, and co-director Rob Minkoff.
This was a great discussion of the history of "The Lion King" production, which included cast members Ernie Sabella, Jim Cummings, and Whoopi Goldberg, as well as animators Mark Henn and Tony Bancroft.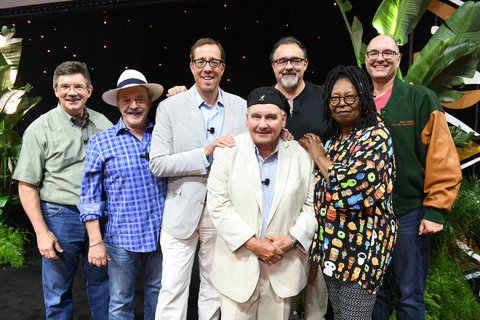 In one segment, Minkoff, Hahn (ably playing an empty 3-gallon water bottle,) and Sabella hilariously recreate Timon's seminal "Hula Song."
The end of the panel included a surprise appearance by the unannounced Goldberg, as well as a huge choral performance of "Circle of Life" which was one of the highlights of the weekend.
While dashing back across the convention center to the next event, I had a chance to stop by the Disney Store booth which was perennially packed with people trying to stock up on limited edition merchandise. I never was able to get in there for shopping purposes, but they did let me take a quick jog around to get a glimpse of stuff I couldn't buy.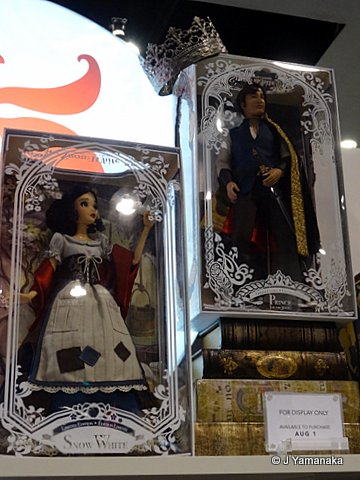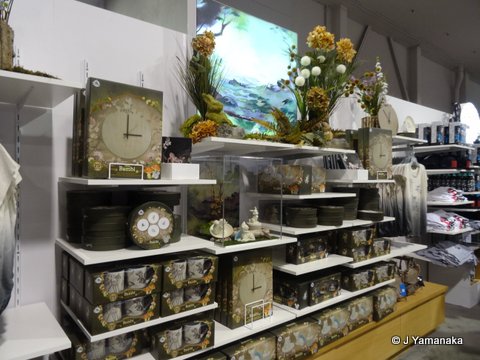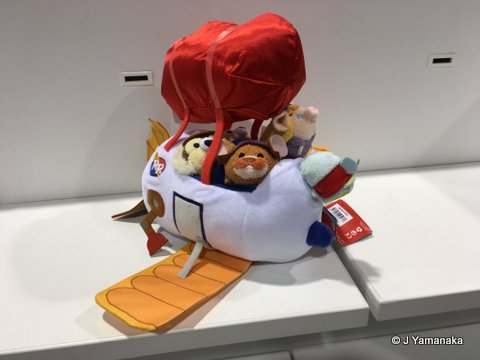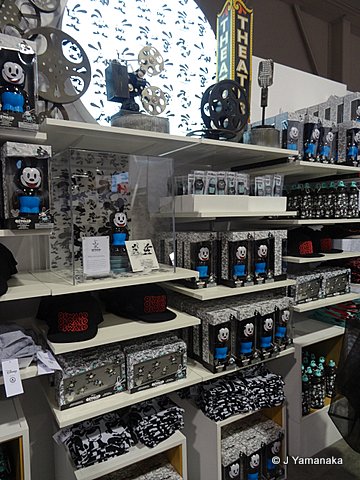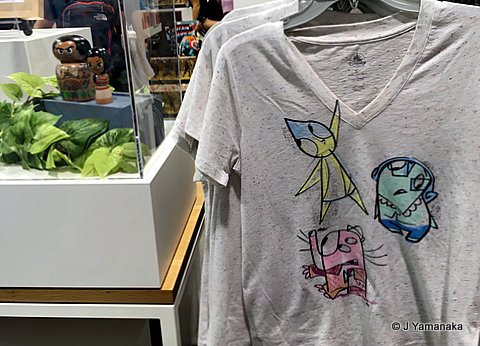 Meanwhile, over at the Disney Music Emporium booth, composer Michael Giacchino was signing any of a number of the soundtracks he's done for a myriad of Disney projects.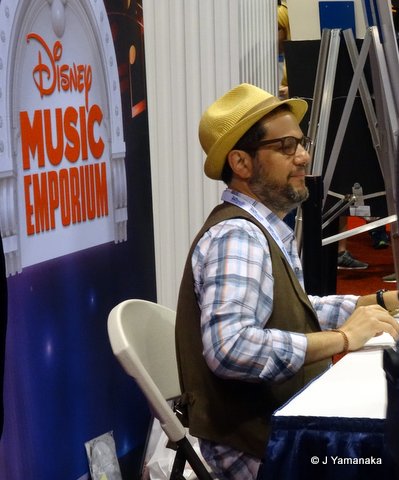 The booth also had out a new Disneyland Records t-shirt, changing it up from the old one they've been selling at conventions since the last Expo.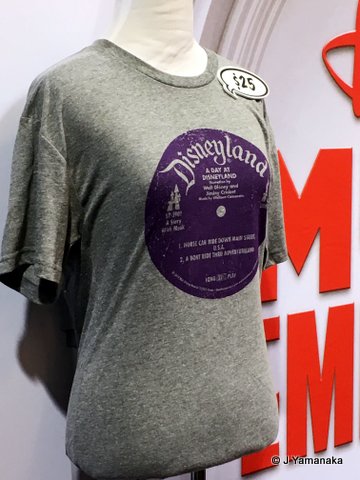 At this point, it was time for the big performance of the weekend, "A Whole New World of Alan Menken." This was basically the same as his one-man show he brought to The Segerstrom Center for the Arts last year, slightly condensed and introduced by Zachary (Eugene Fitzherbert from "Tangled") Levi.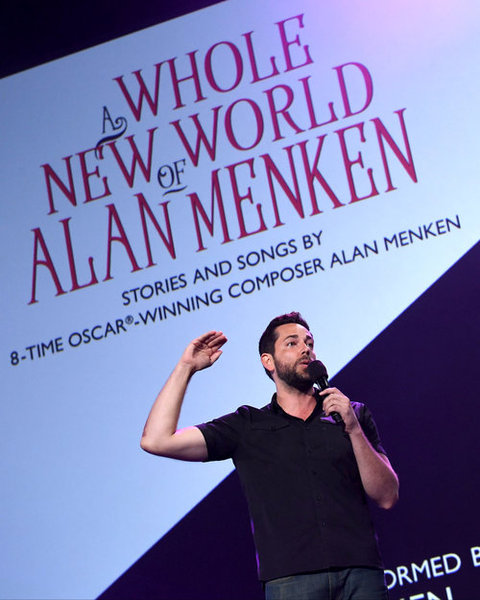 Menken's a great performer and the musical catalog speaks for itself. It was wonderful.
Afterwards, if you sprinted fast enough, you were able to catch the tail end of the also wonderful "Susan Egan: The Belle of Broadway"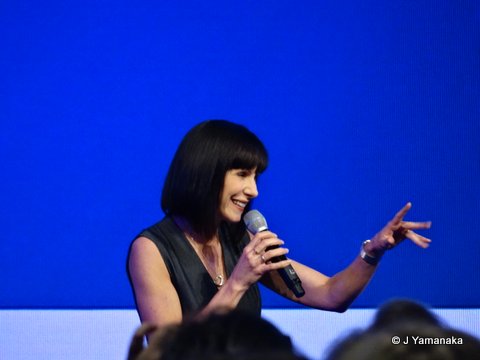 For the First Time in Forever, I finally made it upstairs and into the Stage 28 venue to see "Maps of the Disney Parks: Charting 60 Years from California to Shanghai."
This presentation explored the terrific book "Maps of Disney Parks: Charting 60 Years from California to Shanghai" with host Jeff Kurtti, Imagineer/Curator Vanessa Hunt, Disney Legend Marty Sklar, and Imagineer Matt McKim–son of Disney theme park cartographer/Legend Sam McKim.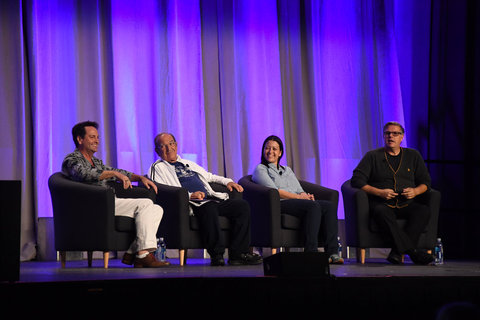 It was a great look at the many maps created for all the Disney parks, and their value as not only pieces of art, but historical records of the parks' evolution.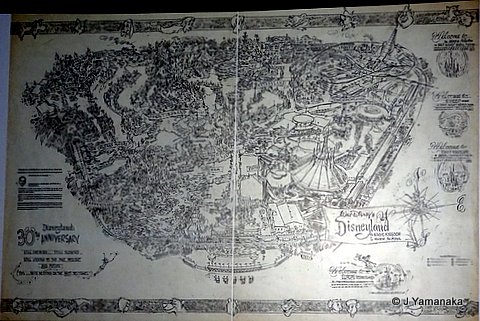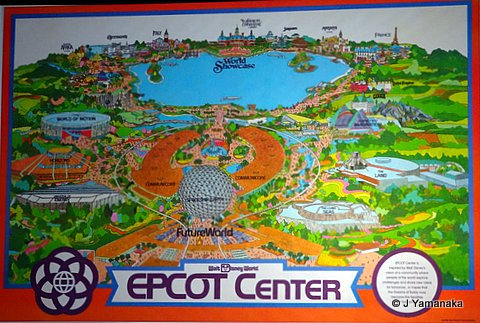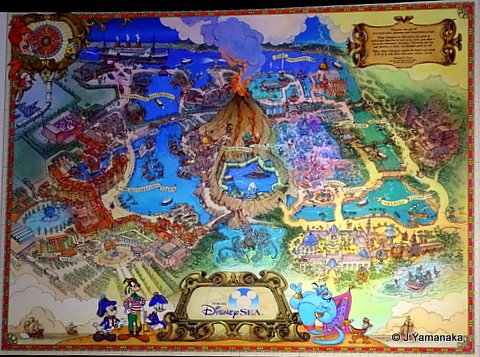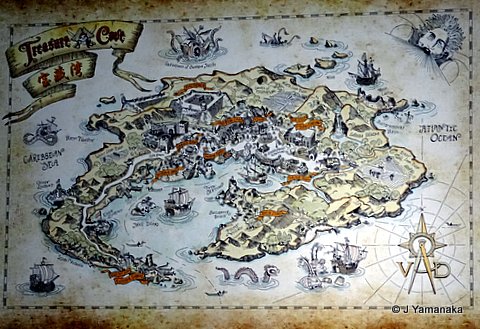 The takeaway was a huge appreciation for the craftsmanship and artistry that went into all the maps through the years, and a regret that they haven't continued doing more of them.
Running down to the last panel of the weekend, I took a quick run by the Marvel Studios booth that had been gradually uncovering different figures as they made announcements about their highly anticipated "Infinity War."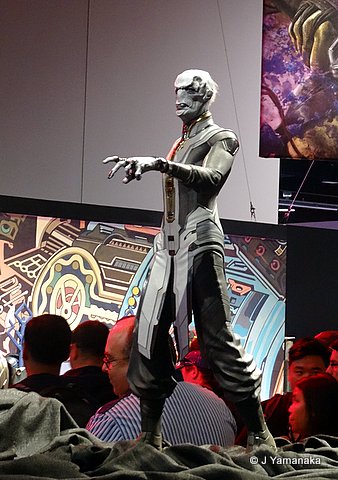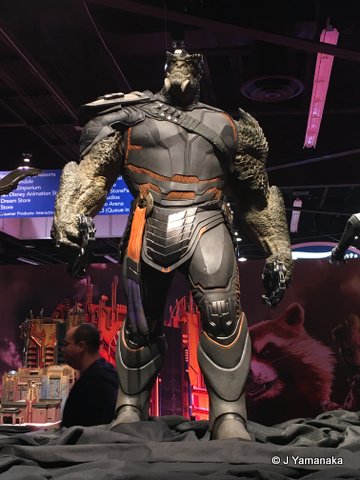 Finally, the Expo wrapped up with "Legends of Walt Disney Imagineering," hosted by John Stamos and featuring Disney Legends Tony Baxter, Wayne Jackson, and Marty Sklar.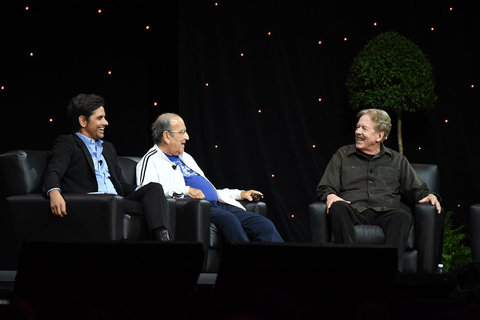 The group reminisced about the many phenomenally talented men and women who pooled their talents together for so many amazing creations, and even compared their respective action figures.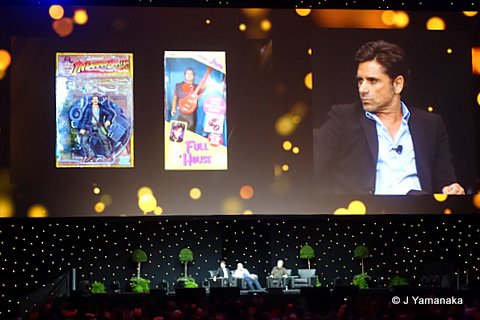 Towards the end of the presentation, Imagineering President Bob Weis came out to present Jackson with a miniature replica of Tokyo Disneyland's castle as a gift from the Oriental Land Company.
While there may not have been any new Imagineering revelations from any of the participants, it was a nice chance to get to hear them speak with obvious respect and affection for all their fellow Imagineers and revisit times gone by.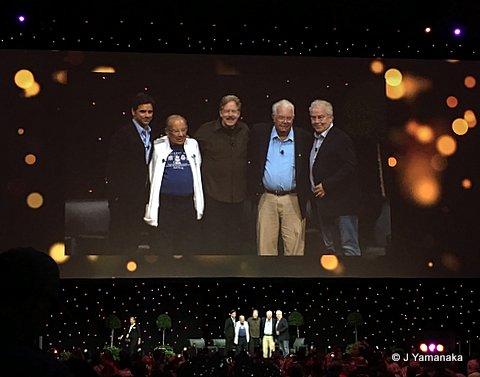 It's a cruel thing that we rarely get to know how long a window of opportunity is going to stay open. This ended up being the last photo I ever took of Marty Sklar. I had many opportunities to hear him speak and exchange greetings with him over the years, and if they had been doubled, it wouldn't have been long enough.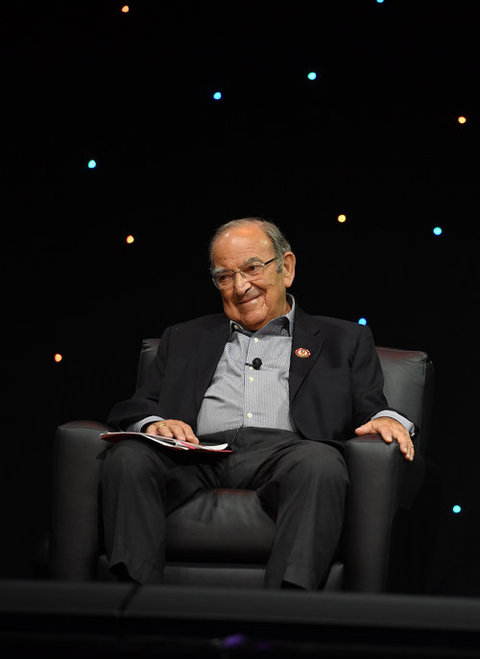 SO, for anyone who's hung in here for this long, here are some parting thoughts on this year's Expo.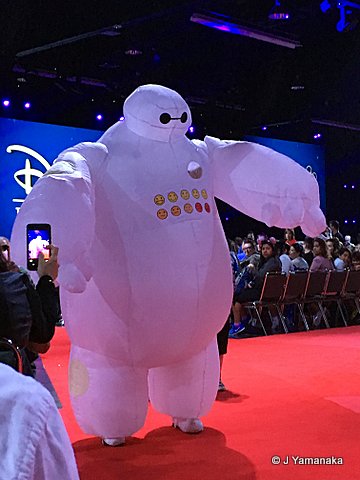 Top Five Things I Thought Went Well:
1) I thought the StagePass set up worked better this time around. Even though the lines were still enormous, I felt like I waited less time for the ones I needed to pick up–whether this was a factor of having more people distributing them or not, I don't know.
2) A lot of quality programming, as usual. Even though it seems as though the number of rooms running panels diminishes every two years, there were still far more presentations I would have liked to see than I could have ever fit in.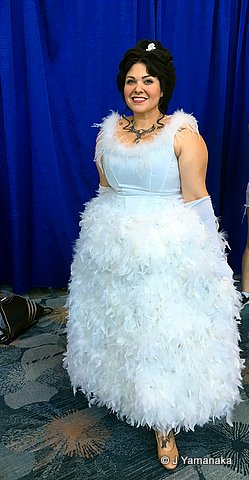 3) Offering two different times to see the Alan Menken concert. Clearly, from past Expos, this was going to be a huge draw, and putting him in the largest venue while giving people two chances to get in to see him was a generous move and a good way to avoid the queue horror of the Dick Van Dyke concert in 2011.
4) Using the official app. This time I thought the app was much more functional and incorporated more information than in previous years, and as someone who's suffered the back pain of lugging around thick convention programs in the past, this is a huge asset. What would be nice for future years would be a way to synchronize your schedule across your phone, iPad, laptop, etc.
5) Having larger venues. Although there were still long, chaotic lines for the big presentations, a lot of the smaller/mid-size ones I attended weren't packed sardine-style as they have been some years which makes for a nicer experience.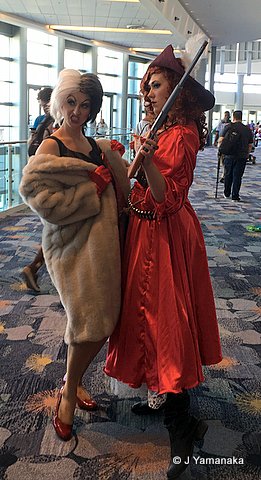 Top Five Things That Could Have Gone Better:
1) Lines are still an issue. While I didn't personally experience waiting in the Hall D23 queue downstairs which periodically sounded like "The Return of the Archons" festival time, I did get to see the lines around the Show Floor which varied wildly from orderly to Hunger Games. I think there needs to be more cast members manning the lines with more consistent information on how to proactively organize all the guests trying to get into something.
2) The Show Floor. This was kind of a surprise to me because usually the floor is so outstanding at Expo. The lack of an Imagineering booth was a big hurt as far as official content, and the Parks and Resorts booth was kind of sparse outside of the one big model. Aside from that, just leaving a big empty space next to the Arena entrance (where the line for it had been previously) meant that no one really had much of a reason to head over to that part of the convention center, so it was easy to miss all the booths in the D23 Emporium section altogether.
3) Hall D23. It's great that they created a huge room so more guests could be in there with the big presentations, but I felt that it was at the expense of actually letting you see the presentations. I'm sure if you were up close it was a great view, but I was generally far enough away that I couldn't make out much looking directly at the stage. For the most part, I was usually between two screens and would try to position myself so I could see at least one of them without having to look through the phone screen of the guy in front of me…and then discover that they were broadcasting the stage feed to the other screen, while the one I was looking at would have a stationary image. The room is just too big for that many chairs to be on a flat level for anyone further back than the first section to see well–a situation that was pointed up every time I watched something in the Arena, which was actually constructed to have decent sight lines. Much like my beef with the Hollywood Bowl, I feel like if you're watching the whole thing on screens anyway, there isn't much difference between seeing it from an overflow room, or in fact, at home on YouTube. Maybe what would work better would be to go back to holding the big presentations in the Arena, and then using Hall D23 for overflow with more screens set up around the room.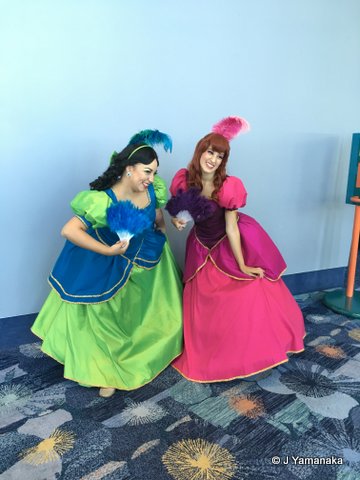 4) Counter-programming. There were so many presentations that it really hurt me to miss: "Marc Davis Goes to WED" with Pete Docter; Don Hahn's "Yesterday's Tomorrow: Disney's Magical Mid-Century;" "Park Stars: Original Characters of the Disney Parks;" "The Power of the Princess" with four original princess voice artists; and so many more. I get that we can't all go to everything but it's still painful.
5) Timing is everything. With so many people and so much good content, it's a shame that everything has to feel so rushed. The first Expo was four days long and programming started around 9 am and sometimes didn't end until 1am the next day. This year had most of the panels starting around 10am all three days, and everything wound up by around 7pm. I feel like adding back that fourth day would be a big improvement, even if only the show floor was open, because at least then people would have a better shot at getting their shopping done, viewing the exhibits, etc.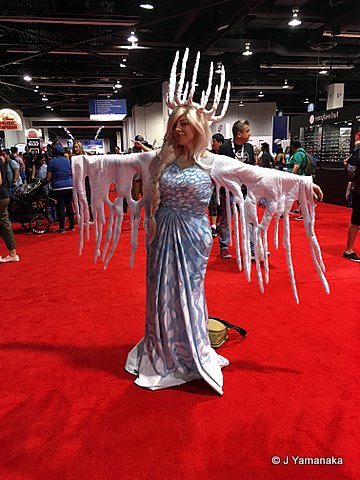 For another thing, having Expo right in front of San Diego Comic-Con is just grueling. I understand why it might be easier to coordinate celebrity schedules if they can appear at both conventions the same week, but holy moly it makes for an exhausting and expensive couple of weeks. I hope they space it out in the future, for the preservation of both my life force and my wallet.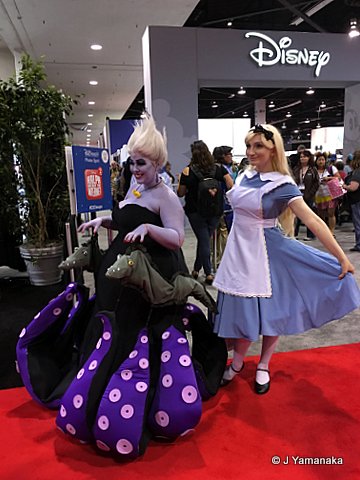 All in all however, as fatiguing and occasionally frustrating as it is, D23 Expo is still the main game in town for the Disney conventioneer. I'm ready for the next one now…right after a short nap.