The highly anticipated "Guardians of the Galaxy, Vol. 2," comes out this Friday, and in the days leading up to the film's release, fans can help everyone's favorite character, Groot, do some good. And, yes, it involves dancing.
Marvel gave YouTube star Dominic "D-trix" Sandoval an early look at Groot and his new dancing toy line and challenged him to create a Groot-inspired dance move to surprise unsuspecting fans. D-trix choreographed the ultimate "Groot move" to pull off the prank, before trying it out on the streets of Los Angeles. Watch the results here.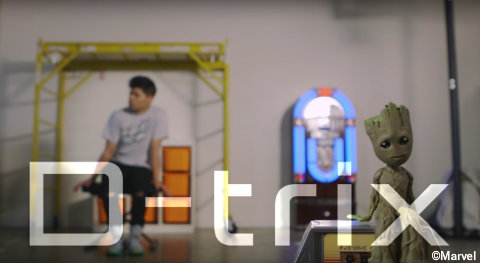 And that was the start of the #GrootDancebomb challenge. Marvel is asking fans to bust out their own signature Groot moves at an expected moment, using a dancing Groot toy to surprise someone. Not feeling like grooving? Then, just like and share Marvel's video starring D-trix.
If you take the #GrootDancebomb challenge through May 5 — by liking or sharing the video on YouTube or Facebook or posting your own using #GrootDancebomb on Instagram or Twitter — you will help restore forests with the planting of trees. Marvel and the Disney Conservation Fund will direct a $1 donation to The Nature Conservancy to plant one tree for each action, for a minimum donation of $50,000 and a maximum of $250,000.
"Groot was one of the break-out characters from Marvel's Guardians Of The Galaxy, and has quickly become a fan favorite," said Josh Silverman, executive vice president of Global Licensing, Disney Consumer Products and Interactive Media, in a press release. "As we launch the toy line for the new movie, we're excited to share the #GrootDancebomb challenge combining a little bit of fun and a little bit of doing good– just like the Guardians themselves."
Groot fans already can find new toys from Funko, Jakks Pacific, Hasbro and KIDdesigns available now at major retailers and Disney Store and DisneyStore.com.
Be sure to check back on AllEars.Net: Blogger Laura Gilbreath is continuing her coverage of Disneyland's new attraction, Guardians of the Galaxy — Mission: Breakout! The attraction opens on May 27.