As has become tradition, this year's new Disney on Ice show will make its debut in September in Orlando, and, for the first time, it will feature characters and popular scenes from "Finding Dory" and "Inside Out." Tickets for "Disney on Ice presents Follow Your Heart" go on sale to the public at 10 a.m. July 8 through Ticketmaster, but pre-sale codes are available now. (Try "BUBBLES.")
According to the official description: "Just keep swimming with Dory and new pal Hank from Disney-Pixar's "Finding Dory" as they set out to find her parents and discover the devotion of family. Cheer with Joy, Sadness, and the rest of the Emotions from Disney-Pixar's "Inside Out" as they work together to boost Riley's spirit and win the big hockey game."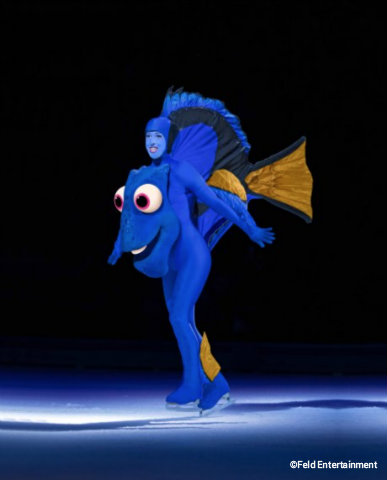 Typically, Disney on Ice shows feature a large cast of characters in various vignettes to appeal to a spectrum of fans, and "Follow Your Heart" is no exception. The new production includes characters from "Frozen" and "Toy Story," plus many Disney Princesses. In addition, Mickey and Minnie host the show. Here's how Feld Entertainment describes the rest of the production:
"Venture to wintery Arendelle where Olaf and Kristoff help reunite royal sisters Anna and Elsa from Disney's Frozen and learn love is the most powerful magic of all. See Cinderella, Rapunzel, Ariel and the Disney Princesses make their dreams possible through virtues of bravery, kindness and perseverance. And celebrate true friendship with Buzz Lightyear, Woody and the Toy Story gang. Make unforgettable memories with Mickey, Minnie and all your Disney friends when Disney On Ice presents Follow Your Heart skates into your hometown!"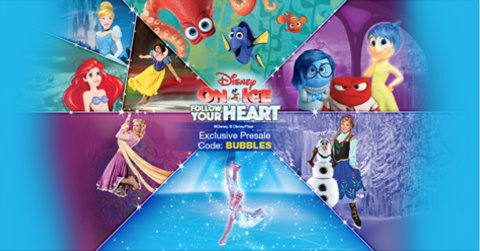 Disney on Ice productions often use small stages along the perimeter of the rink that allow characters to step up and interact with audience members, which thrills the children watching. The characters alternate locations, engaging different segments of viewers. My kids and I experienced this when we saw "Disney on Ice Presents Frozen." You can read my review of that production here.
Florida residents and visitors will be among the first to see the new "Follow Your Heart" production. For years, Ellenton, Fla.-based Feld Entertainment has used Lakeland and Orlando as a starting point for new Disney on Ice productions, and this is true again this fall. From here, the production moves to Alabama, Miami and Atlanta.
"Disney on Ice presents Follow Your Heart" will be at Orlando's Amway Center for six performances: 7:30 p.m. Sept. 2; 11 a.m., 3 p.m. 7 p.m. Sept. 3; and 1 and 5 p.m. Sept. 4. Tickets are $18 to $100 and can be purchased at the Amway Center box office or through Ticketmaster. Every audience member 2 years and older is required to have a ticket.