A few weeks ago, while writing a blog about FastPass+ and the new My Disney Experience system my thoughts turned back to the early days at Walt Disney World. In the first decade it wasn't absolutely necessary to plan any aspect of your trip in advance. Most people there were just "winging it".
But then they added EPCOT in 1982 and things got a bit more complex. Hollywood Studios and Animal Kingdom followed to make it four theme parks by 1998. Over the years Disney responded by making different types of planning aids available to guests. It will probably require a series of articles to look at all of the planning tools Disney has distributed over the years; this blog will look at the first two decades, when everything was paper-based.
Carol and I made our first trips to the Magic Kingdom in October 1977. We were friends in those days but we weren't a couple; we lived several hundred miles apart. I went with my two children and Carol took her son. Strangely enough, when we compared notes about 20 years later we discovered that when I deplaned in Toronto after my first Disney trip Carol boarded the same aircraft to fly south for her first taste of the magic. It really is a small world!
We both stayed off-property that first time and drove rental cars to the park each day. It was only the Magic Kingdom then; there were lines for the most popular attractions, but none were too long and we were wide-eyed with wonder as we saw it all for the first time. Our time at Disney just seemed to fly by!
I visited again in 1979 and 1981, staying off-property each time. Carol's next trip was in 1979, off-property as well, and she picked up a Disney brochure which had a tear-out leaflet that you could mail to Disney Central Reservations to pre-arrange your accommodations and dining. She put it in the mail several months before her February 1981 trip and Disney quickly sent back a glossy "World Magazine" as well as a Vacation Planning Worksheet.
Here's what the magazine looked like!
Click on each image to see a larger version you can read more easily!
Cover
Page 2 and 3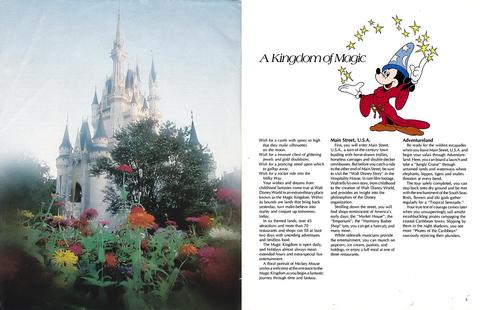 Page 4 and 5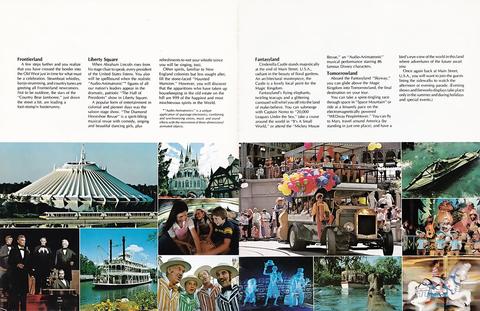 Page 6 and 7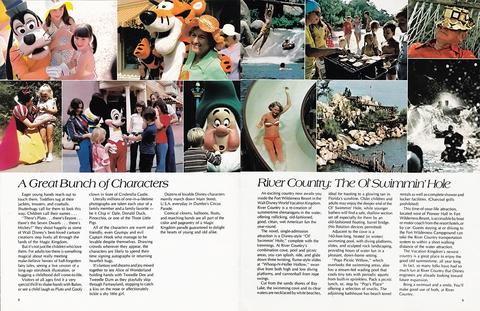 Page 8 and 9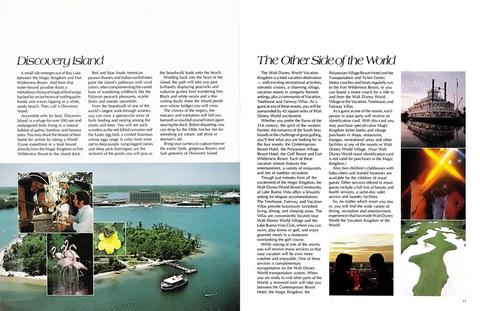 Page 10 and 11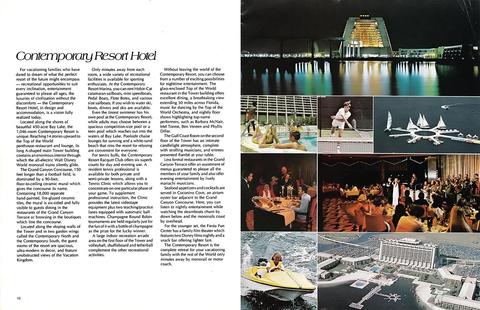 Page 12 and 13
Page 14 and 15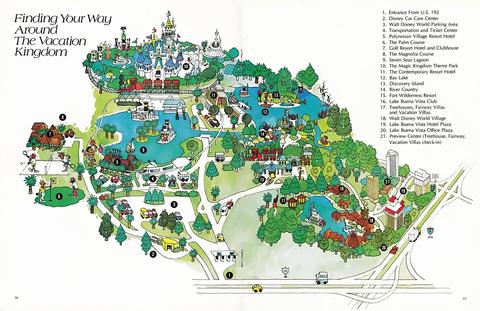 Page 16 and 17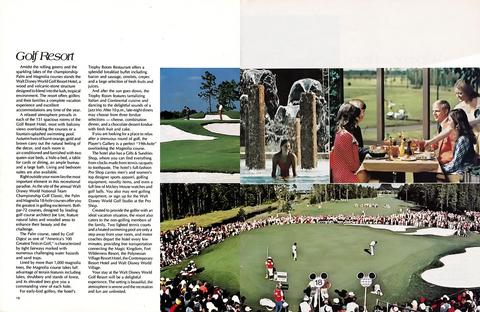 Page 18 and 19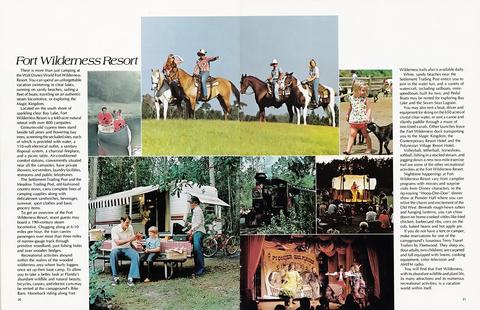 Page 20 and 21
Page 22 and 23
Page 24 and 25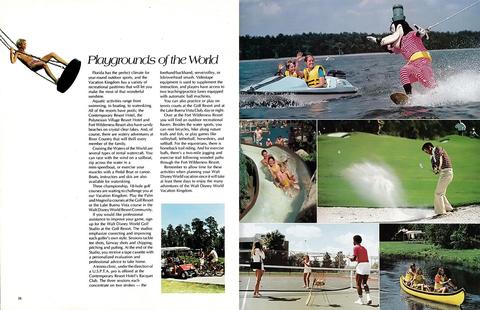 Page 26 and 27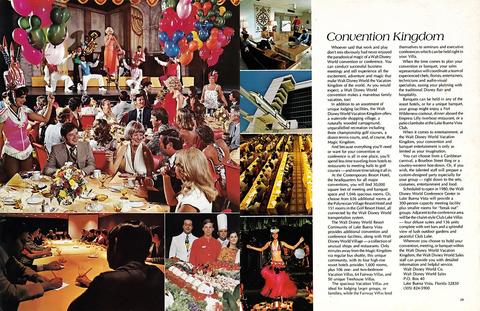 Page 28 and 29
Page 30 and 31
Stapled in the middle of the magazine was a pull-out Vacation Information guide, everything a visitor needed to know about Walt Disney World.
Once again, be sure to click on the images.
Page 1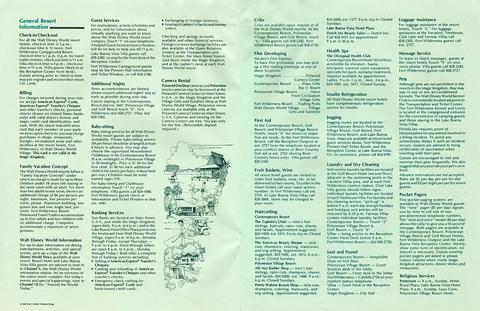 Page 2 and 3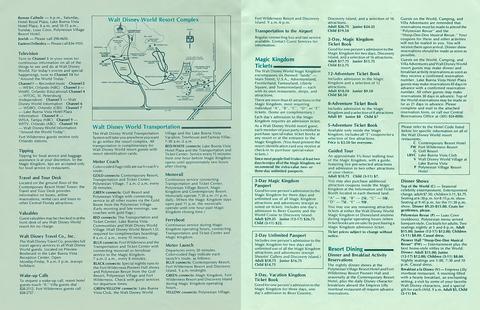 Page 4 and 5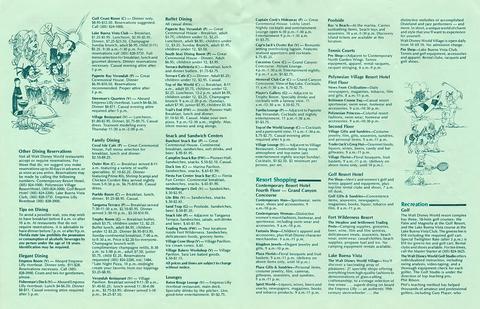 Page 6 and 7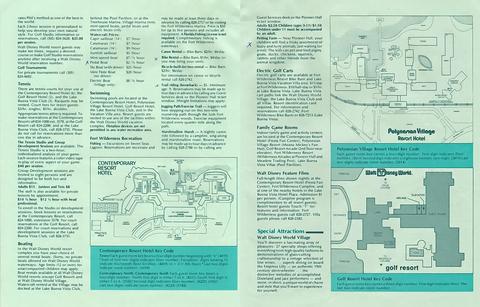 Page 8 and 9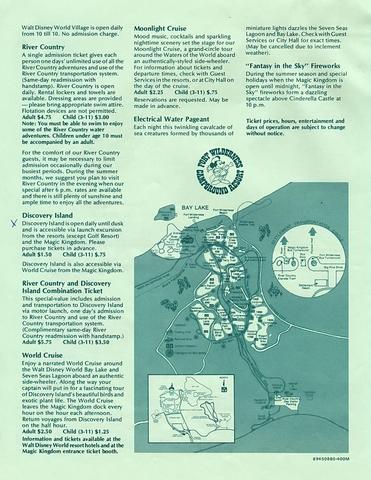 Page 10
The covering letter from the Disney Vacation Planning Center and the three page set of instructions were a big help as Carol filled out her Vacation Planning Activity Sheet.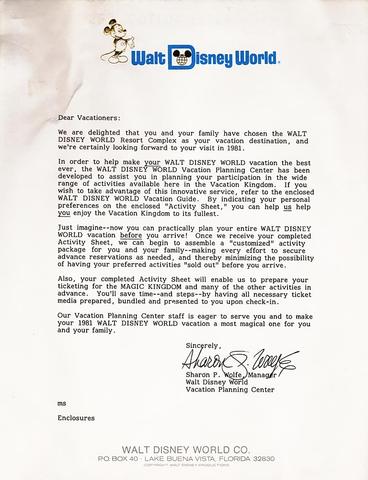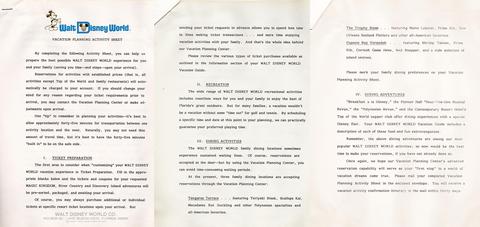 I sure wish she had kept a copy of that form she filled out, but who could have predicted way back then how much nostalgic value that document would have today!
We did find a similar worksheet from 1985, here's a copy of that one!
I can only imagine how excited she must have been when her confirmation arrived in the mail a few weeks later. Here's what it looked like!
They stayed at the Polynesian Resort Hotel, enjoyed dinner at Tangaroa Terrace, a character breakfast aboard the Empress Lily, the Hoop-Dee-Doo Musical Revue at Pioneer Hall, Dinner à la Disney in the Trophy Room, two rounds of golf, a Polynesian Revue at Luau Cove, dinner at Papeete Bay and a final dinner show at The Top of The World. Wow! That was a busy week . . . I wonder if they had any time to visit the Magic Kingdom?
After that first experience in a Disney resort Carol knew that she would never stay off-property again . . . and she's been true to her word! She has made 57 trips to Walt Disney World since then and has enjoyed a Disney resort each time.
Carol mailed in similar worksheets to book accommodations and meals for her next few vacations; then she reverted to the telephone. The parks weren't nearly as crowded as they are today and there was no need to book your resort a year in advance! She would phone a few months before the trip and reserve her room. Restaurants didn't take reservations; there was no need. The only reservations to be made were for dinner shows or character meals and those could easily be done at the front desk when you checked in.
It wasn't until 1989 they began taking reservations at most of the table service restaurants; and even then they could only be made by guests staying in a Disney resort, and not more than one or two days in advance. There was still plenty of room for walk-in diners.
The process of planning a vacation was just so much more civilized in those days! There was no need to sit at your phone until midnight ready to dial . . . and redial . . . and redial until you got through to a Disney agent. No need to be at your computer at 7:00 a.m. waiting for My Disney Experience to begin accepting log-ins!
Oh wouldn't it be nice to return to those days!
Those colourful planning magazines were displayed in the room every time Carol arrived at her Disney resort, and she always took one home with her. Planning for the next trip started as soon as she finished unpacking! Her Disneyana collection includes planning books from 1979, 1980, 1981, 1982, 1983, 1984, 1985, 1986, 1987, 1990, 1991-92 and 1993. They are all full of wonderful pictures showing the growth and evolution of her happy place.
Of course Disney always tries to stay abreast of new technology and in 1993 they introduced VHS tapes to help with vacation plans. By 1994 there were no more glossy magazines!
Does Carol have any tapes in her collection? Oh yes! A big bag full! I'll talk about some of those in a future blog, so stay tuned!