The events of our Disneyland Half Marathon Weekend have begun! We are running the Dumbo Double Dare for the third time, which means running the 10K on Saturday and the half marathon on Sunday.
As always, we started at the Health and Fitness Expo, held in the Convention Center of the Disneyland Hotel. It opened on Thursday morning. We arrived on Friday around noon and went down the ramp to the bib pick-up area. We had pre-printed our race waivers at home (always highly recommended as it can save you a lot of time if there's a line for the computers at the Expo). Very short lines for bib pick up. In addition to the bib, race program, and bag tag, we received a 10th anniversary luggage tag, also.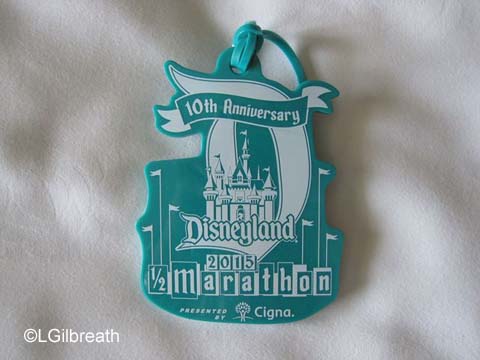 The volunteer made sure to tell us that, as Dumbo Double Dare participants, we needed to have our photo taken with our bib number – our "runDisney mug shot", as I call it. 🙂 They will use that to ID us after we finish on Sunday.
We went upstairs to the Expo itself. They had the entrance nicely decorated.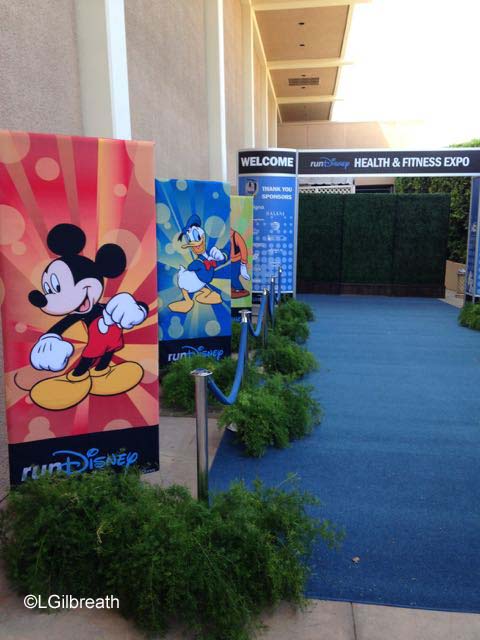 Shirt and bag pick-up was also very easy. I really love the design of the 10K shirt! But the inside of the shirt feels very thick and rubbery and sticky behind the design. I'm hoping that will go away when it's washed. I am disappointed in the color of the half marathon shirt – they have this beautiful blue that they have been using for a lot of the Diamond Anniversary merchandise: why couldn't they use that for the shirt color? And the Dumbo shirt, well, let's just say that you'll see us coming… 🙂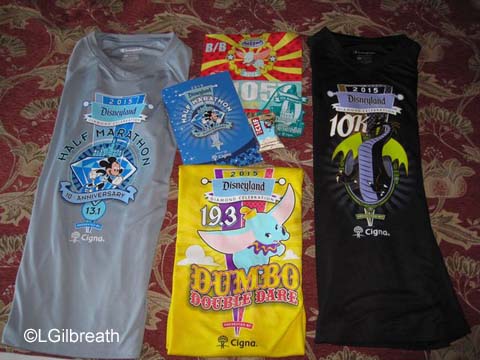 We went over to the Official Merchandise area, and I was very surprised that there was a line to get in! I've never seen that on Friday afternoon before.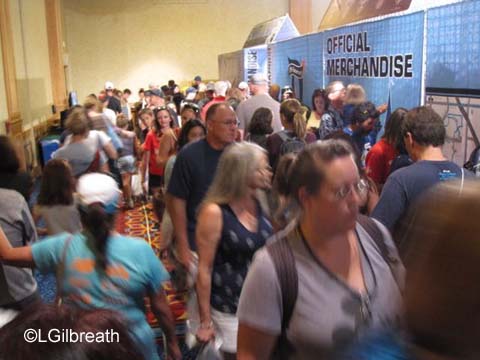 Friends had already picked up for me the one item that I really wanted, but we got in line anyway, and it moved pretty fast. Once inside it really wasn't crowded at all. There still seemed to be a good variety of merchandise – I saw everything that I expected to see, so nothing was noticeably missing. And the cast members were doing a very good job of restocking.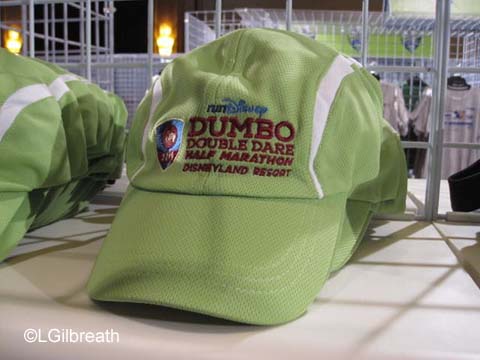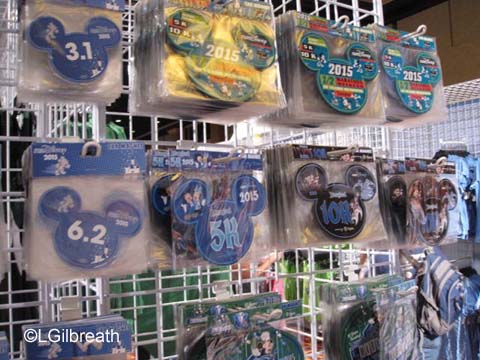 Lee found a shirt and magnet that he liked, but I didn't get anything else. There was a good variety of merchandise, just nothing that appealed to me. I have SO many running shirts and race-related shirts!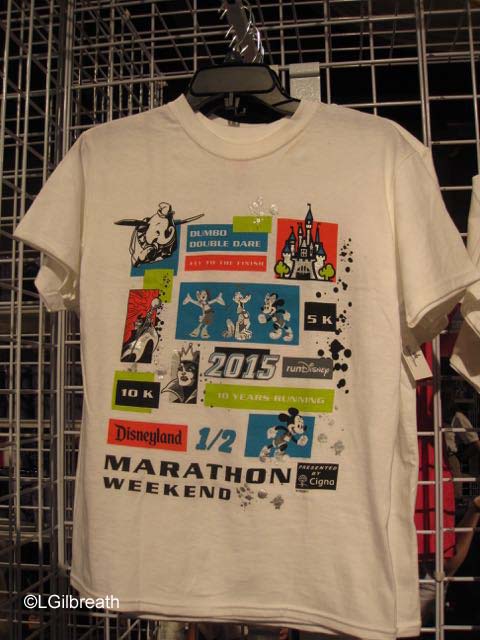 We took a quick wander around the Expo floor – stopped by the runDisney booth to take a look at the medals on display. The one that we were hoping to see is the Infinity Gauntlet Challenge medal for the upcoming Avengers Half Marathon weekend, but they haven't unveiled that one yet.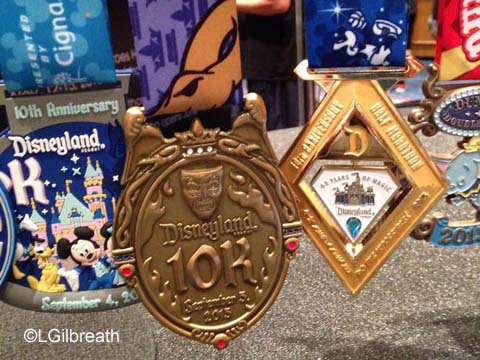 We spent the rest of the afternoon hanging out with running friends, most of whom we only see at Disney races. I was happy to have the opportunity to take my friend Joe into Cars Land for his very first time – I love doing that! We went in from the Pacific Wharf side, which I think is the very best place for your first look. He was suitably impressed.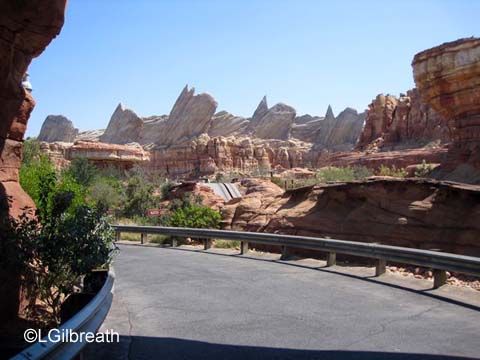 Since we were in the area we stopped by the new Diamond Anniversary photo spot in "a bug's land". This one is a lot of fun – they even have a magnifying glass and a net to use as props. The forced perspective works really well!
Later we had our usual pre-race dinner at Boardwalk Pizza and Pasta. It was a lot busier than usual, with a very long line of people waiting for the four-cheese ravioli.
And then back to our room to prepare for the 10K, and our 3:45 wakeup call, the next morning.
3:45 is early, but since we're in our own time zone it's a lot easier for us to get up for the Disneyland races than for the Disney World races. And, since we can walk to the starting line rather than catching a bus, we are getting up about an hour and a half later than we would for a WDW race. So much easier.
I love how they have changed the theme of the Disneyland 10K each year. This year the theme was villains – and I think just about everyone was thrilled with that choice. (Wouldn't an entire villains-themed race series be great?) During the pre-race show a number of the villains were out on stage.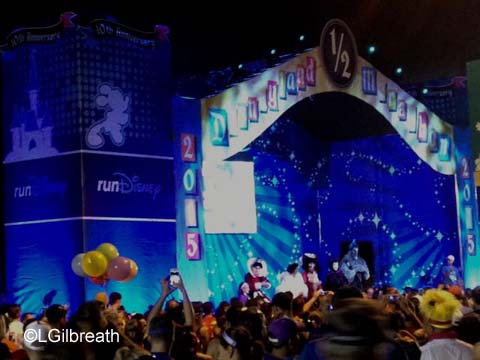 There are about 10,000 runners in the 10K as opposed to about 18,000 in the half marathon, and the difference is noticeable in the pre-race area. A lot more room to move around and not nearly the lines for the porta-potties!
It was a great morning for running. So much nicer than it's been the last several years. Still on the humid side, but the temperature at the start was about 66.
Lee and I were going to run with our friend Stan and around 5:15 we headed to Corral B. Our race announcers were already on stage getting everyone ready to go. In keeping with the villains theme there was a very interesting version of the national anthem – a rock version played on a screaming electric guitar. I liked it in this setting, but it's not something I'd want to hear all of the time.
The Evil Queen usurped the race start privileges for herself, and did the "Ready, set, go" honors, much to race announcer Rudy's chagrin. 🙂 But she only did it for the first wave, and Rudy got to send everyone else off – including those of us in Corral B.
The 10K course goes south on West Street to the convention center. We were about halfway back in Corral B, and we found the first 3/4 of a mile to be a little congested, but not too bad. We just didn't quite have the running space we would've liked. After that I thought it was fine. But we had a friend who started in Corral C, who was going for a sub-1 hour finish, and he missed it because he was in a lot of traffic for over a mile.
After going past the convention center we went north on Harbor, then back behind DCA. That was just before the two-mile mark. And after that we were on Disney property the rest of the time. That's one of the aspects of this course that I really enjoy – lots of park time!
We ran into Radiator Springs and down route 66. Love doing this when the neon lights are on!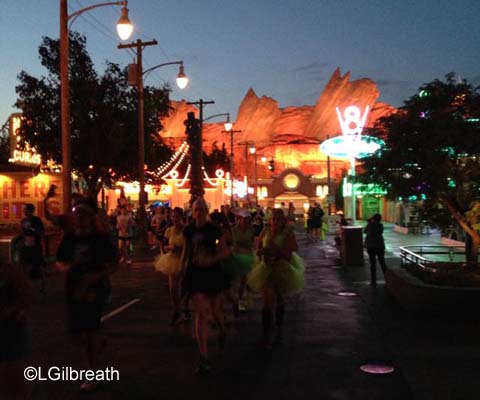 This race apparently encouraged the villains to emerge from their lairs, and we saw quite a few of them on the course. The first of the villains character stops was Dr. Facilier, near Ariel's Undersea Adventure. In hindsight I wish we'd stopped there because it ended up being the shortest line that we saw. He was miked, and we could hear his comments to runners – he was totally in character. Really fun.
Lotso was in front of Toy Story Mania. Not your traditional villain, but quite appropriate for that area. He had a pretty long line and we didn't stop. We finished our lap of Paradise Bay and ran towards Grizzly Rapids and Soarin' Over California, where the mile 3 sign was placed.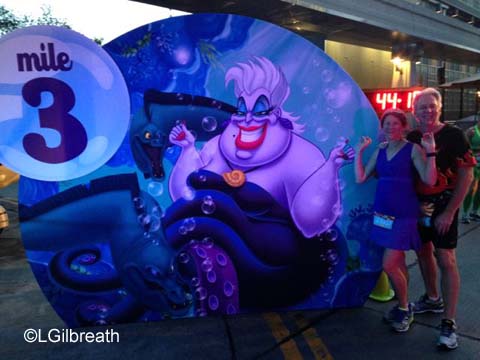 Hades was near Off the Page in Hollywood with a huge line, but Lady Tremaine (Cinderella's stepmother) was in front of the animation building with a fairly short line so we stopped. It was the only character photo that we ended up getting. She was suitably disdainful. 🙂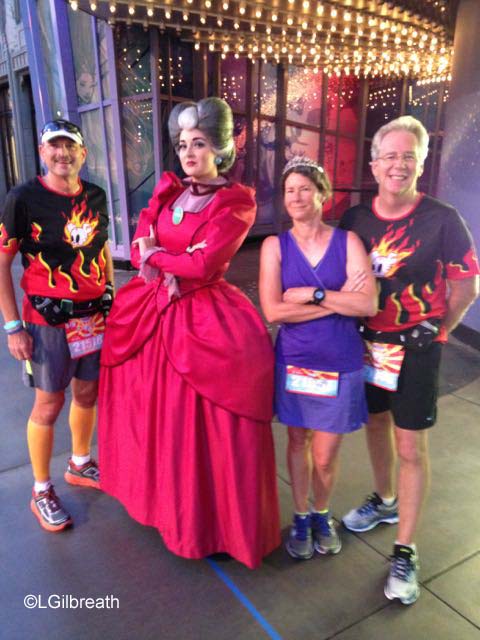 We went backstage near the Tower of Terror and went through the tunnel that goes under the tram/bus area and backstage to Disneyland. There was really great villainous music playing in there. Actually, the music was great all over the parks – it really set the right tone. I think the entertainment people had a whole lot of fun with the theme of this race! Throughout the parks there were various cast members dressed in purple who were cheering (or jeering) us on – we stopped for a photo with a couple of them on Main Street.
I think there was a character on Main Street that we didn't stop for. I was surprised not to see Darth Vader and/or the Storm Troopers in Tomorrowland. I guess now that they have a Star Wars race he's exclusive to that. The mile 4 sign was near Innoventions, and since it had Frollo on it, and the guys were wearing shirts that brought to mind the "Hellfire" song, we had to stop for that. 🙂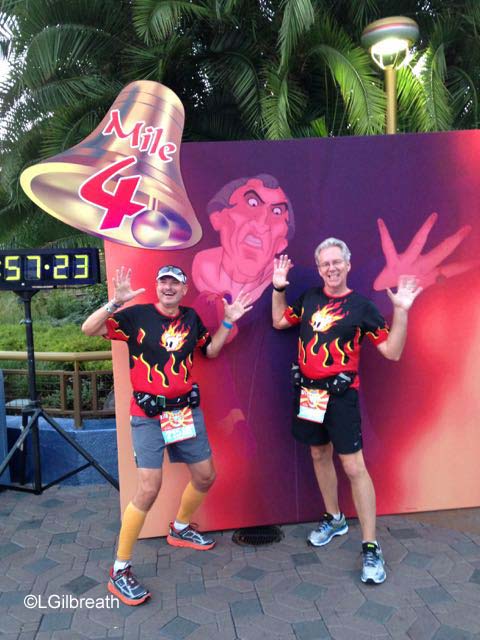 Governor Ratcliffe and Shan Yu were together near "small world". That was a very long line. We ran around backstage for a while, then ran back into Toontown and into Fantasyland. Another character (Captain Hook?) with a long line – so we took a photo of the Mile 5 sign instead.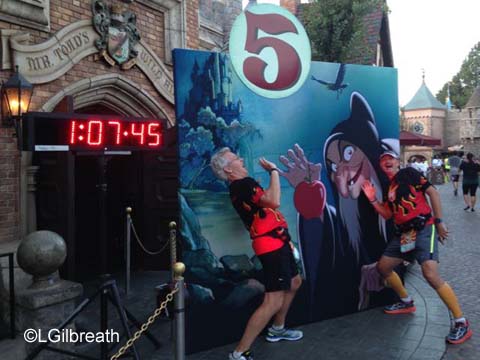 We actually were able to run through the castle – sometimes people really slow down there because of the photographers, but they had people who were talking to the runners and trying to keep them moving. We went into Frontierland and around the Rivers of America. Brer Fox and Brer Bear were out for photos in Critter Country.
Eventually we went backstage and around the perimeter of the park and back out near the tram stop, then ran through Downtown Disney. And there was the mile 6 sign. "Mirror, mirror on the wall…who's the fastest of them all?"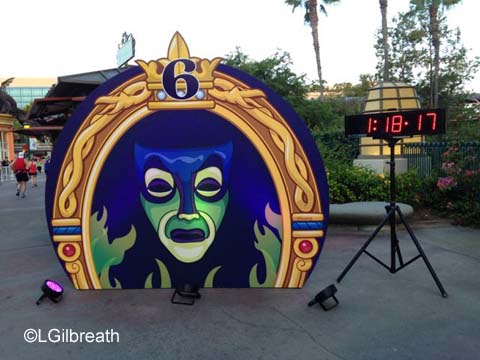 Maleficent was standing near the finish line, but I couldn't really stop to get a photo of her. Our official time was 1:12:34, including photo stops, so that wasn't too bad.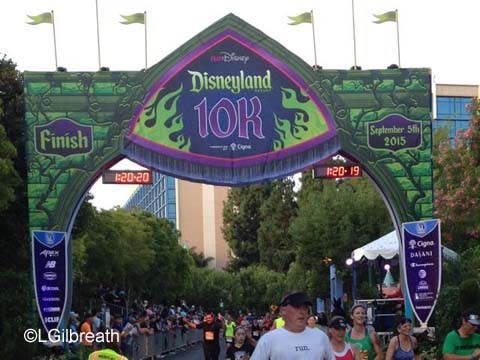 I really like the medal!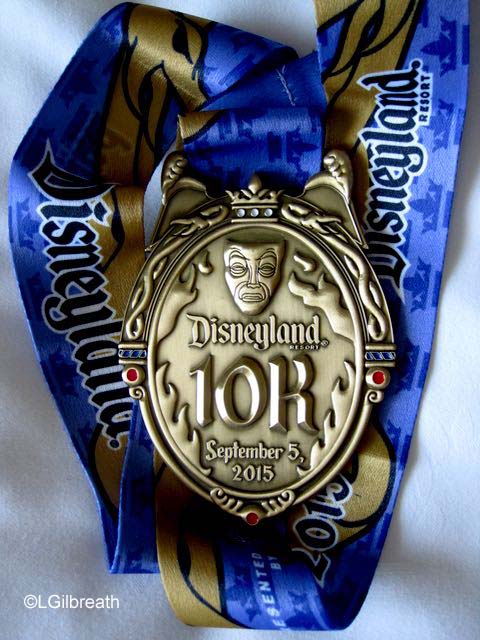 The sun was not quite all the way up when we finished, but it came up while we were waiting in the finish area and it started to warm up quickly. So it gave us an idea of what to expect the next day for the half marathon.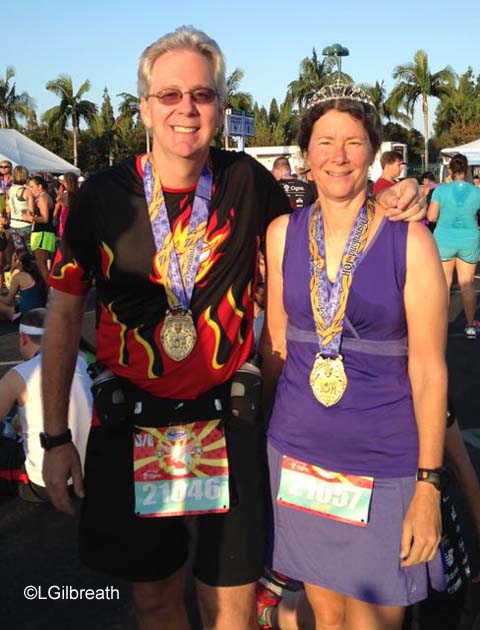 The thing that is difficult about this race is leaving the finish area to get back to the hotels or theme parks because the course runs through Downtown Disney and you end up having to cross the course several times. A very slow process when there are lots of people. This time when we left the finish area cast members were telling runners who wanted to go to those areas that they should walk over to the Mickey and Friends parking area and take the tram to Disneyland. Then there was only one place where you needed to cross the course. But as it turned out we had waited long enough in the finish area that the race was over by the time we got to Downtown Disney. The race started at 5:30 and it was over just a few minutes before 8:00.
Say what you will about the villains – they really know how to throw a party. This was a terrific 10K, maybe my favorite Disney 10K so far – though the Star Wars 10K earlier this year was wonderful, also. The runners seemed to enjoy this one, and I saw lots of clever villain-inspired costumes.
Disneyland Half Marathon coming up!