Makeovers aren't just for princesses and princes at Walt Disney World, it seems. Even the hotels are treated to periodic transformations.
Recently, my family and I stayed at the B Hotel on Walt Disney World property. It was my first time at the renovated hotel since I had stayed at the then-Hotel Royal Plaza when I was a child in the '70s, and how things have changed! The two-year makeover of the hotel culminated in the second half of 2014 when the contemporarily designed hotel reopened.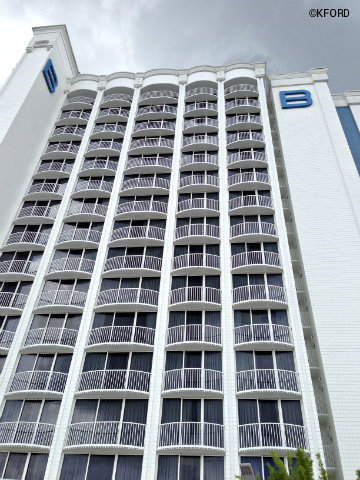 And the clean-looking style of the chain does make an older hotel feel fresh. The lobby is a backdrop of glossy white surfaces and punches of color, including the brand's own signature blue. Modern furnishings continue throughout the resort. One fun element is that on the elevator landing of each floor in the tower, there is a tableau of a chair, table and mirror in a color scheme that is different on each floor.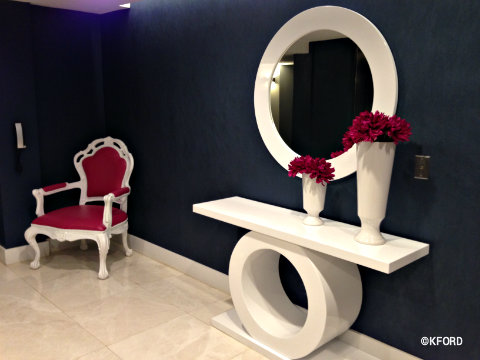 For those not familiar with the hotel, it is located on Hotel Plaza Boulevard, within walking distance of Downtown Disney. But, although it is situated on Disney World property, it is not a Disney-owned or -operated hotel. Perhaps the most noticeable difference between B Hotel and a Disney-owned hotel is the theming. Disney Imagineers have not worked their magic on this space, and there are no hints of Disney characters anywhere except the gift shop. For some guests, this décor may be preferable. For others, like myself, I missed the so-called Disney Difference that is so apparent in attention to detail and even in the way the employees interacted with my family. B Hotel's staff was perfectly polite, but there was a definite lack of knowledge about the hotel and the surrounding areas.
Also, guests staying at a hotel that is not Disney-owned or operated do not have access to some perks, such as Magic Hours, Disney transportation, charging privileges, and earlier-than-public booking of dining reservations and FastPasses. However, B Hotel does have shuttle buses that run to each of the parks and Downtown Disney every half hour, and there is a dedicated Disney gift shop in the lobby that sells tickets, souvenirs and sundries.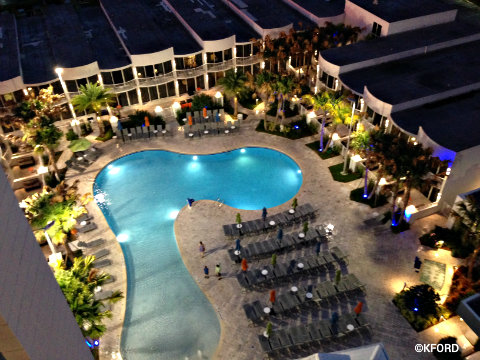 Still, B Hotel does offer plenty of amenities that most guests would expect from a hotel near Walt Disney World. There is a small, but nicely landscaped and furnished pool area with a hot tub and a bar that also serves food. Adjacent to the pool is a complimentary kids area with video games and movies, and there is even a life-size chess set for those who wish to play. Across from the pool is a separate entrance to the Aveda Spa, the brand's first full-service B Indulged lifestyle spa. It offers a customizable menu of services, including massages and skin-care treatments, a hair salon, a nail boutique, and the B Active Fitness Center.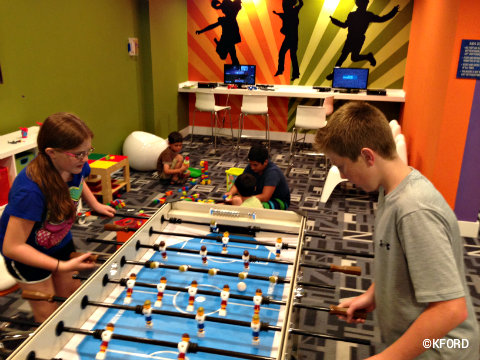 Inside the hotel, guests will find a business center with computers to access the Internet, a fax machine and a printer. There is more than 25,000 square feet of flexible indoor and outdoor function space equipped for business meetings and gatherings, social events and weddings. Plus, there is a concierge to help with making local arrangements and a dedicated Enterprise car-rental desk.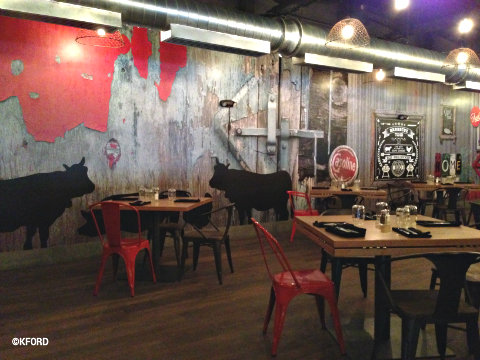 B Hotel offers one table-service restaurant, American Q, which serves breakfast, lunch and dinner is a rustic, fun setting that includes a full bar. The centerpiece of the restaurant is a cherry-red truck whose bed serves as a base for a buffet for all three meals, although the restaurant also offers a la carte options. For the breakfast buffet, guests will find traditional dishes such as eggs, bacon, sausages, potatoes, fruit and pastries. I was pleasantly surprised to find Mickey waffles, as well, plus a separate omelet station. We enjoyed the breakfast and found the $18 price to be acceptable for a theme-park location.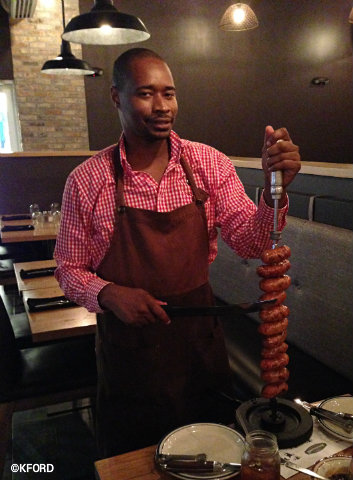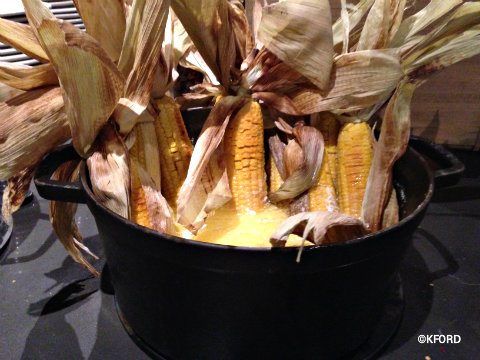 For dinner, the buffet changes to side dishes that are traditionally served with barbecued entrees. There were salads, corn on the cob, potatoes, sweet potatoes, baked beans, macaroni and cheese, and more. The buffet is accompanied by eight different meats, which are brought to your table and carved there by a "cowboy" or "cowgirl." For my family, that was the best part of the meal. Not only was the presentation fun, but my children got a kick out of putting the sign up on our table to alert the server we were ready for more meat. Although we enjoyed the novelty of the meal service, we found the experience to be pretty pricey at $40 per person plus drinks, tax and tip. The service was excellent, however.
In addition to the restaurant, The Pickup is a grab 'n' go cafe with an ice cream parlor that has extended hours. Pizza and other foods can be ordered through room service.
B Hotel has 394 guest rooms and suites that offer a variety of sleeping accommodations, such as two queen beds or a king plus bunk beds for the children. Like the lobby, the rooms are decorated in a white-and-blue palette with modern styling. There are 47-inch, high-definition LED flat-screen televisions, old-fashioned telephones, refrigerators, snack bars, ironing boards and safes large enough to fit two 13-inch laptops. The bathrooms have an upscale look with a glassed-in shower — no tub — and a basin sink, and complimentary Avena products are displayed.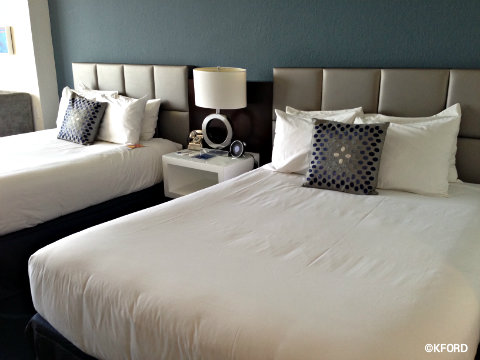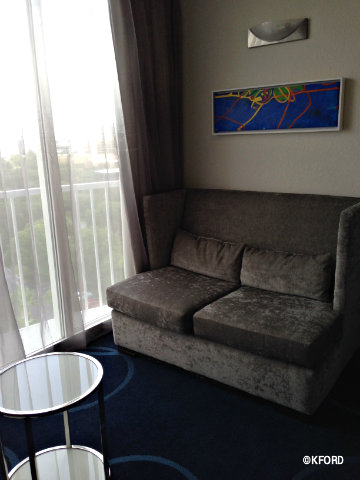 The only real complaint we had about our room is that the temperature-control system did not work properly. We could not heat or cool the room without the assistance of a maintenance crew, and even then the unit was so loud we could hardly hear each other speak. After the first night, we had had enough. The front desk staff did not offer to move us to another room until I insisted, but then they were accommodating. Our new room had an even better view of the Epcot and Magic Kingdom fireworks, which was something my children were quite excited about.
Overall, my family and I had a positive impression of the B Hotel for this price point. B Hotel rates are comparable to those of Disney World value resorts. (AllEars newsletter readers can even get a 20 percent discount and a free upgrade by booking through our link.) It's important to note that the lower cost per night can attract various tour groups, which also can affect your stay. Still, the tradeoffs might be worth it if you are looking for ways to rein in your vacation budget.
DISCLAIMER: AllEars.Net paid for my stay and my dining experiences at the B Hotel for the purposes of this review. I was not a guest of the hotel. My opinions are my own.