by Guest Blogger Phillip Creglow
In the interest of full disclosure, I will admit that I am not a fan of Star Wars.
Wait…what? Not a fan of Star Wars?!?
Yes, it's true. While I have seen each of the movies once, recognize most of the popular characters, and hum along to the theme music, my interest in the franchise is casual at best. Sort of like someone who only follows college basketball during March Madness, fills out a bracket for the office pool because everyone else is doing it, yet has no emotional investment in a team before the big event.
In this case, the big event is Star Wars Weekends at Disney's Hollywood Studios. I had a general understanding of this annual event based on conversations with running friends. Now that I live in Orlando and could easily commit to finding out for myself what Star Wars Weekends had to offer, I planned my first visit for opening day, Friday, May 16.
My day at Hollywood Studios started at 10:30 AM and upon entering the park I picked up a Star Wars Weekends park guide.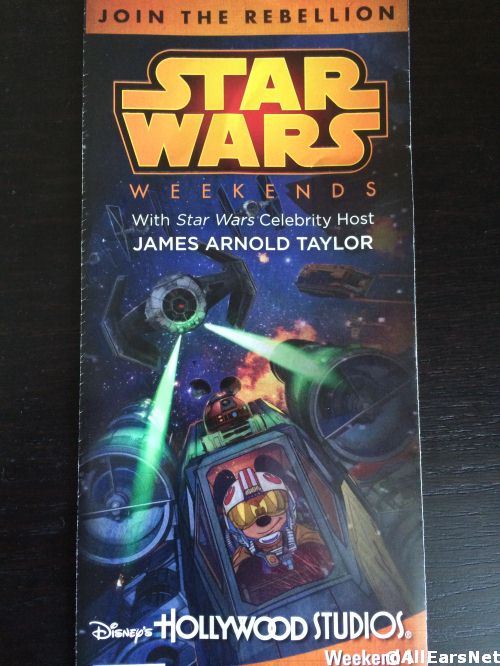 Since I had done very little planning, the guide was the perfect reference point in deciding how to manage my time. The park was already busy and people were lining up all along Hollywood Boulevard in preparation for the 11:30 AM "Legends of the Force" Motorcade and Celebrity Welcome. I immediately walked toward the event stage at the base of The Sorcerer's Hat. Cast members were recommending viewing locations so I found a spot near the American Idol Experience. This location provided an acceptable view of the motorcade characters, most notably the large assembly of Clone Troopers and Stormtroopers.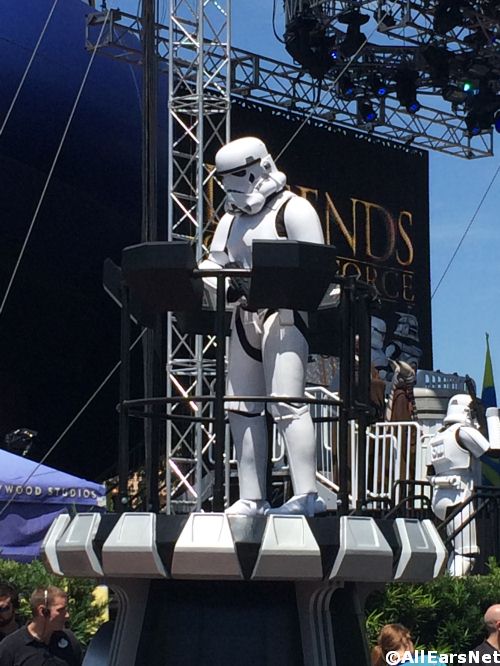 Sadly, this viewing location did not provide a close look at the classic Disney characters dressed as Star Wars Pals or the Star Wars celebrity guests, as they were dropped off at the event stage for the post-motorcade show. Later on I was able to get a closer look as the Disney characters and celebrity guests make their way back down Hollywood Boulevard following the post-motorcade show. Clearly it pays off to arrive early and get a spot on Hollywood Boulevard. Lesson learned.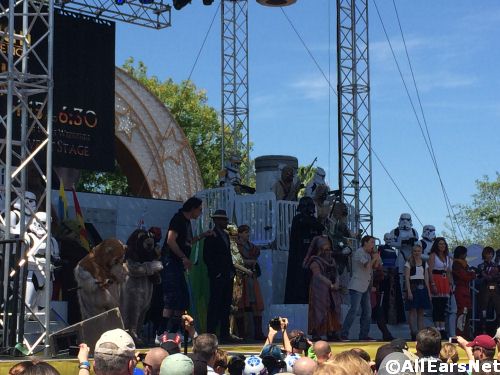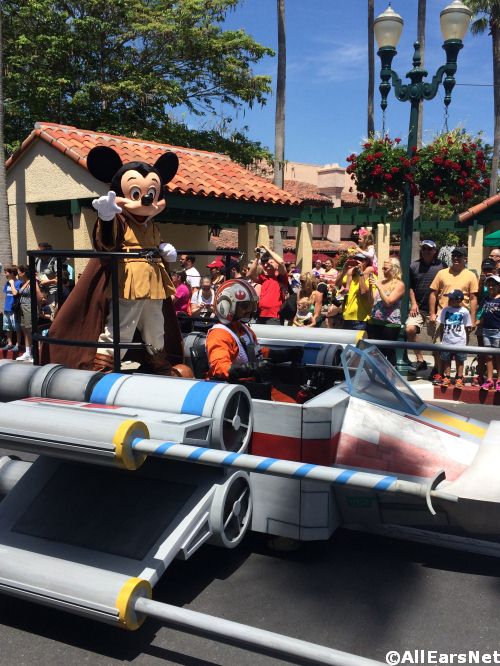 After the "Legends of the Force" motorcade, I made a quick exit to get in line for a look at the merchandise featured at Darth's Mall. The line had queued up well outside the main entrance and I shouldn't have been surprised given the number of people carrying multiple large shopping bags while exiting. My total wait time was close to 40 minutes, which actually offered a nice break from the sun. The downtime was fortuitous because once inside, it was a madhouse!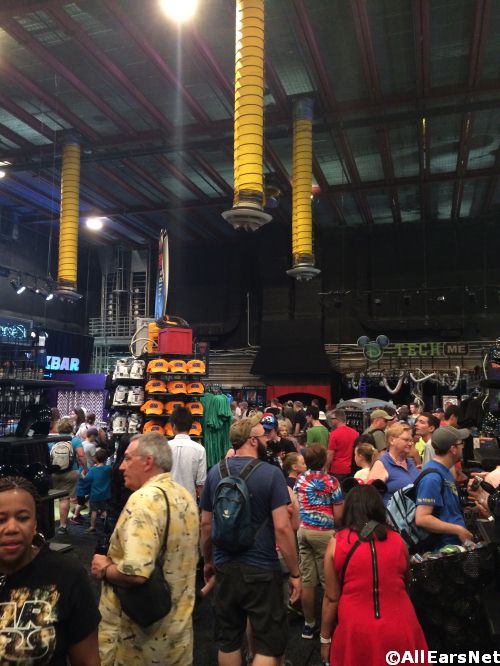 Much like a runDisney expo, the merchandise space was crowded and people were filling shopping baskets to the brim. Toys, apparel, art work, glassware in addition to separate lines for character greetings, snacks and collectibles. I picked up a Star Wars Weekends coffee mug and quickly found the checkout line. Little did I know, that same mug along with other event merchandise could be found at multiple locations throughout the park. Lesson learned.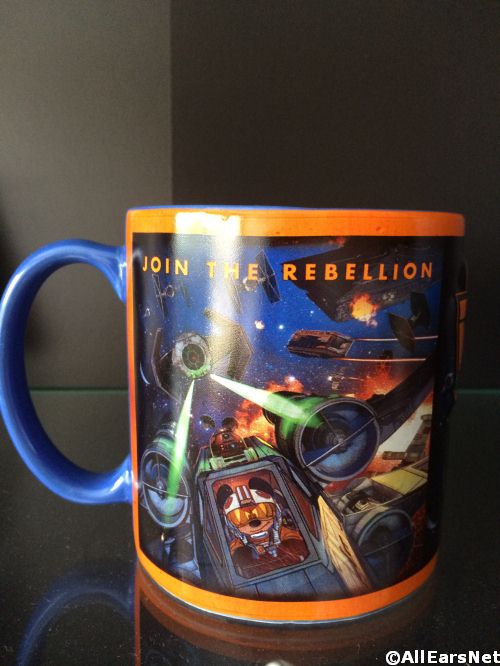 Given the crowded scene at Darth's Mall, I decided to skip the afternoon events at the Premier Theater and focus instead on the character greetings in the park. With multiple characters roaming select areas of the park, the atmosphere is best described in one word: energized. While I enjoy visits to Hollywood Studios, the park can often feel empty and subdued outside of Hollywood and Sunset Boulevards. This is not the case during Star Wars weekends.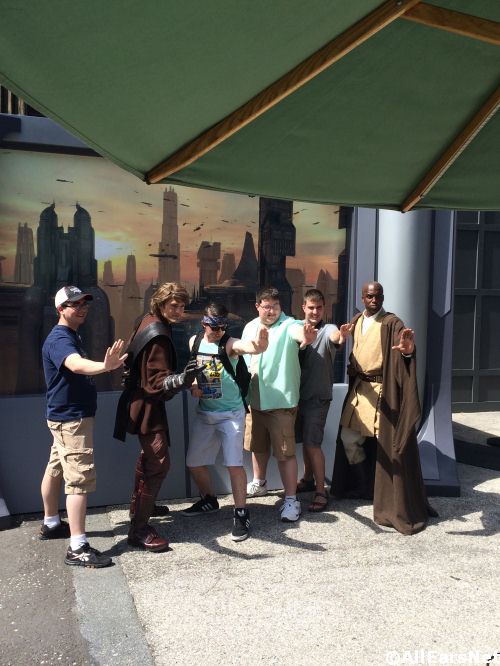 With character greetings taking place near Streets of America, Commissary Lane, and Star Tours, there was a noticeable energy and excitement from guests unlike anything I had ever witnessed outside of Magic Kingdom. Even if I didn't recognize certain characters, other guests were there to help. Notable character experiences included a Stormtrooper demanding, "Let me see your identification!" and a sizeable crowd – mostly adults – letting out an audible "Auuguuguuurrrggghhhh!" as Chewbacca held court outside of Star Tours – The Adventures Continue.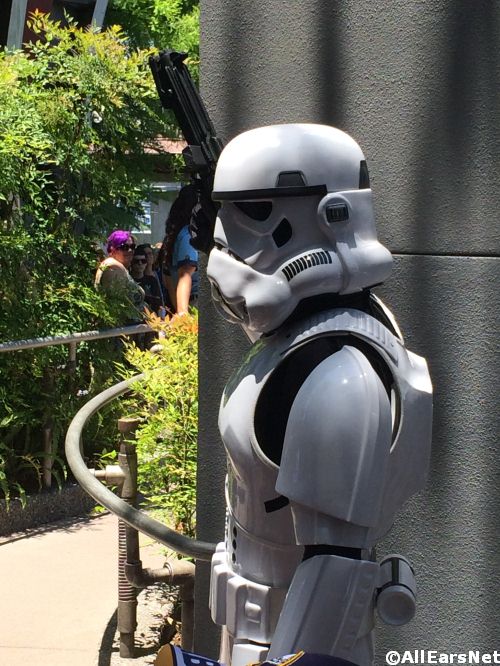 I closed out my day on Star Tours – The Adventures Continue, which had a surprisingly short 30-minute wait. Another surprise was the small number of guests dressed in Star Wars costumes. Honestly, I can't blame anyone for choosing comfort over a costume given the warm weather. Additionally, I was surprised how often I found myself looking up information about Star Wars characters on my iPhone. Still a non-Star Wars fan, you ask? For now, let's just say I am more intrigued and plan to learn more about the franchise.
Overall, I enjoyed my Star Wars Weekends experience and I am planning to return in the near future.
Here are a few helpful tips that I will utilize during my next Star Wars Weekends visit and may be helpful to you as well:
– Arrive early for the "Legends of the Force" Motorcade! I should have grabbed a spot on Hollywood Boulevard when I arrived at the park an hour before the start of the motorcade. Since I was there by myself, I could have found a better viewing spot up to 30 minutes prior, but more time is required if you are visiting as part of a larger group. Next time I will try and get closer to the event stage but still maintain a position on Hollywood Boulevard.
– If you want Star Wars Weekends commemorative merchandise, you might consider skipping Darth's Mall and dedicate that time to an attraction or show at the Premier Theater. Most of the commemorative items (including my coffee mug) were available at other merchandise locations throughout Hollywood Studios. For my next visit, I am also planning to use a FastPass+ reservation for a show at the Premier Theater instead of a regular attraction.
– Stay for the fireworks! Sadly, a prior commitment kept me from staying into the evening for the Symphony in the Stars fireworks show. Just following the commentary on Twitter, I regretted not being able to stay into the evening. Plus, fireworks shows are rare at Hollywood Studios so why not take advantage of a special occasion? Scheduling, scheduling, scheduling.
Next time I will be better prepared, more knowledgeable of the characters, and be sure to experience the evening entertainment.
"You will find only what you bring in," said Master Yoda.
Lesson learned.
Phillip Creglow rediscovered Disney two years ago following a twelve year hiatus. After relocating to Orlando in 2014, he is on a mission to make up for lost time by making frequent visits to the Disney parks, participating in runDisney events, and sampling the best food and beverages available at Walt Disney World.