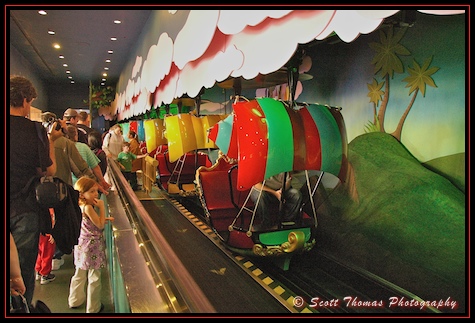 Guests getting on Pirate ships for a ride on Peter Pan's Flight.
Nikon D70/18-200VR, 1/50s, f/3.5, ISO 1600, EV +0.3, 18mm focal length.
While today's dSLR cameras can capture photos inside Peter Pan's Flight in the Magic Kingdom, back when I had a Nikon D70, photographing the loading area was about the best I could hope for.
I remember for years bypassing this attraction thinking it was like a carnival's funhouse ride. When my daughters where young and this was one of the few rides they could go on, I finally got to try it. Imagine my surprise at the wonderful imagery and smooth ride technology. A must-do for anyone.
For the Disney Pic of the Week on Peter Pan's Flight.