Want a new twist on dinner and movie? How about dinner *while* you watch a movie? This concept is becoming more popular in cities throughout the U.S., and Walt Disney World began offering the inclusive screenings about two and a half years ago.
After a major renovation, the AMC movie theater at Downtown Disney reopened in May 2011 with six auditoriums dedicated to its Fork & Screen dine-in theatre. (It now offers eight such screens.) Patrons can order causal restaurant food and cocktails, beer and wine — or just typical movie popcorn and candy with sodas — and have their selections delivered right to their seats.
I was invited to the opening of Disney's Fork & Screen, but somehow with their busy schedules, the rest of my family had not seen a movie there. So, on a recent school break, we took the time to see Disney's "Frozen" at Fork & Screen and now they say they don't want to watch a movie any other way! (Fork & Screen is open to those 18 and older, unless children are accompanied by their parents or guardians.)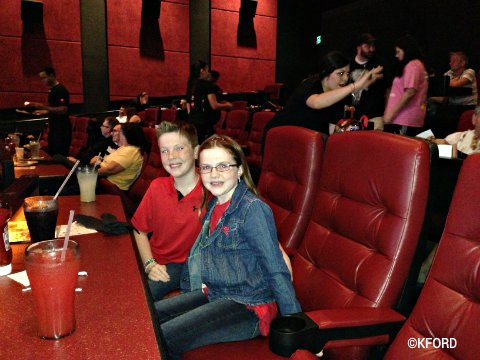 Your movie-going experience can begin at home if you choose to purchase your tickets online, which I definitely recommend. In doing so, you will choose your seats and then they are reserved for you. No rushing or standing in line at the theater — love that! Although there is a small service charge for online purchases, if you join AMC's loyalty program, Stubs, those fees are waived. Ticket prices range from $10 to $15, depending on the time of show and type of ticket (adult, senior or child).
AMC recommends guests arrive at Fork & Screen about 30 minutes before the scheduled movie start so they can peruse the menu while the lights are up and place their orders. The menu includes burgers, flatbread pizzas, grilled sandwiches, appetizers and desserts. Plus, there are kid-friendly selections. Kids' meals, for ages 12 and younger, cost $7.49, while adult appetizers start at $7.99 and entrees at $9.99. Get a taste of the menu here.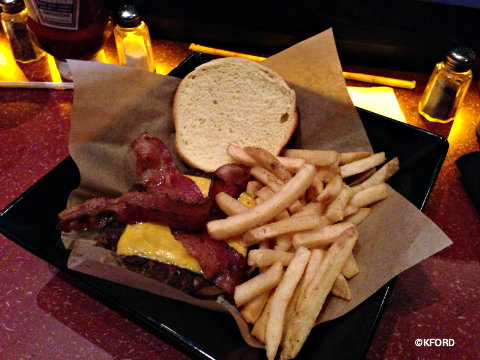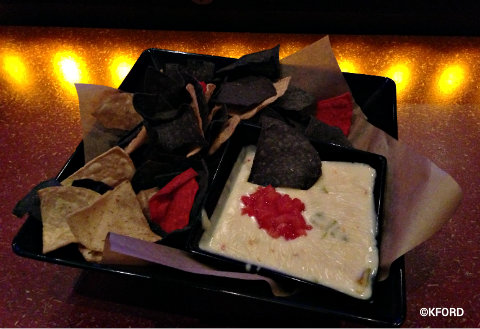 Our family shared the bacon cheeseburger and the queso blanco dip & chips. The portions were generous and fairly tasty considering we were eating in a setting that wasn't a typical eatery. We also sampled the waffle sundae: two warm Belgium waffles topped with a scoop of vanilla ice cream drizzled in caramel and sprinkled with candied bacon. Delicious!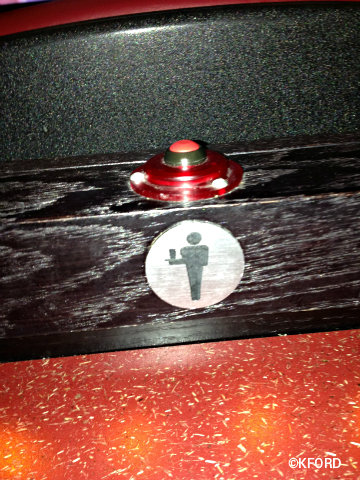 We found the servers to be efficient and not at all disruptive as we were watching the movie. And eating wasn't a balancing act, either. Each row of seats has a bar-like table that runs the length of the row, offering a sturdy and comfortable way to eat. Speaking of comfortable, the seats are plush rocking chairs that are grouped in rows of four seats. That means every seat is either an aisle or one seat away from the aisle, which makes bathroom breaks less disruptive for everyone. Anyone with youngsters will understand the importance and value of this feature alone.
In fact, the Fork & Screen dine-in experience can be especially accommodating to parents who are juggling the responsibilities of keeping kids happy while making sure the grown-ups have a pleasant time at the movies, too. All in all, the concept can make "dinner and a movie" a fun night out for families and an all-in-one event.