For my latest review I have decided to do something a little different. While all my past reviews have focused on Disney's table service dining locations, I have realized that I have been overlooking the numerous counter service restaurants located around property. For many Guests travelling to Walt Disney World, these quick service dining locations are their primary dining options, either because they want to dine on a budget or they don't want to spend the time it would take to have a full service meal. One of the great things about Disney World is that it features a tremendous variety of counter service options that go beyond merely hot dogs, hamburgers, and chicken nuggets. In fact, some of the quick service locations across property offer dining experiences that are nearly just as good as a full service restaurant. This review will highlight one such location.
When one hears the name Wolfgang Puck, the thought of a casual, quick service dining experience is not necessarily the first thing that comes to mind. This is, however, exactly what is offered at the Wolfgang Puck Express at the Downtown Disney Marketplace. Specializing in sandwiches, salads, pizzas, and pastas, this restaurant certainly lives up to its slogan that "simple is delicious."
Overview:
Downtown Disney offers plenty of dining options and features a wide array of cuisines, but despite this it always seems as though every restaurant is packed. For those Guests who have not made reservations in advance, this often means very long waits. Fortunately, there are several quick service locations here as well for those Guests who may not want to wait. Tucked back between Disney's Days of Christmas and Mickey's Pantry, the Wolfgang Puck Express can sometimes be overlooked, but it offers a dining experience worthy of its famous namesake.
Presenting a more casual take on some of the signature dishes that made chef Wolfgang Puck famous, this dining location offers a great alternative to the large crowds found in Downtown Disney's various sit down restaurants. The restaurant is what could be considered an "enhanced" counter service location; you place your order at the counter as you enter, find a table to sit at while your food is being prepared, and then have your meals delivered directly to your table. The result is the feel of a sit down restaurant but with much quicker service.
Atmosphere:
The Wolfgang Puck Express is not the largest dining venue, but it still offers plenty of seating. While the restaurant used to feature a large covered patio for outdoor seating, this space has now been enclosed to allow more diners to enjoy the climate-controlled environment during the hot summer months.
There are still a few tables located outside for those wishing to dine al fresco. What is nice about the restaurant's location is that it is tucked out of the way, so if you are eating outside there are not a lot of people walking and there is very little noise. While the restaurant's decor has no specific theme, the overall design is very minimalist and simple, giving it a casual and laid back atmosphere.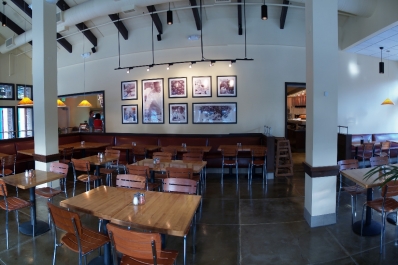 The restaurant's sense of openness, with its high vaulted ceilings and numerous windows which allow for plenty of light, give the dining room a sense of being larger than it actually is. The only real visual décor elements in the main dining area are black and white photographs on the walls.
One of the best elements of the restaurant's atmosphere is the area just after the counter where you place your order.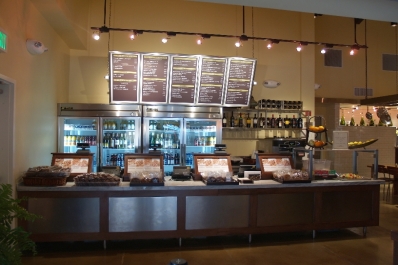 As you make your way into the main dining area you pass through a room that makes you feel as though you are walking through the kitchen. Not only are there pots and pans hanging from racks on the ceiling, but you are able to see right into the area where the chefs are preparing the food as well as the large oven used for making the pizzas. This part of the restaurant presents a bit of a contrast from the main seating area, a more classic style as opposed to the modern feel of the dining room.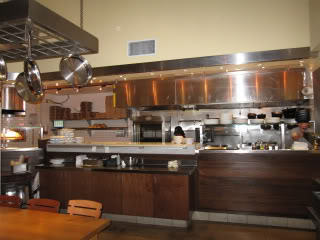 The Menu:
For a counter service restaurant, the menu at Wolfgang Puck Express is very extensive. It is certainly safe to say that it is a menu that offers something for everyone. It starts with their numerous salads which include Butter Lettuce ($7.00) with goat cheese and balsamic vinaigrette, Caesar ($7.00) or served with chicken ($11.00), Chinese Chicken ($11.00) with crispy wontons, cashews, ginger, and a sesame honey dressing, Roasted Beet ($9.00) with goat cheese, oranges, candied pecans, fresh greens, and balsamic dressing, Curried Chicken ($13.00) with apples, lettuce, golden raisins, avocado, and toasted pecans, Rotisserie Turkey Cobb ($14.00) mixed with eggs, bacon, beans, tomatoes, gorgonzola, avocado and balsamic, Greek ($10.00) topped with feta, tomatoes, cucumbers, peppers, and a creamy yogurt dressing, and Barbecued Chicken ($11.00) with romaine, cucumbers, onions, tomatoes, crispy tortilla strips, and ranch dressing.
If you are more in the mood for a sandwich there are several to choose from. These include the Pesto Chicken Salad ($10.00) topped with romaine, red onions, and plum tomatoes, the Rotisserie Turkey Club ($13.00) with avocado, bacon, red onion, plum tomatoes, and romaine, Chicken Aioli ($10.00) with mozzarella, romaine, tomatoes, red onions, and a cilantro aioli, the Roasted Turkey ($14.00) topped with cheddar, caramelized onions, arugula, port wine sauce, house dressing, and a horseradish cream, Meatloaf ($14.00) accompanied by provolone, bacon, tomato chutney, horseradish cream, and crispy onions, and the Roasted Vegetable ($13.00) with mozzarella, pesto, lettuce, tomato, and a horseradish cream.
The menu also features a number of pizzas prepared in the restaurant's wood-fired oven. Among these are the Traditional Margherita ($11.00), Fennel Sausage ($11.00) topped with pesto, roasted sweet peppers, and mozzarella, the Classic Cheese ($10.00), Pepperoni and Mushroom ($11.00), Barbeque Chicken ($13.00) topped with red onion, cilantro, tomatoes and a smoky BBQ sauce, Seasonal Vegetables ($12.00), Four Cheese Pesto ($12.00) featuring parmesan, mozzarella, fontina, and goat cheese with plum tomatoes, fresh basil, and sun-tomatoes, and the Spicy Chicken ($13.00) with sweet peppers, tomatoes, fresh cilantro, and parmesan.
For those looking for a heartier meal than sandwiches, salads, or pizzas, there are also several "Wolfgang's Classics" to choose from. These include a Half Rotisserie Chicken ($16.00) topped with garlic butter and rosemary and accompanied by mashed potatoes, Oven Roasted Salmon ($18.00) topped with fennel, tomatoes, arugula, and a horseradish cream, Spaghetti ($12.00), Spaghetti and Meatballs ($16.00), Spaghetti Bolognese ($15.00), Chicken Alfredo ($15.00) with peas and bacon, Macaroni and Cheese ($11.00), and Bacon Wrapped Meatloaf ($15.00) topped with a port wine sauce and crispy onion rings and served alongside mashed potatoes.
For my meal I started with the Butternut Squash Soup ($6.00), which was absolutely delicious. Smooth and creamy, it was just the right consistency. The soup came garnished with chives and a roasted pepper swirl, which proved to be the perfect complement to the squash by adding a little kick of spiciness. The soup itself was somewhat sweet, but not overwhelmingly so, and the red pepper and chives actually helped to enhance the flavor without being too overpowering. The soup was thick, rich, and filling and also came with a small slice of bread which was perfect for dipping. The serving size is large enough that this could easily be split between two people.
Next I chose the Barbeque Chicken Pizza ($13.00). The barbeque sauce itself had a little hint of smokiness, but it certainly did not overpower the other ingredients. In fact, I would not have minded if there had been a little more barbeque sauce on the pizza. The pizza came topped with a good amount of chicken and red onions that paired very well with it and added even more flavor. I was worried that the cilantro would be too strong, but there was just the right amount to compliment the other flavors and provide an added little kick. The pizza itself had a very thin crust, nice and crispy along the edges but softer toward the center. The dough was light and cooked to perfection, with the edges of the pizza just slightly burned enough that it added to the flavor. Again, this is another dish that could easily be shared, especially if starting with a soup or salad beforehand.
Service:
At a counter service restaurant one of the things you expect is fast service and the two servers taking orders were very efficient so the line of Guests ordering never became too backed up. Because of the way the restaurant works, once you place your order at the counter you then find a table in the dining room and have your food delivered to you. While the food was brought out in a timely manner and the server asked me if I needed anything when he first delivered my meal, it seemed as though all the servers walking about the dining room were most concerned with getting the tables cleaned and turned over rather than checking in on the Guests who were eating. While this is certainly important in a quick service restaurant that has a high turnover rate, it seemed to come at the expense of their interaction and attention to the Guests who were currently dining there.
Dining on a Budget:
The Wolfgang Puck Express is a great option for dining on a budget, especially if you want an experience similar to the Wolfgang Puck Café (also found at Downtown Disney) at a more affordable price. For example, the Butternut Squash Soup that costs $6.00 at the Express is $8.00 at the Café. While the menu selections are fewer and simpler than the Café, the quality and taste are just as good. In addition, you will find that the portion sizes at Wolfgang Puck Express are big enough that sharing a dish between two people becomes an easy way to save even more. If each person were to get a soup or a salad, splitting a sandwich or a pizza would be more than enough for a meal. If you are still hungry, you could always get a dessert as well, all of which are also reasonably priced.
If you are on the Disney Dining Plan, the Wolfgang Puck Express is one of the best values for your counter service credits as the meals you will find here are of tremendous quality (certainly better than just getting a burger or hot dog in the park) and the serving sizes large enough that you will almost certainly have leftovers. The best way to maximize your Disney Dining Plan is finding those restaurants that will get you the most for your money. For example, you could get a cheese pizza from Pizza Planet for $9.00 or you could go to Wolfgang Puck Express and get the Barbeque Chicken Pizza for $13.00 or even something like the Oven Roasted Salmon for $18.00 all for the same one counter service credit. In many ways, dining at Wolfgang Puck Express is almost like dining at a table service restaurant for a counter service credit.
The Overall Experience:
At this point I should note that while this review is of the Wolfgang Puck Express located in the Downtown Disney Marketplace, there is also one on the West Side as well. However, the West Side location is smaller and its menu options are more limited. The Wolfgang Puck Express is a great place to grab a quick bite to eat and I highly recommend it to anyone visiting Downtown Disney who does not feel like waiting a long time for a table at one of the sit-down restaurants. Bearing the name of Wolfgang Puck, you know that the food is going to be of a high quality and the Wolfgang Puck Express certainly delivers, offering a calm and relaxing meal in a quiet and laid-back environment. Not only is it one of the better counter service restaurants to be found in Downtown Disney, but I would consider it one of my favorites among all quick service restaurants in Disney World.
See past restaurant reviews by guest blogger Andrew Rossi.
Check out Reader Reviews of the Wolfgang Puck Express and post your own too!