I wanted to share some dining notes and experiences from a recent trip to Disneyland. We tried the new breakfast menu at River Belle Terrace, and the updated Autumn lunch menu at Carthay Circle Restaurant.
First off – Disneyland has finally given us the ability to book Disneyland Dining reservations on-line! On the Disneyland web site, go to the "Things to Do" tab, and under "Dining" there's a "Make Reservations" selection. Once you've selected a restaurant and time you'll have to provide a credit card to confirm the reservation. Reservations can be canceled up until the night before with no penalty – cancellations can also be made on-line.
Disney has added new menu items or completely modified restaurant menus at several of the park restaurants over the last few months – it's nice to see some of these changes.
Ariel's Grotto
There are new breakfast, lunch, and dinner menus at Ariel's Grotto at Disney California Adventure. Breakfast and lunch are still character meals featuring the Disney princesses, while dinner has no characters, but offers the World of Color ticket. (I was told that the menus are still being tweaked, so there may still be some changes to come.)
For breakfast, instead of shared platters of food as in the past, there's a shared pastry/fruit platter, but then everyone gets to order their own breakfast entree, such as a spinach frittata, American breakfast, Belgian waffle, or tri-tip and eggs.
Adult Breakfast Menu
Kid's Breakfast Menu
The lunch and dinner menus are very similar, and feature choice of entree with either soup or salad, and a shared dessert platter. The entrees are all new – shrimp and pasta, BBQ tri-tip, fish of the day, etc. Looks good, but I haven't had the chance to try it.
Adult Lunch Menu
Adult Dinner Menu
The kid's menu is the same for lunch and dinner (just a $2 price difference). It starts with choice of veggies and dip or popcorn soup (I wonder how popular the latter will be with kids). The entrees have fun names, like Ursula's Octo-Dog, Whozits and Whatzits Fries and Nuggetz, and Angel Hair Pasta a la Dinglehopper.
Kid's Lunch Menu
Kid's Dinner Menu
Sonoma Terrace
When Disney stopped offering the World of Color picnic meals last summer the distribution area at the Sonoma Terrace began offering wines and a selection of beers, including craft beers, instead. This is a really nice, out-of-the-way area to sit and relax. There's quite a bit of seating, much of it in the shade, and it's a really pleasant area to relax and unwind. In addition to the beer and wine selection they offer cheese or cheese/meat plates, and (my favorite), freshly baked Bavarian pretzels. These are quite large, and served with either spicy mustard or sweet mustard, for $5.00. It would be nice to see soft drinks on their menu, though.
River Belle Terrace
At Disneyland, River Belle Terrace has updated their breakfast and lunch/dinner menus. We had breakfast there recently. The classic Mark Twain, Steamboat and Mickey Mouse Pancake items are still on the menu, but there are some new items, like Country-Style Biscuits n'Gravy and "Build Your Own" Yogurt Parfait. The biscuits are different than they were before – a skillet biscuit rather than a square biscuit.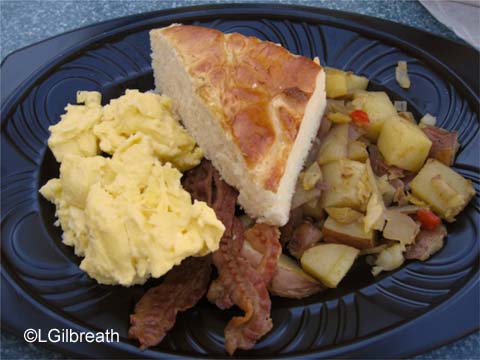 I tried another of the new menu items, Cinnamon Roll French Toast, served with scrambled eggs and choice of bacon or sausage. It was really, really good, especially when I got a piece with some of the ooey, gooey cinnamon filling. I will definitely order this again!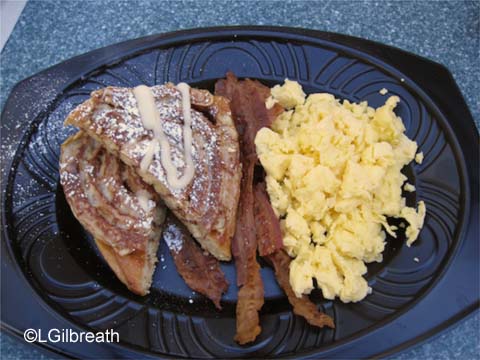 The regular menu still offers some of the sandwiches and salads it did before, but there are new menu items, also, such as a turkey dinner, carved roast beef, catch of the day, and black bean cakes. There's also new dessert choices: red velvet cake, cafe au lait cheesecake, key lime pie, and minty grasshopper pie. All are $5.19 each.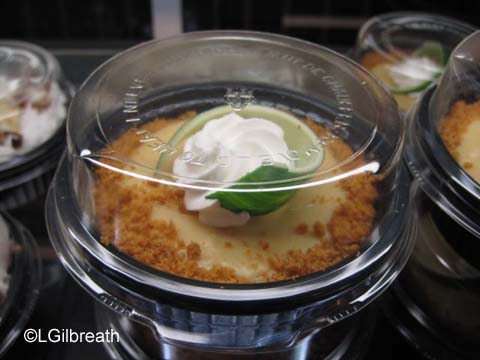 River Belle Terrace Breakfast Menu
River Belle Terrace Menu
The Market House
The Market House on Main Street has recently re-opened as a Starbucks location. It expanded into the space next door formerly occupied by the Disneyana Store, so it's quite a large and nice area now. It's very popular, but Disney kept that in mind in the design, and it has a built-in queue and multiple ordering stations and registers so the line moves quickly.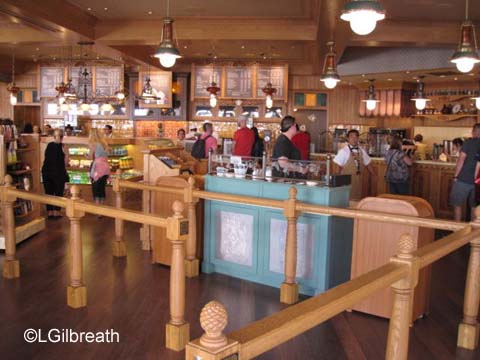 There's also a seating area, which includes some of the old-fashioned elements that were in the original Market House location.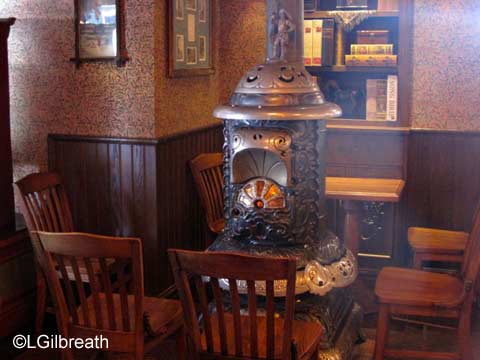 The menu features the usual variety of Starbucks beverages. There's also a wide selection of pastries but no hot foods or sandwiches.
Carthay Circle Restaurant
On our recent visit we had lunch at the Carthay Circle Restaurant. I was the only one in our party who had eaten there before, and it had been over a year for me. The Carthay Circle Restaurant menu changes seasonally, and they had recently introduced their Autumn menu. Most of the menu items don't change much, but there are always a few new items introduced which highlight the freshest seasonal ingredients.
The restaurant itself is quite beautiful inside – in some ways it seemed a shame to be wearing our theme park clothes in such an elegant setting. But there's not a dress code, so it's not an issue. In a recent blog entry Jason talked about the History of the Carthay Circle Restaurant Tour he took recently, so there is some additional information and photos there if you are interested.
There were four of us, and we were seated near the kitchen at one of the corner tables that features the image of the Evil Queen in the wood. Being seated near the kitchen is actually kind of interesting, since the kitchen is somewhat open and we could see what was going on in the dessert prep area.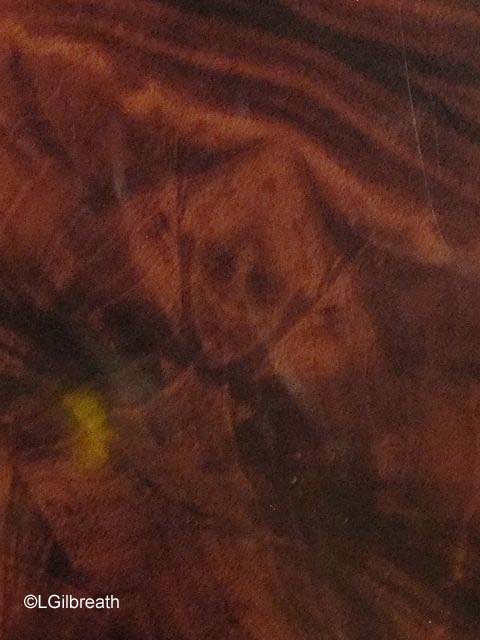 We started our meal with the Carthay Signature Fried Biscuits. These are stuffed with cheddar cheese, bacon, and jalapeno, and are served hot – hot enough that the middle was still liquid – it was like cheddar cheese soup inside! They are served with apricot honey butter. That combination didn't do much for me, but others enjoyed it.
For my meal I ordered two of the appetizers, including the seasonal soup, which was Pumpkin Tortilla Broth with chicken, tortilla strips, and cream fraiche. Pumpkin soup meets tortilla soup. It was very good, but be aware that it's a little bit spicy.
I also ordered the Heirloom Tomato Salad, with several different colorful tomato varieties, shaved parmesan, basil, olive oil and parmesan aioli.

Lee tried the Angus Beef Arugula Salad, which included radicchio, and a gorgonzola crostini with Cabernet vinaigrette. It was topped with onion straws. He said the beef was good but he wouldn't order it again because he found the arugula very bitter. It was a very beautifully presented dish.
My brother ordered the Mediterranean Grilled Eggplant Sandwich – this was a real winner. It included artichokes, marinated tomatoes, greens and melted cheese. I tried a bite and it was very good, really great flavors, crisp and toasty bread. It came with French fries, which were also very good. I'd order it in the future.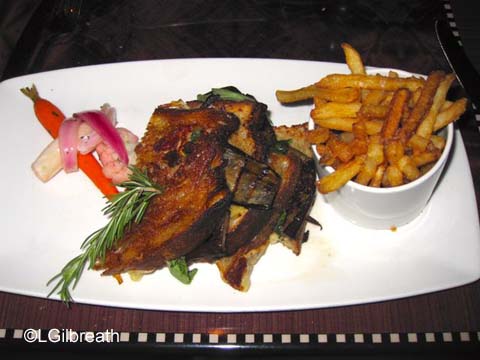 My sister-in-law tried the Carthay Strawberry Chicken Salad. I think initially it was because she was so intrigued by the "lacquered bacon" in the description: "Lacquered bacon, Avocado, Haricots Verts, Cherry Tomatoes in a Fresh Strawberries and Thyme Vinaigrette". But she said it was excellent. (The "lacquered bacon' was caramelized bacon strips.)
We didn't have room for dessert, but our choices were:
Warm Rocky Road Brownie – Toasted Macadamia Nut with Coconut Shavings, Caramel Sauce and Marshmallow Ice Cream.
Warm Apple Pecan Pound Cake – Salted Carmel and Green Apple Sorbet.
Cordillera Chocolate Decadent Layer Cake – Classic Dark Chocolate Layer Cake with Raspberry Sauce.
Warm Autumn Pear and Dried Apricot "Pie" – with Old Fashion Vanilla Ice Cream.
They all sounded really good, and we saw a lot of the chocolate cake come out of the kitchen.
It was really a very nice meal, and we enjoyed having a relaxing break, since it was a very warm day in the parks. But not something I'd do all the time – it was expensive, and there's a lot of other foods in the parks I enjoy just as much as what we had.
The Carthay Circle Restaurant has a fairly new prix fixe World of Color menu now – it used to be that diners could get a World of Color Fastpass just by ordering an entree and either an appetizer or dessert. Now there are three-course lunch and dinner menus – $39 for lunch and $59 for dinner. (That's actually a pretty good deal if you look at the regular menu prices!)
Carthay Circle Restaurant Menus
Carthay Circle Lunch Menu
Carthay Circle World of Color Lunch Menu
Carthay Circle Dinner Menu
Carthay Circle World of Color Dinner Menu
Carthay Circle Kid's Lunch Menu
Carthay Circle Kid's World of Color Lunch Menu
Carthay Circle Kid's Dinner Menu
Carthay Circle Kid's World of Color Dinner Menu