This week's Limited Time Magic Celebration at Disney California Adventure focuses on Oswald the Lucky Rabbit. Clarabelle's Hand-Scooped Ice Cream is featuring a special Oswald-inspired ice cream sundae in a Trolley Car Cup, and stores are highlighting their Oswald merchandise.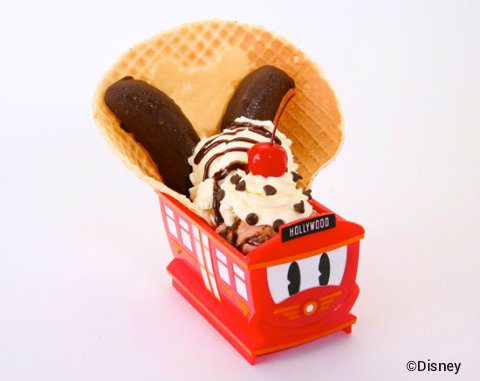 Seeing again that Oswald mostly is represented at the Disney Parks in North America in merchandise makes me wonder why he doesn't have a larger presence. Since The Walt Disney Co. regained the rights in 2006 to one of Walt Disney's first animated characters, Oswald slowly has been making a name for himself with a new generation of fans. (Walt drew Oswald between 1927 and 1928 along with Ub Iwerks for Universal Studios.)
Most notably, Oswald has been featured in all three Epic Mickey video games. As such, Oswald is quite grumpy about being forgotten all this time and he's a little jealous of his "younger brother," Mickey Mouse. Still, the rabbit loves to have fun and is funny when he wants to be, and, ultimately, he tries to make the right choices.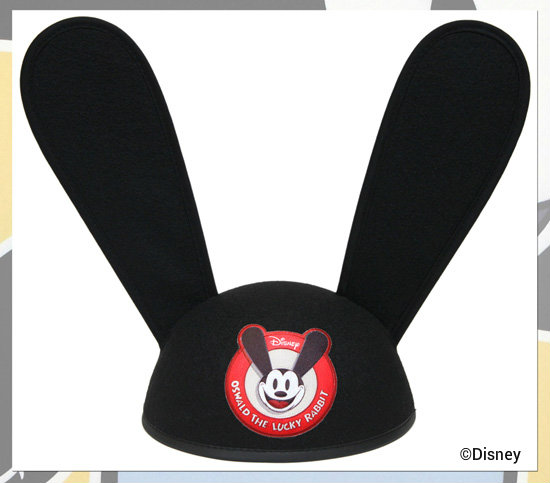 With the games' promotion, we've seen Oswald's image appear on more merchandise, including T-shirts, plush animals, watches, pins and even last summer's rabbit-ear hats at E3 (Electronic Entertainment Expo) that later were introduced in the Disney Parks. My son proudly wears his hat each time we go to the theme parks, and inevitably, other guests and cast members will comment, saying how fond they, too, are of Oswald.
Surely, the next step would be to have Oswald as a meet-and-greet character in the Disney Parks. Some Oswald fans have suggested that he be a black-and-white character who adds color, such as his blue shorts, during appearances. What a great idea! That concept reminds me of Animator's Palate on the Disney Wonder; it is an amazing experience to see the animation change from stark black and white to a rainbow of hues.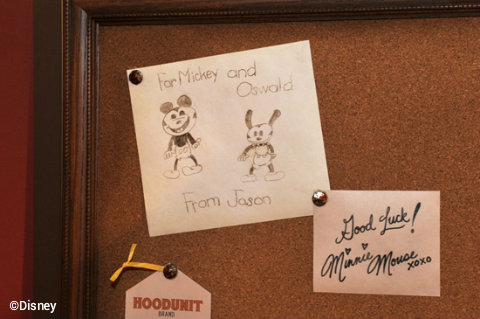 And it would seem that near the Mickey Mouse meet-and-greet in Town Square Theater at Magic Kingdom would be the logical spot for an Oswald meet-and-greet location at Walt Disney World. After all, there's already a nod to Oswald and the characters' close relationship with a drawing of the pair posted in Mickey's dressing room. At Disney California Adventure, perhaps there is a spot near the rabbit's namesake store on Buena Vista Street.
Given the range of topics Oswald animated shorts covered during the early Disney years, there are a host of other locales that could be used just as appropriately at either the Magic Kingdom or other Walt Disney World parks. Face it: If cute little teddy Duffy and his, well "¦ questionable "¦ historical contributions to Disney's history and lore could lead to him having a meet-and-greet site at Epcot, then surely Disney's original creation deserves the same prestige at one of the parks here, as well.
So, fans of Oswald, tell us what you think! If you could design a meet-and-greet area in the Disney Parks with the Lucky Rabbit, what would it be like? I know we all agree it should have started already.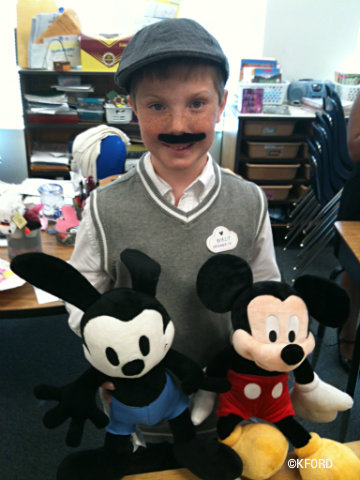 For a class project, my son assumed the persona of Walt Disney, and he chose Oswald and Mickey as symbols of Walt's accomplishments.