Since 1997, Walt Disney World has hosted special Star Wars Weekends at Disney's Hollywood Studios. Guests can meet, greet and get autographs from characters of both the movies and animated series as well as from actors and voice actors. Click the link for more information about this year's events which include parades, talk shows and the ever popular Hyperspace Hoopla which must be seen to be believed.
You never know who you might see at Disney's Hollywood Studios during the annual run of Star Wars Weekends. Too bad there were no Stormtroopers about when I took this photo. As I do believe these are the droids they were looking for in a Galaxy Far, Far Away.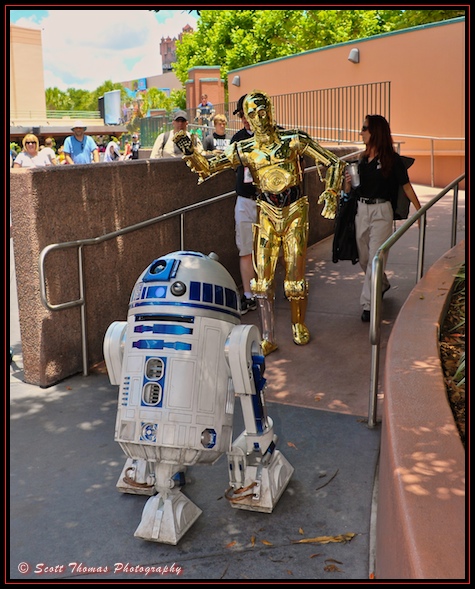 C-3PO and R2-D2 visit Disney's Hollywood Studios during Star Wars Weekends.
Nikon D700/28-300VR, 1/250s, f/8, ISO 200, EV +0.3, 28mm focal length.
Lisa will be here on Thursday to share her Disney Pic of the Week on Star Wars Weekends.