Expect to be immersed in another world from your childhood when you see Walt Disney Animation Studios' newest animated film, "Wreck-It Ralph." Much like the clever and funny "Toy Story" series, "Wreck-It Ralph" allows audiences a look at what goes on with our playthings when the kids aren't around. Yet this time it's a view behind the screens of video games to expose what happens after the kids leave the arcade.
The story is about Ralph (voiced by John C. Reilly), the bad guy in the Fix-It Felix, Jr. game. As his name indicates, Ralph's job is to destroy things that the other residents of Niceville, especially hero Fix-It Felix Jr. (voiced by Jack McBrayer), have built. After 30 years of being an outcast, Ralph is fed up and decides to try to prove he, too, can be one of the good guys so that he will be accepted by the other game characters.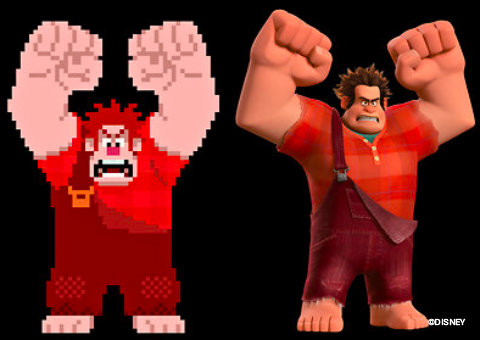 Ralph's quest takes him to other game worlds in the arcade, and the journey is one of rich detail — both in the animation and the writing. Game graphics cleverly morph from the eight-bit displays of the '80s to the detailed scenes of today's first-person point-of-view sets. The vibrant colors really make the animation pop, and Director Rich Moore, perhaps best known for "The Simpsons," uses the 3D effects well without overwhelming the audience.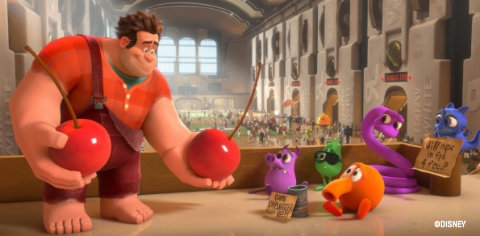 Adults will get a kick out of appearances from characters in games of their youth — from Q*bert and Sonic the Hedgehog to various Pac-Man gobblers and their ghost enemies. At one point, Ralph is even eating the bonus-point cherries from Pac-Man as he travels through the electrical cords of the arcade to other stand-alone video games.
Children can enjoy the movie for the surface story, which in itself is entertaining. But parents can appreciate some of the jokes that might go over the kids' heads — especially in the make-believe land of Sugar Rush where police officers are shaped like donuts and King Candy's Oreo guards have a chant that will have "The Wizard of Oz" fans laughing in recognition.
Ralph's search for hero status starts at Hero's Duty, a military-style game, where he meets Sergeant Calhoun (voiced by Jane Lynch) and attempts to earn a medal. There is no mistaking Lynch with her over-the-top comments and crazy analogies that her "Glee" character made famous. Ralph finds out that not all games are created equal when she barks at the soldiers, "The kitten whiskers and tickle fights stop now."
He ends up in cart-racing game Sugar Rush, where he makes his first friend, Vanellope von Schweetz (voiced by Sarah Silverman), a 9-year-old glitch in the game. She's another strong female figure, but this one needs Ralph's help. Ralph learns to navigate her world and their friendship, and they encounter a few speed bumps along the way. Falling Mentos at Diet Cola Hot Springs play a pivotal role in the clash of good and evil in Sugar Rush, and ultimately, the movie. In the end, Ralph gets his chance to shine, and audiences are in for a sweet treat.
DISCLAIMER: I was a guest at a screening of "Wreck-It Ralph." This did not influence my review, and my opinions are my own.