On September 30th, 2012, the day before Epcot's 30th anniversary, D23 held a celebration in honor of Disney's third theme park. The event ran from 9am until 6pm and recounted the history of Walt's last great dream, Epcot. Throughout the day, the audience was introduced to the men and women who planned and built this park. These "heroes" of the Disney world regaled the enthusiasts with stories and anecdotes of the planning and hard work that when into turning forest and swampland into a technological wonder. Deb Wills and I were there to enjoy the many stories that were shared that day and learn as much as we could about a park we both hold near and dear.

Fittingly, the event was held at Epcot in the World Showplace Pavilion located between the United Kingdom and Canada Pavilions. This venue was packed with eager fans, many of which would proudly call themselves "Disney Geeks." Some people were like Deb and me who already possessed a fair amount of Disney knowledge. Others were newbies who were taking their first steps into the passion of Disney. Many were from out-of-state who had made the trip specifically to be present the following day and celebrate Epcot's 30th birthday. The excitement in the room before the event began was electric as old and new friends shared their Disney memories and recollections with one another. Many wore their past Disney experiences like badges of honor as they remembered Epcot in the early years. This was an eager crowd anticipating a day full of information and memories.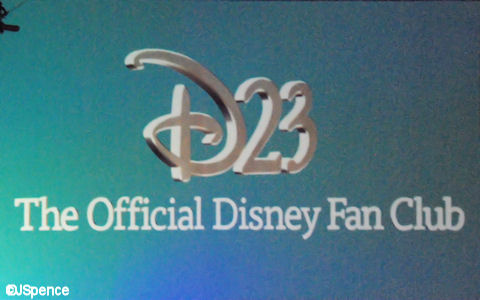 The presentation began promptly at 9am with introductory remarks by Steven Clark, the Head of D23. Knowing we wanted to get right to the "good stuff,"� his comments were brief.
It would be impossible for me to share with you the excitement of being in the same room with so many Disney greats – so I'm not even going to try. Instead, I plan on briefly introducing you to the Imagineers who spent the day with us and the various themes they discussed. The bulk of my article will present you with a smattering of the many wonderful bits of Disney trivia we were made privy to. Since the story of Epcot was not told in a linear fashion, I will be jumping from topic to topic so try and keep with me. In some cases, photography was not allowed so bear with me when I have no accompanying pictures. I have used my own photographs to try and fill in the blanks.
The first topic of the day was "Epcot: The Dawn of a New Disney Era."� This event was hosted by Disney Legend Marty Sklar. Unfortunately, his schedule did not allow him to attend in person, but he did take the time to create a video especially for the event.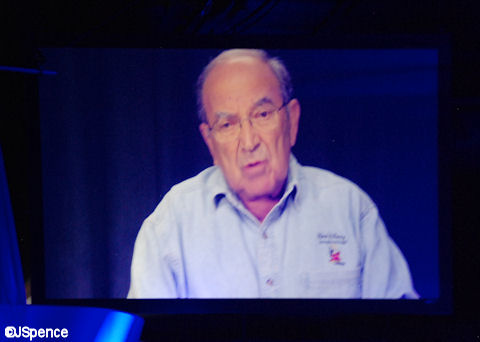 Story 1: Marty spent his time providing us with some of the early concepts for Epcot. One design was to be located just south of the TTC and would feature multiple pavilions arranged in two semicircles. One semicircle would house exhibits from various nations while the other showcase industry. Each would have an identical sized opening onto the promenade so all nations and companies would appear equal. However, each pavilion could be extended outward indefinitely depending on the needs of the country or company.
The next segment of the event was titled "We Can Do It."� Here we were presented with the overwhelming challenges faced by the early teams to create, build, and staff a theme park twice the size of the Magic Kingdom. This panel discussion was made up of Disney Legends and EPCOT Center creators and included: Duncan Dickson, Bob Matheison, Jim McCaskill, Tom Nabbe, Charlie Ridgway, Howard Roland, Bill Sullivan, and host Jason Surrell.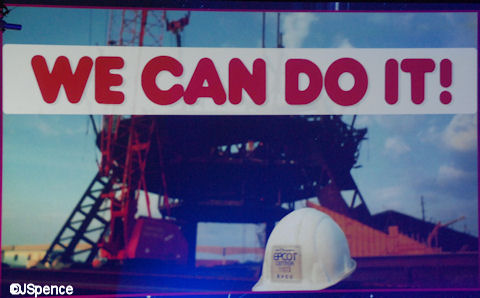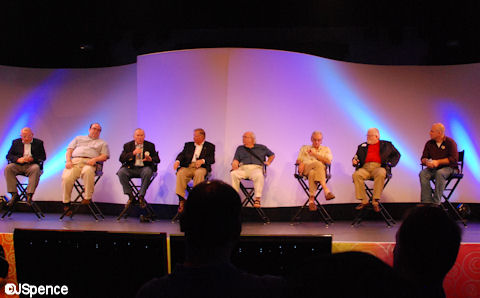 Story 2: When the Land Pavilion was being developed, Disney looked to outside experts for advice and counsel. With planning almost complete for the "Listen to the Land"� attraction (now "Living with the Land"�), one of the botanists asked "When will you be adding the bees?"� "What do you mean, bees,"� the Imagineers asked. "You can't have thousands of bees flying around in a room full of tourists."�
Well it seems that the necessity of pollination was never discussed at any of the planning sessions; however, this would be a requirement if the farmlands of The Land Pavilion were to prosper. Today cast members hand-pollinate the fruits and vegetables seen on this attraction.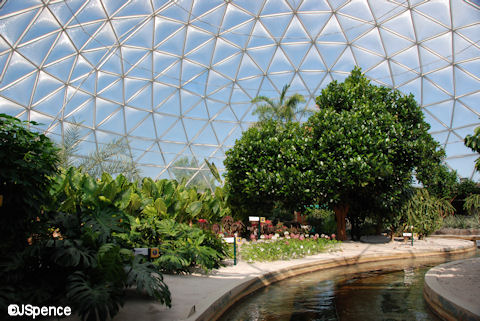 Story 3: Ray Bradbury was one of the consultants brought in to write the script for Spaceship Earth. His first draft was over 28 pages in length for a story that needed to be told in roughly nine minutes. Even though his scrip was pared down considerably, it contained many of the key elements we experience today.
Story 4: The location for Epcot was chosen because it is the geographical center of the Florida property. It sits approximately where the theme hotel would have been located had a city been built rather than a theme park.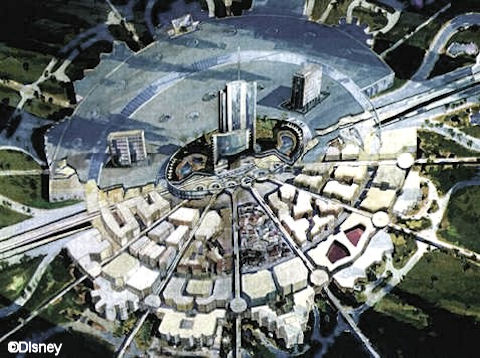 Story 5: Have you ever wondered why there is so much room between Future World and World Showcase? Well it seems that after construction was well underway, a giant sinkhole was discovered in the area separating these two sections of the park. In excavating this land, they never did find the bottom. This meant that no building could be constructed in this area. In the end, a lake was created here for aesthetic purposes. Several of the monorail pylons had to be anchored to concrete pads beneath the surface to provide adequate support.
Story 6: Much of the muck and debris that was excavated from this sinkhole and Seven Seas Lagoon was hauled to another part of the Florida property and simply dumped. It would later have to be dealt with and disposed of properly when construction began on the Caribbean Beach Resort.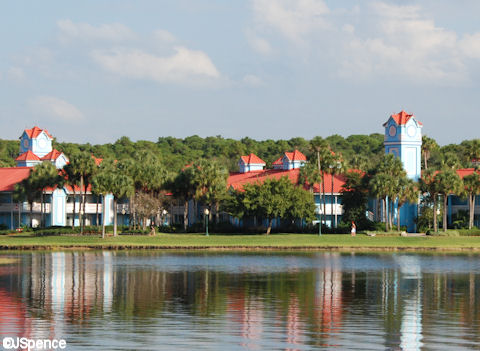 Story 7: For the groundbreaking ceremonies, a 180 foot tall representation of Spaceship Earth was created out of wire and Christmas garland and suspended from two giant cranes.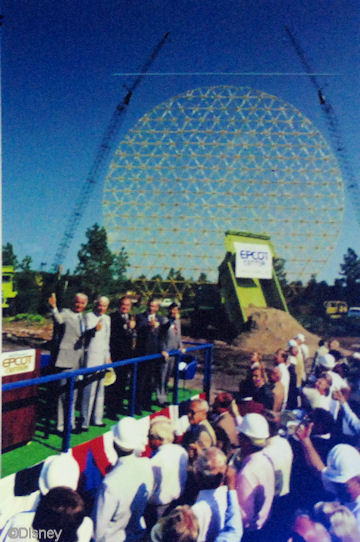 Story 8: Many of the Epcot Imagineers were "assigned"� to the ambassadors of the many nations that were being courted to be included in World Showcase. The Imagineers were expected to visit the dignitaries in Washington DC and play host to them when they visited the Florida site. These "social"� gatherings would include the Imagineer's entire household to promote the fact that Epcot was to be a family park. The Imagineers were also required to attend classes in protocol to ensure that no breaches in etiquette occurred.
Story 9: To promote the opening of Epcot and the recently completed Orlando International Airport, two Concord aircraft landed at OIA. It is believed that this is the only time in history that a British Airways and an Air France Concord landed simultaneously side by side.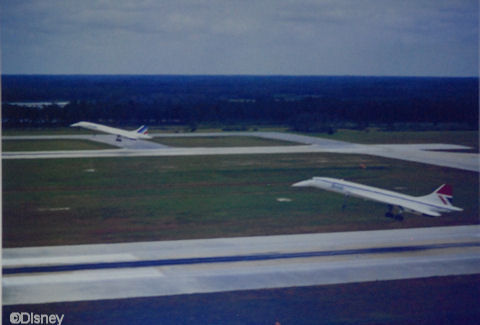 Story 10: Dick Nunis was head of Disney Parks when Epcot was being built. Dick was a task master and insisted on getting things done HIS way and on time. One day while visiting the Epcot site, he spotted a large hill of trash in an area where it didn't belong. He told one of the Imagineers to get rid of it ASAP. The following week, the trash was still there. Dick called the Imagineer over and said, "I told you to get rid of this trash."� The Imagineer, in an effort to escape Dick's wrath, proclaimed that this was new trash. Dick said, "Oh really?"� and walked over to the trash heap, reached in, and pulled out one of his business cards that he had placed there the week before. The trash was soon disposed of properly.
Story 11: When designing the Epcot parking lot, it was discovered that an endangered species of woodpecker was living in a strand of pine trees smack dab in the middle of the planned lot. Of course, this called for a redesign. Today the woodpeckers are gone, but Disney did name a backstage road, Woodpecker Lane, in honor of this little bird.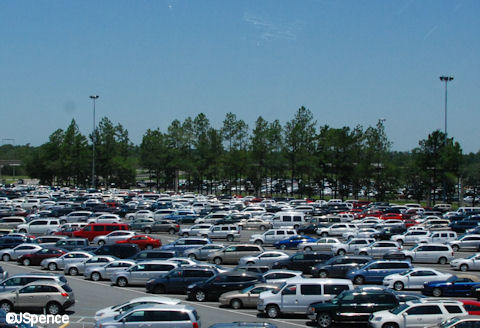 The next presentation featured archivists Steven Vagnini and Michael Crawford. Their topic was "Looking Back at Tomorrow."� These two shared stories of some of our favorite Epcot attractions.
Story 12: Even though the Imagineers did not plan on featuring Mickey, Minnie, and the rest of the Disney gang at Epcot, they still wanted charismatic characters for guests to interact with. As Mickey Mouse was the Magic Kingdom's mascot, Smart 1 was to be Epcot's icon.
Presented by Sperry, this cute little robot was designed to showcase the "intelligence"� of computers. Smart 1 spoke in an electronic voice and by asking guests a series of yes or no questions, he could answer all sorts of inquiries. Today, our smart phones are vastly more "intelligent,"� but in his day, Smart 1 amazed guests.
Story 13: Disney often says that no good story ever goes unused. To bring this point home, we were shown how several scenes originally planned for the never built Western River Expedition in the Magic Kingdom were used in the World of Motion.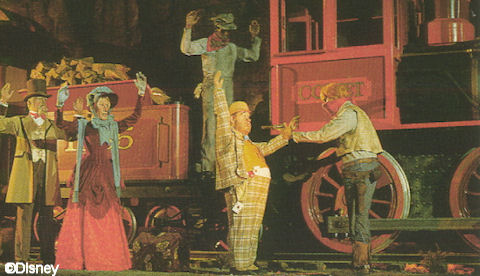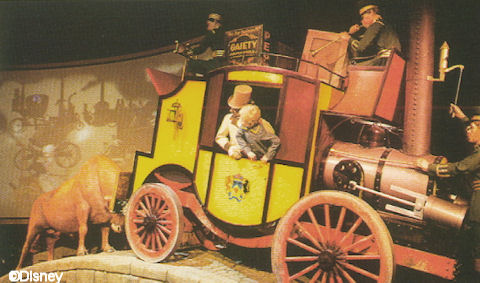 Story 14: One of the original concepts for the Land Pavilion was to have guests ride in "hot air"� balloons and soar above the land, seeing the seasons of the year unfold below them. Of course, this idea never came to fruition. However, this is the reason we see hot air balloons hanging in the pavilion's central room.
Story 15: When Kitchen Kaberet was being planned, Bonnie Appetite was to have a cohost named Juicy Lucy. This idea was quickly dropped.
As the attraction neared its final stages of construction, it was decided to paint a wedding ring on Bonnie's finger. After all, this was a "family"� show.
Story 16: When United Technologies was considering sponsoring the Living Seas Pavilion, they were given extensive tours of the rest of Epcot. One of the delights they discovered was Figment and Dreamfinder. They could easily see how these two characters were tied to the Imagination Pavilion and how people identified with the characters and the product (Kodak). So the United Technologies people asked the Imagineers to come up with something similar for the Living Seas Pavilion. What the Imagineers sketched out was a crusty ol' seafarer to be named Captain Saltyfinder and his sidekick Mackerel which he would carry around beneath one arm. In reality, these characters were simply a rip-off of our friends over at the Imagination Pavilion. Needless to say, the idea never made it off the drawing board.
The "Makin' Memories: Epcot on Film"� part of the presentation was hosted by Imagineer Bob Garner and Disney author and historian Tim O'Day. This segment treated the audience to a number of film clips rarely seen by the public.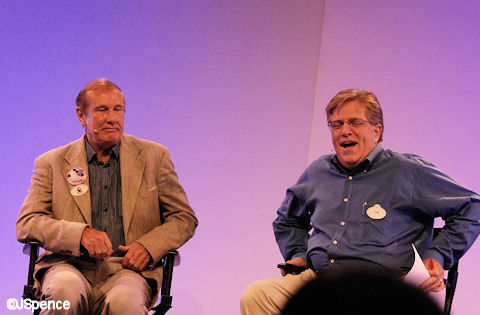 Story 17: Bob Garner was the gentleman responsible for filming Mickey standing on top of Spaceship Earth. Soon after the film's completion, Bob was reprimanded for creating this clip as no traditional Disney characters were to be included in Epcot. However, his superiors decided the clip was worthwhile and his footage was used in early advertisements. By the way, Mickey's only safety restraint was a rope tied around his feet.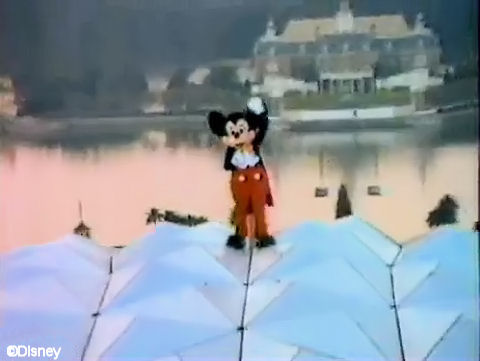 "Imagineering Epcot: An Extra Perspective Close-up of Things"� was hosted by Jason Grandt, Jason Surrell, and Alex Wright.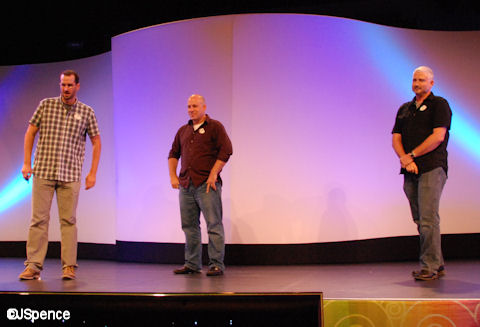 Story 18: Before Norway was added to the roster of World Showcase nations, restrooms could be found in this spot. Rather than tear this structure down, it was kept and the pavilion was built around this existing building.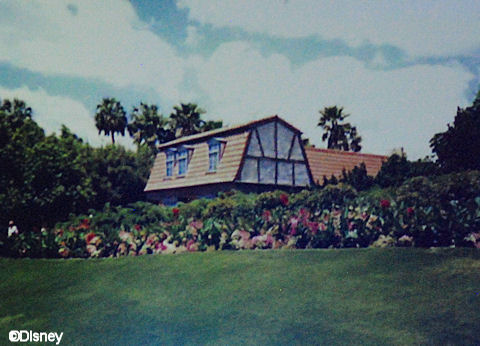 Story 19: The Imagineers wanted to create the first completely circular geosphere. However, engineers told them that this was impossible. At the very best, only 75% of a sphere could be created. Not accepting this answer, the Imagineers came up with a way to build that 75% on a platform above the ground and suspend the other 25% beneath this platform. Original plans for Spaceship Earth also called for the structure to be gold rather than silver.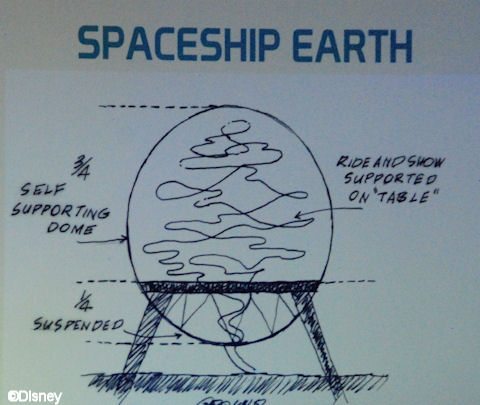 Story 20: The "friendliest"� building in Epcot can be found in the Norway Pavilion. For some unknown reason, the Imagineers decided that two buildings would "share"� one door between them.
Story 21: In the Germany Pavilion, Oktoberfest is celebrated year-round. To make sure the season is always "correct,"� the trees within the Biergarten are covered in autumn leaves.
Story 22: Disney Legend Blaine Gibson is responsible for the creation of the statues that grace the American Adventure Theater. He used his father's face for the Spirit of Self-Reliance. When Blaine first presented a sample of this bust to the Imagineers, they told him he looked too serious, perhaps even angry. Blaine countered with, "But that's how my father always looked."� Since a more upbeat theme was required for the show, Blaine recrafted the face and in doing so, gained a better understanding of his father.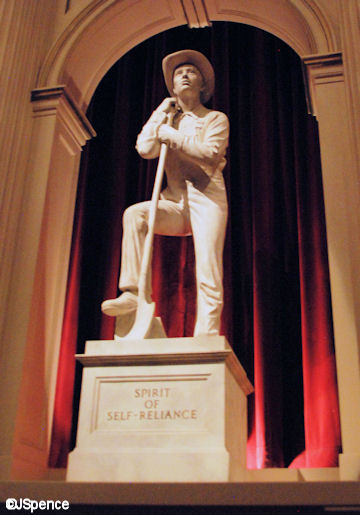 Story 23: During the Civil War segment of the American Adventure, the Imagineers wanted to depict a real location out of history. Yet they didn't want to photograph a real place in fear that Disney fans would soon discover this location and flock to it in droves. So they used the freight depot found at the Disneyland train station in Frontierland. The name Muller's Landing (a real place name) was added to the structure for filming. So tight was the shot that if the camera had moved as much as an inch to the right, the Haunted Mansion would have been visible.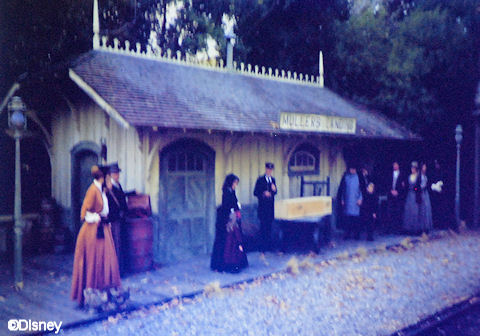 "We've Just Begun to Dream"� featured another panel discussion. This time Ron Logan, Carol Campbell, Gene Columbus, Gary Paben, Tony Peluso, Bob Radock, and Steve Skorijo. These folk from the entertainment field told stories about the grand opening ceremonies of Epcot, the most elaborate in Disney history.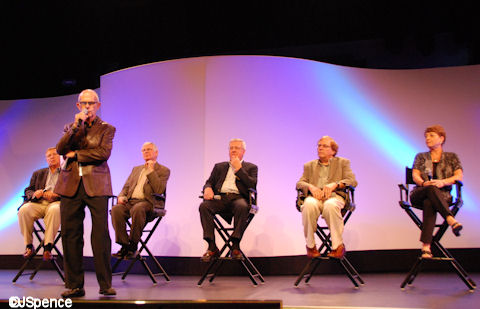 Story 24: The Entertainment Department knew they needed to have inspirational music to represent Epcot. To that end, they searched for the first instance of music being written down on paper. They discovered that this took place in ancient Greece with a tune containing only 37 notes. The Imagineers then took the first eleven notes from this piece to form the beginning of the Epcot fanfare.
Story 25: The very first Disney All American College Band was created for the opening festivities. For one celebration, all five hundred members lined the roof tops of CommuniCore and entertained the guests below.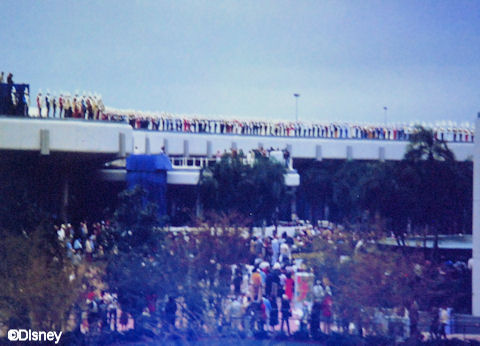 Story 26: The Fountain of Nations was not complete on opening day. The geysers had yet to be connected to an electronic control board and had to be operated manually. However, much of the park's opening day ceremonies revolved around this centerpiece as children from around the world were invited to pour waters from their homeland into the fountain. To make sure the fountain erupted and subsided at just the correct moment, plumbers were stationed backstage and took cues from others as to when to turn the water on and off.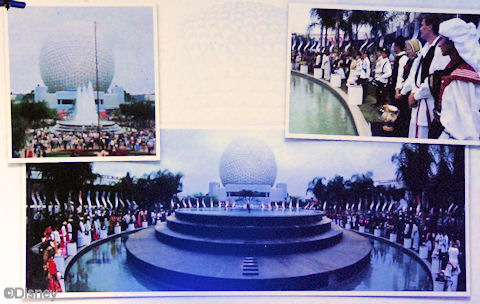 Daniel Joseph hosted "EPCOT Illusioneering and Beyond."� His segment discussed the many groundbreaking technologies that Disney has created to bring us state-of-the-art illusions in the attractions and shows we enjoy.
Story 27: Disney Legend Yale Gracey was a master at illusions and was responsible for many of the effects we enjoy in the Haunted Mansion and other attractions. He stated that an effect must be simple so it can be created somewhat easily. It must be elegant to as to impress the guests. And it must be repeatable as it would have to repeated hundreds or thousands of times each day.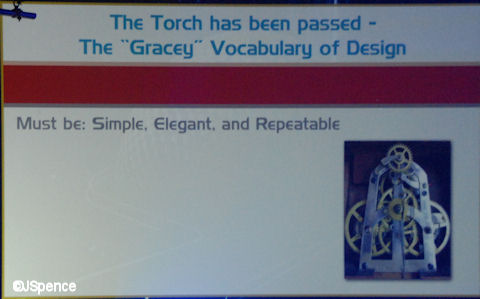 Story 28: Here is a partial list of some of the inventions to come out of Epcot:
Large scale coherent fiber optic displays
Largest hologram made to date
Smellitzer – Scent effects
Realistic lava effects
First polarized 3D movie (Magic Journeys)
State-of-the-art Laser lab and imaging facility
Some of the first video projectors ever used
One of the first users of laser disk digital playback
Polarized mural displays
In-house Disney (MAPO) manufactured projectors, lenses, fog machines, strobe lights, and mirror assembles.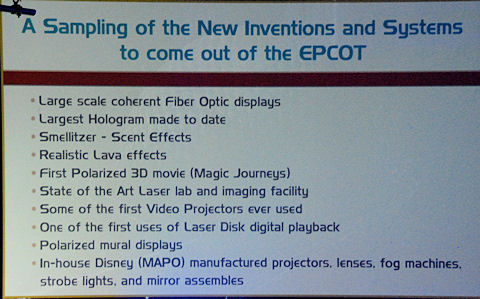 One of the highlights of the event was "Journey Into Imagination" with Tony Baxter. This Disney great shared a number of interesting details about this much-missed attraction.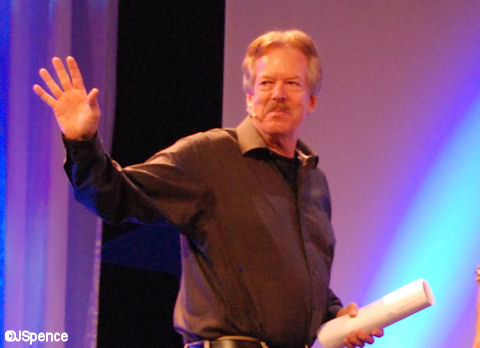 Story 29: Originally, Figment was to be green. When presented to Kodak they said "No way"� as their biggest competitor was Fuji Film who used green for the color of their film boxes. Kodak wanted Figment to be yellow and red to match their corporate colors. The Imagineers did not feel these colors were right and they went back to the drawing board. Eventually, everyone settled on "royal purple pigment."� However, yellow and red can occasionally be seen on a sweater Figment wears.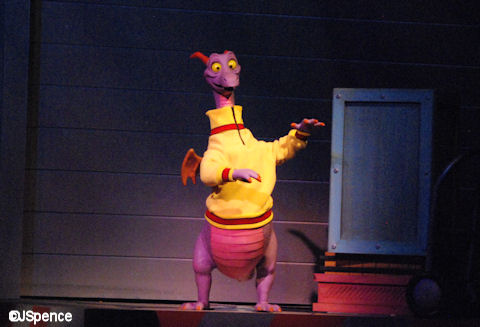 Story 30: The Imagineers were having trouble coming up with a name for our purple friend until one night when Tony was watching an episode of "Magnum PI."� In one scene, Higgins drones on and on about a "figment"� of his imagination. Hearing this, Tony instantly knew he had the perfect name for his dragon.
Story 31: In the original Imagination ride, there were three small "drops"� in the track. Early plans called for the cars to cascade over these in a mini-roller coaster fashion. However, the complicated ride technology would not support this effect.
The final segment of the event was titled "The Music of Epcot Center."� Hosts Russell Brower, Greg Ehrbar, Tim O'Day, and Steven Vagnini discussed the importance of a Disney score and how music adds life to an attraction.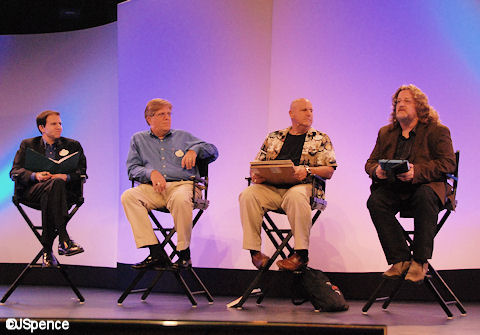 Story 32: As much of this segment was audio rather than visual, it is more difficult to share with you some of the discussions presented. But I can assure you, a number of Epcot standards were shared with us in ways we have never heard before. For example, we heard Joe Rohde perform a scratch track for Dreamfinder and Golden Horseshoe star Betty Taylor sang the Bonnie Appetite part in the Kitchen Kaberet attraction.
I have presented you with 32 "stories."� I can assure you, this was only a small fraction of the information shared with us. The audience gave the presenters rapt attention and were disappointed when each segment ended. When six o'clock rolled around, everyone was saddened that the event had ended so quickly. As people strolled out of World Showplace, they were mostly talking about the interesting bits of Disney trivia they had learned that day.
Below is a short video featuring conversations with some of the Imagineers who helped build Epcot. It also contains some great footage of the opening day ceremonies.