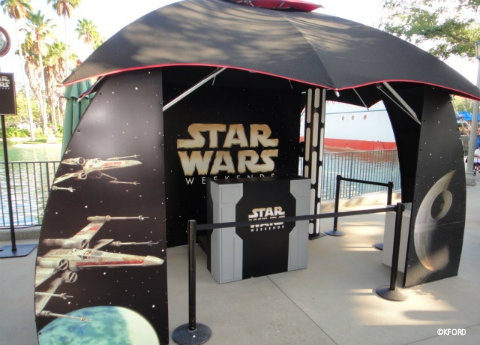 Last weekend's crowds again proved the popularity of Star Wars Weekends at Walt Disney World. And one of the biggest draws for park guests is the opportunity to meet Star Wars celebrities and get photos and autographs.
At many fan conventions, those privileges don't come cheap, let alone free. Consequently, guests line up early for the limited slots to meet their favorite Star Wars actors and personalities at Disney's Hollywood Studios. And when I say early, I mean before dawn.
Years ago, my young son wanted to meet Jake Lloyd (young Anakin Skywalker), so my husband and I tried to make it happen. We arrived at Disney's Hollywood Studios about 30 minutes before it opened. While Stormtroopers stood guard from atop the entrance, a small crowd waited for the turnstiles to open. When they did, guests raced back to Indiana Jones Epic Stunt Spectacular! to get FastPasses and ensure a spot to meet a celebrity.
The stampede among guests was so out of character for an event at Disney World, where organized queues are the company's specialty. Since that day, we've been to plenty of crowded passholder events through the years – including concerts featuring Jonas Brothers and Miley Cyrus – and none surprised us more than that experience.
Disney clearly has learned from those days and has implemented a FastPass system that doesn't involve putting on your track shoes. Guests are asked to line up along the right side of the main entrance to Hollywood Studios and the tickets are distributed to the queue. There is no need to rush past your neighbors when you get inside because you must have one of the tickets to receive a celebrity FastPass.
The published rules on the Star Wars Weekends map state that each guest may receive one FastPass — and you have to be present to receive the special ticket. In other words, one person cannot get celebrity autograph FastPasses for everyone in his or her group. After all the FastPasses are distributed for the day, a limited number of stand-by tickets will be issued. These tickets do not guarantee autographs, but they are offered in case a celebrity has time after the FastPass holders have had their turns.
So, how early do you have to hit the concrete for the golden tickets? Several cast members I spoke with advised guests to be in line between 5 and 6 a.m. for the park opening at 8 a.m. Earlier is better, they emphasized. They recalled one guest who camped out 44 hours before the first day of Star Wars Weekends. That certainly guaranteed the guest a FastPass, but it's not necessary, they said.
Ray Park, who plays Darth Maul, was the most popular ticket for the first Star Wars Weekend this year, the cast members said. He was very personable and chatty, though, and only got to a few guests with stand-by tickets before he had to get to his presentation in the park.
If you've joined the fans waiting for celebrity autographs, we want to hear about your experience in the comments.