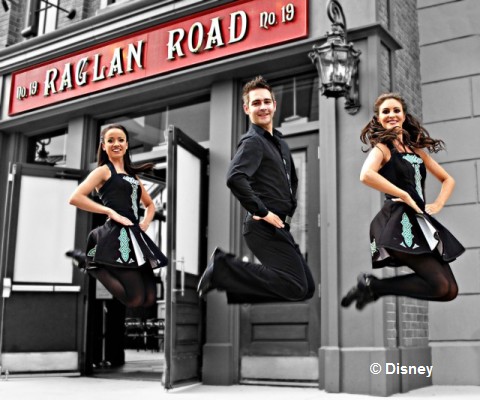 Non-Stop St. Patrick's Day Festivities March 15-17

LAKE BUENA VISTA, Fla. – Whether you're Irish or wish you were, there's one sure place in Central Florida where you'll find St. Patrick's Day festivities as authentic as the Emerald Isle's lush green countryside. Genuine Irish music, dance and cuisine headline a lively weekend of St. Patrick's Day events beginning March 15 at Raglan Road Irish Pub & Restaurant at Downtown Disney Pleasure Island.
The fun begins when Raglan Road's celebrity chef Kevin Dundon presides over a four-course kickoff Luncheon and Culinary Demonstration March 15 at 1 p.m. in the restaurant's Grand Dining Room. Dundon will demonstrate how to create each course, including a Loin of Traditional Irish Bacon with Irish Mist Glaze. Guests ready to "get their green on" can check out events that continue throughout late Saturday:
— March 15 and 16, beginning at 6 p.m. Irish bands Murphy's Law, known for modern Irish music, and The Irish Rogues, popular for ballads and other Irish folk tunes, perform on the restaurant's patio. At 6 p.m., house band Creel performs on the Raglan Road Main Stage – expect a few surprise guest appearances. Guests can order from the restaurant's lunch menu (11 a.m.-3 p.m.) and dinner menu (3-11 p.m.), which include favorites like fish 'n chips and Shepherd's pie.
— March 17, St. Patrick's Day, doors open at 11 a.m. House band Creel performs on the main stage at noon and at various times throughout the day. Entertainment on the patio steps off at 1 p.m. with Irish dancing from The Raglan Road Dancers and performers from the Watters School of Irish Dancing, established in Central Florida more than a decade ago to train young dancers for championship performances. U2 tribute band Elevation will bring down the house with renditions of U2's greatest hits. Guests can order from Raglan Road's dinner menu throughout the day, which includes the authentic Irish dish of St. Patrick's Day — loin of bacon and cabbage.
Pubs in Ireland have long been considered a place for families to gather. Following that tradition, Raglan Road is a place to meet friends and family and experience the Irish culture on St Patrick's Day and every day. Guests are encouraged to proudly wear a sprig of Shamrock as is the tradition in Ireland and participate in "the wearin' of the green."
Festivities at Raglan Road and in surrounding Pleasure Island areas will include face painting, stilt walkers, competitions, giveaways and plenty of St. Patrick's Day memorabilia. Throughout the event, the restaurant's Cooke's of Dublin will offer counter service favorites like fish and chips, battered sausages and deep-fried candy bars.
To book a table at the Signature Lunch ($45 per person, plus tax and gratuity), call 407/938-0300 or 407/WDW-DINE, or visit www.raglanroad.com. On St. Patrick's Day, guests will be seated on a first-come, first-served basis and a $10 cover charge (March 17 only) applies for guests 12 and older. Reservations can be booked on March 15 and 16.
Owned and operated by Irish partners and celebrity chef Kevin Dundon – famous for his five-star hotel and cookery school in Ireland – Raglan Road features traditional Irish dishes and new creations with a Celtic twist. The restaurant's warm interior of aged walnut and mahogany woods from old Irish bars and churches was built in Ireland and shipped to Orlando. Live entertainment nightly includes Irish house band Creel (Monday through Saturday) and Irish band Tuskar Rock (Sundays) plus Irish dance performances. Lunch is served 11 a.m.-3 p.m.; Dinner 3-11 p.m.; Bar menu 11 p.m.-late. Raglan Road Irish Pub & Restaurant is located on Pleasure Island at Downtown Disney in the Walt Disney World Resort, 1640 E. Buena Vista Dr., Lake Buena Vista, Fla.