I remember the first time I saw Mary Poppins, Walt Disney's Oscar winning movie which mixed live action with animation, when my sister and her boyfriend set me up at a drive-in theater on a blanket with lots of food and soda outside the boyfriend's car. I was too young to understand why I was outside but happy with the arrangement and the magic of the movie. I figured out why a few years later!
I recall that memory every time I am on the Great Movie Ride in Disney's Hollywood Studios when the audio-animatronic likenesses of Julie Andrews as Mary Poppins and Dick Van Dyke as Bert come into view singing the Oscar winning song, Chim Chim Cher-ee.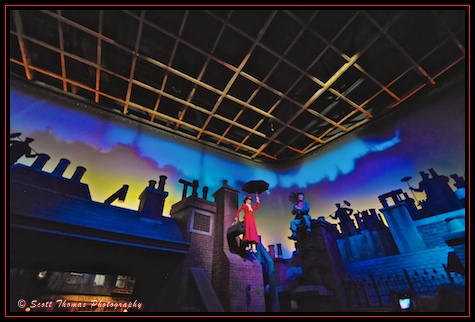 Mary Poppins and Bert singing inside the Great Movie Ride.
Nikon D700/Tokina 11-16mm, 1/80s, f/2.8, ISO 6400, EV 0, 16mm focal length.
Lisa will be here on Thursday with her Disney Pic of the Week photos about Mary Poppins.
As you read yesterday, Barrie is leaving Picture This! to concentrate on her business. Both Lisa and I will miss Barrie's weekly contributions and the work she did behind the scenes to keep the weekly themes on track. For the immediate future, the Disney Pic of the Week posts will be on Tuesday and Thursday.