So here we are, back on the Disney Wonder for another week of fun and food. Or maybe that's food and fun?
Since we did back-to-back cruises, the menus started to look a little familiar. Which wasn't necessarily a bad thing – it meant there were opportunities to try things we missed the first time, as well as the chance to have some favorites one more time. There was one new menu, the Taste of Alaska dinner – but I'll talk lots more about that when we get there.
I ate a little lighter on the second cruise, since apparently the sea air had caused all of my pants to shrink and they were feeling a little tight. 🙂 So be aware of that shrinkage factor when you go on a cruise.
After a lovely day in Vancouver, we re-boarded the Disney Wonder around 1:30 and went to Beach Blanket Buffet for lunch. It seemed to me that the food options here were every bit as good as what was available in Parrot Cay when we boarded in Los Angeles. (No picture of my plate though, sorry.)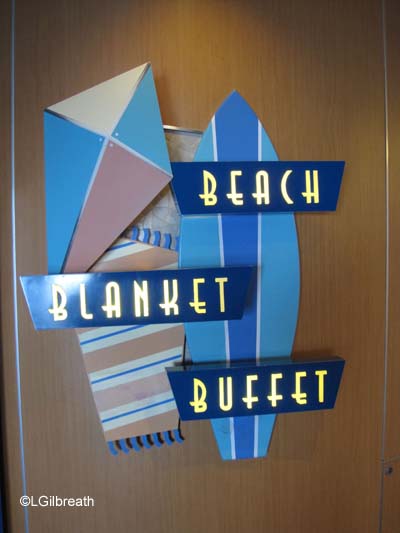 Our dining rotation was similar to what we'd had on the first cruise: Parrot Cay, Triton's, Animator's Palate, Parrot Cay, Triton's, Animator's, Parrot Cay. For some reason every cruise I've been on has had that rotation, so I've eaten dinner in Parrot Cay more than any other restaurant (we ate there three times on the repo cruise!).
We were thrilled to again have Balwan and Tita as our serving team – thank you Beci (and Tektas, our head server) for arranging that. I decided I wanted to get a photo of them every night in their different costumes, and they were very obliging. So here's the photo from Parrot Cay on the first night.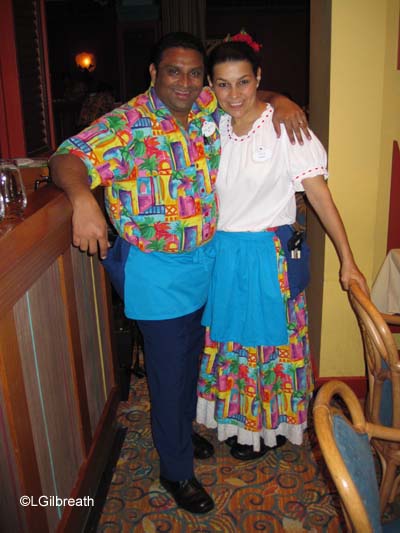 The dinner menu was the regular Island Menu. This is not one of my favorites – the entrees are good, but none of the appetizers and soups/salads particularly appeal to me. And the featured bread is banana bread with a banana spread – and I'm not a banana fan.
Anyway…I didn't order anything from the appetizer list, so my first course was the Parrot Cay Salad. This was a spinach salad with onion, mushrooms, bacon, and chopped egg. I ordered the dressing on the side, which I pretty much always do! It was a very nice salad, and the spinach was fresh and tasty.
Lee had the Baked Crab Dip Martinique. It's kind of a crab and cheese casserole. He enjoyed that.
His second course was the West Indies Romaine Salad – it looked like a caesar salad.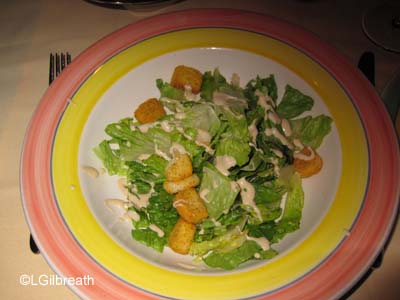 I was very disappointed in my entree – I ordered the Pan Seared Grouper with basmati rice and snow peas. I love the pan seared grouper at The Brown Derby, but this tasted really unpleasantly fishy to me – even Lee commented on it when he tried a bite. A couple of other people at our table ordered it and it seemed fine to them, though. Balwan offered to bring me something else, so I had him bring me some of the shrimp that were served on the Shrimp and Avocado Salad – Julian had ordered that and it looked really good.
Lee had the Braised Jerk-Seasoned Pork Chop – it came with a cornmeal cake, and was quite good – moist and flavorful.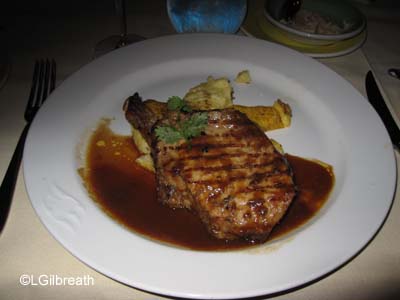 For dessert I ordered the Chocolate S'More Vanilla Cake. This was one I didn't order on the first cruise because it really didn't sound very chocolatey. But as I discovered, this was another one of the menu items where the written description didn't reflect the reality very well at all. The written description is: "Crackling Marshmallow Crust on Vanilla Cake filled with Chocolate, served with Dulce De Leche Sauce." It was really more like a thick fudgey mousse layer on top of a thin vanilla crust – I would not call that "vanilla cake" at all. And then a roasted marshmallow layer on top of that. I really enjoyed it – it was MUCH better than the description made it out to be!
Lee had the French Toast Banana Bread Pudding. Doesn't appeal to me, but he liked it.
Someone else at our table at the Lemon Meringue Pie It's very pretty, but rather small.
On our first At Sea day we had lunch at Triton's. This was my most disappointing meal of either cruise. We were seated at about 12:10, and wanted to make the 1:00 ranger talk – that should be enough time, right? Wrong…the service was very slow – it took a lot longer than it should have for us to get drinks, and then for our server to take our orders. I only ordered an entree, and in hindsight I should've asked the server to bring my entree when he brought everyone else's appetizer.
Lee ordered the Apple Walnut Salad. It was a perfectly nice salad, but I didn't take a photo of it.
They cleared the appetizer plates and then we waited, and waited, for our entrees – it was at least 10 minutes. So finally, at 12:52, I get my entree, the Turkey Melt Sandwich on Whole Grain Panini. It was pretty bad. #1, I'd asked them to leave off the Thousand Island dressing – and they didn't. #2, with a description of "panini" you'd expect it to be a hot sandwich, but no – the bread was toasted, but the inside was cold. I picked at the turkey (where it wasn't contaminated with dressing), and ate most of the potato chips, but then I was out of there to make the 1:00 talk.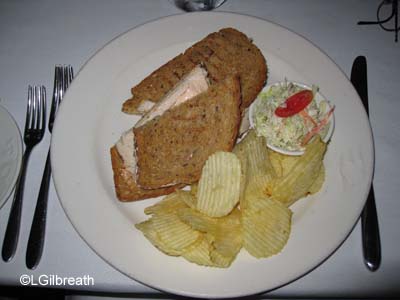 Lee ordered the Grilled Halibut, served on saffron rice. That looked pretty good, and I think he enjoyed it, but I didn't stick around to find out.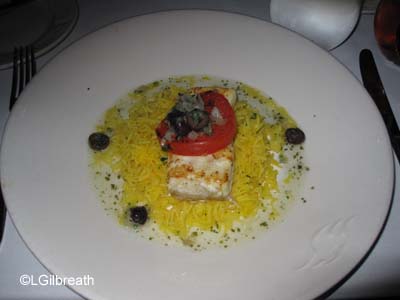 Dinner that night was the Golden Mickeys menu, and we were in Triton's. Here are Balwan and Tita in their formal attire.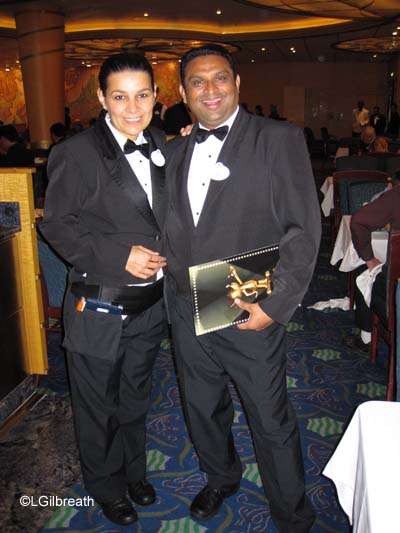 Even our napkins were formal! 🙂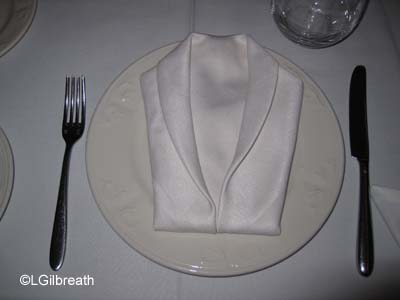 My first course was the Sangria Bisque – this was like a smoothie, only cold and not frozen, with lots of strawberries and a little red wine. It was pretty good.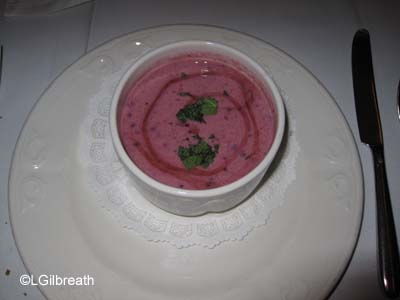 Lee had the Caramelized Bay Scallops. This was served on sun-dried tomato risotto. It was a pretty generous serving.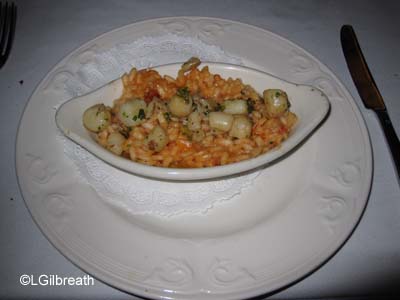 I also ordered the Salad of Mixed Baby Greens. This came with sliced pears and pistachios, with apple cider vinaigrette on the side. It was a very good salad.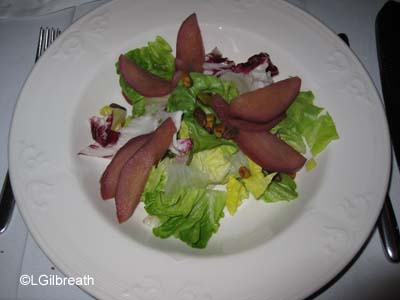 Lee had the Crispy Cheese Ravioli – deep-fried ravioli and a light tomato sauce. It was quite good – several people at our table enjoyed that one.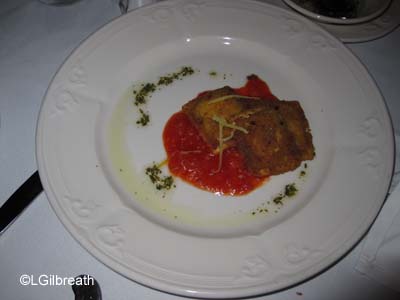 We both had the Oven-roasted Tom Turkey Breast – this was really good on our Med cruise last year. The turkey was good but the sweet mashed potatoes were a little odd, and the rosemary stuffing tasted like ginger – and too much ginger, at that. I enjoyed the green beans, gravy, and cranberry sauce, though.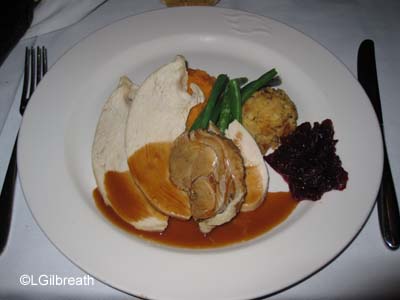 My dessert was (no surprise, I'm sure) The Golden Chocolate Award. I remember when this used to come with a chocolate golden ticket, but not any more. It was pretty good – a thick chocolate mousse with a chocolate cake crust and a layer of ganache on top.
Lee had the Triple Strawberry Sundae. It included strawberry and dulce de leche ice cream, strawberry sauce, caramel sauce, and whipped cream. With a smiling chocolate Mickey on top. 🙂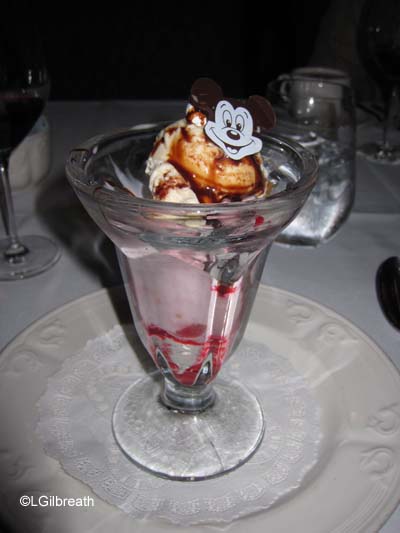 On the morning we went into Tracy Arm we had our character breakfast at Parrot Cay. Almost everyone at our table attended, and it was a lot of fun.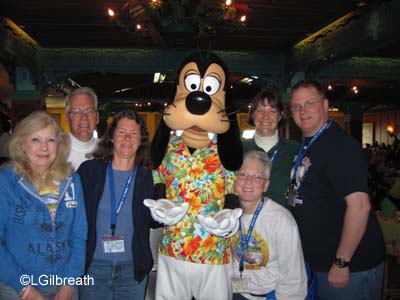 Breakfast itself is anti-climactic compared to the character experience. 🙂 It's an interesting menu -rather than entrees, this menu has all of the different breakfast items on it, and you just order what you want. I just asked for scrambled eggs, bacon, and wheat toast, but I got a hash brown potato patty anyway. The eggs were not cooked as much as I like them, so I didn't eat much of them. The bacon was good, though – nice and crisp, the way I like it.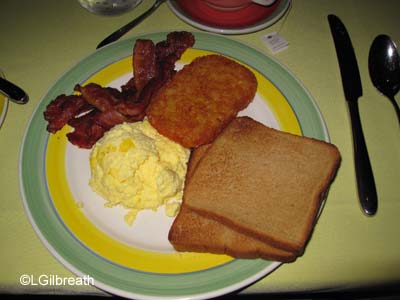 Lee had scrambled eggs, bacon, hash browns, and pancakes. I was surprised he ate all the scrambled eggs, because he dislikes undercooked eggs even more than I do.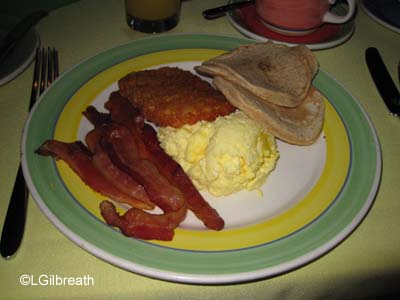 Our servers made all of us these really fun napkin hats.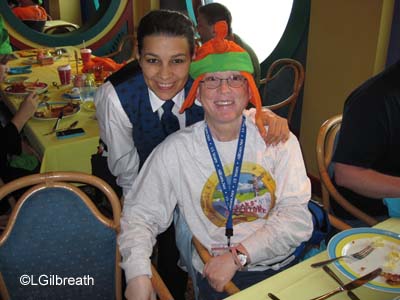 On Tracy Arm night we were in Animator's Palate. I enjoy the show here more than the show on the Disney Dream, and I especially enjoy the way that the restaurant and even the servers grow more colorful as the evening goes on. But, I just read the most recent Disney Cruise Line press release on the Fantasy, and it has some very exciting news about changes to Animator's Palate on board the Fantasy. This sounds MUCH more like what I was expecting, and I'm excited to see it next year!
But back to our meal in Animator's Palate THIS year…Here are Balwan and Tita:
The Animator's Palate show dinner has some of my favorite cruise line menu items. We both again had the Sesame-flavored Rock Shrimp and Caramelized Onion Cheesecake as my appetizer. One of those "favorites I get to have again". 🙂 But this time, for the first time in the four times I've had it, I could actually detect little pieces of shrimp that I could even taste.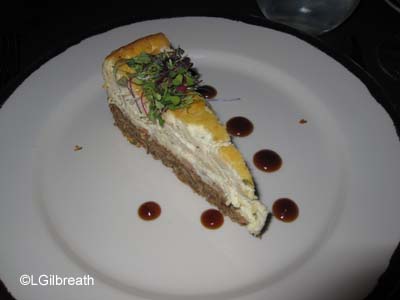 I usually get one of the soups, but this time I had the Smoked Salmon and Trout with Goat Cheese Salad. It was another excellent salad – just about all the salads I had on this cruise were quite good.
Lee had the Baked Potato and Cheddar Cheese Soup – I'm not sure why I didn't take a photo of this. But it looked an awful lot like this one from the first cruise. 🙂
My entree has been one of my favorites in the past – the Black Bean Chipotle Cakes. Despite having the word "chipotle" in the name, it has never been spicy before. But this time…wow. They were HOT. And it wasn't even the flavor of chipotle, either. Instead it tasted like someone got way too carried away with the chili powder. I barely got through one of them. I'd ordered a glass of Syrah with dinner, but Tita brought me a little bit of a Riesling because she said it would cut the spice – and it did.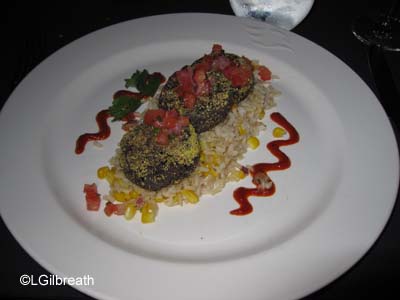 Speaking of that – Tita was very knowledgeable about wines, and her suggestions were really good. We enjoyed everything that she recommended.
Lee was also in the Animator's rut, and also ordered what he'd had on the previous cruise – the Asian Marinated Beef Tenderloin. His was just as good as it had been on the first cruise, though. 🙂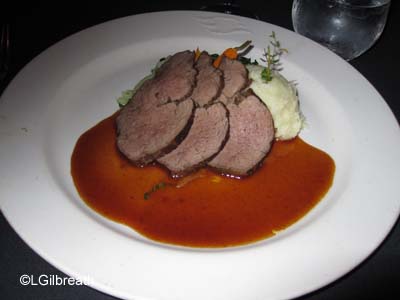 We both had the Double Fudge Chocolate Cake. It was pretty good cake – dark and moist. The whipped cream on top didn't do much for it, though.
And here's Balwan and Tita, looking far more "animated" than they did at the beginning of the evening. 🙂
The night we left Skagway was the menu I had been most looking forward to – the new Taste of Alaskamenu. And it did not disappoint – I wish I could have ordered off of that menu twice! Here's the menu if you want to check it out yourself.
This was the first evening the servers got to wear their new costumes!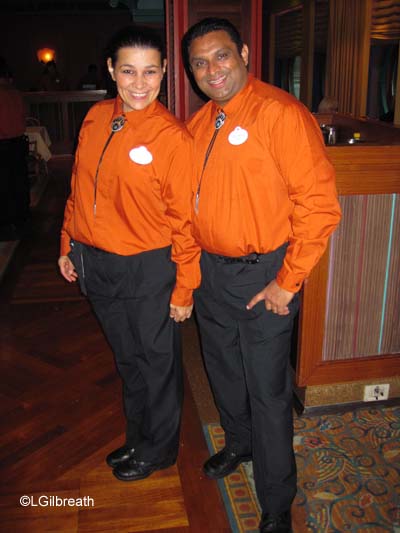 I tried one of the new specialty cocktails – the Cranberry and Cinnamon Spritzer This had vodka, cranberry and apple juice, cinnamon and club soda. The cinnamon gave it a very interesting flavor – it was quite good.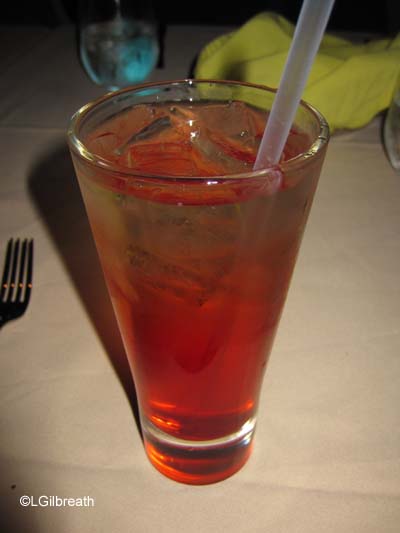 I selected the Green and White Asparagus Spears with garlic-tomato aioli for my appetizer. They were good, but cold.
Lee chose the Cheese and Carrot Souffle. There wasn't much "carrot" in it but it was really good. Warm and cheesy.
We both had the Yellow Pea Soup, topped with sour cream and bacon bits. It was also very good – had a little bit different flavor than a green pea soup. I don't know if that was because it had different spices or a different stock, or if the peas themselves taste different.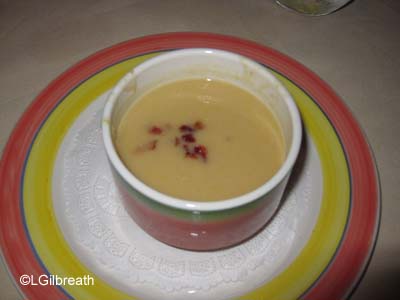 We also ordered the same entree – Honey-Mustard Marinated Alaskan Salmon. If you're in Alaska you have to have Alaskan salmon, right? It was awesome – I can't remember the last time I enjoyed a salmon dish so much. The honey mustard really complemented the salmon flavor. The sauteed spinach didn't do much for me but I enjoyed the new potatoes.
I think that was the night we had cheese rolls in addition to the featured bread, which was dark rye. They were both good, but the cheese rolls were especially tasty.
The desserts let me down a bit, though. I tried the Skagway Chocolate Truffle Torte. It was not a torte, at least not by my definition, nor was it very truffle-like. Darker chocolate would have been better, and more like what I was expecting. The white chocolate decoration on top was a nice touch, though.
Someone at the table ordered the Taste of Alaska Sweet Temptations, which included the chocolate truffle torte, poached pear hazelnut cake, and vanilla panna cotta.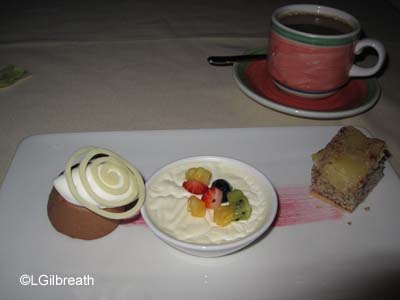 Lee ordered the Sticky Fig and Walnut Pudding, which again, I missed taking a photo of.
Several of us were intrigued by one of the no sugar added desserts – Chocolate Ganche and Mandarin Curd Tart. We all assumed this was a misspelling of ganache, but after we got it, there was nothing remotely "ganache" about it. The chocolate part was more like a sponge cake. It did come with these really bizarre pieces of "cocoa jelly", which was chocolate jell-o, I guess. It bounced and wiggled and was fun to play with. It did taste a little like chocolate. I've looked up "ganche" on the internet to see if I could find it, but all the references I found seem to be misspellings of ganache. So I still don't know what that is supposed to be.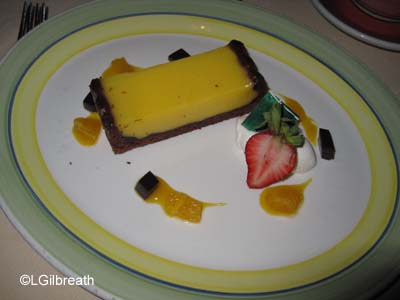 More coming in Part 2!