So you want to be a runner? You want to be able to lace up some snazzy running shoes, put on some sleek looking running gear, and enter races and bring home fancy running shirts, and if possible, a medal or two?
Well then I've got just the thing for you….my Princess Marathon Chronicles which will give you an idea as to what it's like to participate in a Walt Disney World race.
Sit back and read my first person account of the 2010 Walt Disney World Princess Half-Marathon and tell me if this does the trick for you.
Friday, March 5th
I went to the ESPN Wide World of Sports Complex to pick up my bib and racing pack. There was quite a difference in the number of people picking up race packets for this March race as compared to January's race.
I am one of some 500 gentlemen who had chosen to run in the 2010 Princess Half-Marathon and would be surrounded by approximately 14000 princesses.
My race pack included a purple running bag and a frilly running shirt"¦fit for a princess but not this prince.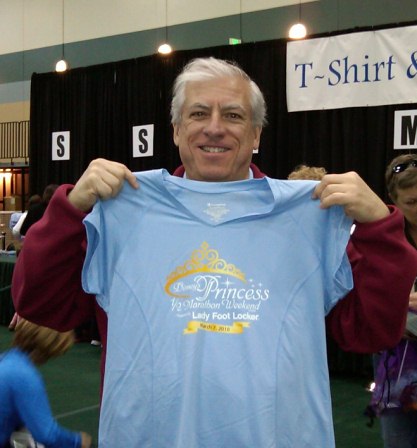 My running bib had my name (Michael) followed by my bib number (5198) followed by the name of my favorite princess (Belle).
That night before going to sleep I decided to browse through the "Official Storybook Program" that came with my race pack.
Page 24 had some interesting medical information regarding pain relievers and supplements. Runners were cautioned to avoid taking non-steroidal anti-inflammatory drugs (NSAIDS) like Advil, Motrin, Aleve, ibuprofen, aspirin, and naproxen within 24 hours of running.
The fear is that these pain relievers may cause hyponatremia, which is a metabolic condition in which there is not enough sodium (salt) in the body fluids outside the cells. Thus there was a concern that they may be harmful to kidney functions.
So the recommendation was to not take anything but an acetaminophen (e.g. Tylenol®) until six hours AFTER finishing the race.
This was not a welcomed bit of information to me because for the last two and a half weeks I had been nursing an injured sciatic nerve on my lower left back and my doctor had prescribed these NSaids for me. It looked like I had to put a moratorium on using them for about a day or two…how would I be able to get through the race?
The best way I can review the race is to recap how my day went and sort of take you along for the ride"¦erh run.
My wake-up call was for 2 A.M. I needed to give myself some extra time to work on my back and loosen it up if I had any chance of even starting this race.
As it was when I went to sleep I did not even know whether I would wake up feeling well enough to run.
I had spent the night before laying out my running gear and getting everything ready, wanting to save as much time for treatment as possible.
Saturday, March 6th
As always I was awake well before the alarms and the wake-up call but did not get up until the wake-up call arrived.
I got out of bed and my back had a dull ached but it was really not that bad.
I took the hottest 15 minute shower I could handle with the hot water pounding my right lower back.
I slowly got dressed and everything seemed to be okay. Just before leaving the room I took some Magnesium Oxide which both my primary care physician and Chiropractor suggested to help prevent back spasms from popping up.
I also took my handy bottle of Tylenol for after the race.
I left my room at around 3 A.M. and arrived at EPCOT around 3:30 A.M. where I met up with Team AllEars teammates Brad Garfinkel and Jessica Cutler as well as a few other friends who had participated in a sort of Scavenge Hunt in EPCOT the day before, Caroline Baggerly and Terry Gaff.
Soon we were joined my my WDWTODAY Podcast colleague Len Testa who apparently cleaned out all the Orlando area of hand warmers and was passing them out…..unfortunately they did not work.
This morning was unlike that cold, wet, and windy morning back in January. Sure it was a bit chilly"¦.something along the line of 45 degrees.
That felt like a heat wave as I did not have to wear four layers of running gear, gloves, and a hat as I had some eight weeks ago.
We walked down to the corrals, about a mile and a quarter distance, and then waited for what seemed to be a week and a half"¦.but it was actually an hour….before the race started.
The pain in my lower right back kept playing Russian Roulette with my emotions"¦.saying to me, "So whaddaya think Mike, do ya think I'm gonna let you run? Or do you think I'm just gonna let you start and then WHAM hit you hard and leave you for the sweeper bus?"
I spent the hour rubbing my lower back and wondering what the morning had waiting for me…or the first mile at least.
I have to give credit to Mother Nature for the inspiration because if it was not for the cold, wind, rain, and sleet on the morning of the WDW Half-Marathon I probably would not have found myself back at WDW in early March later facing another 13.1 mile trek"¦but there I was"¦back in one of the corrals.
I was in Corral C. That meant my corral would start seven minutes after Corral B, which would start its race seven minutes after Corral A.
As each corral is released the one behind moved up.
I got my ipod ready"¦. didn't get it going real well in January"¦fumbling with gloves and all"¦.no gloves today.
Got my watch ready….ready to start it as I crossed over the Start.
Next Installment: The Princess Marathon: The First 10K