Today, (September 17), I attended a press event to kick off Cat Cora's new restaurant. Located on the Boardwalk, Kouzzina replaces Spoodles and offers Greek food with a home-cookin' flair.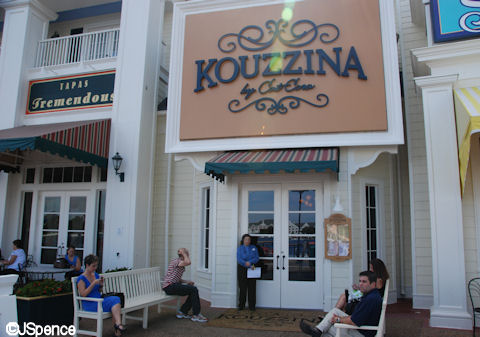 Guests were greeted by cast members offering glasses of Pellegrino and lime.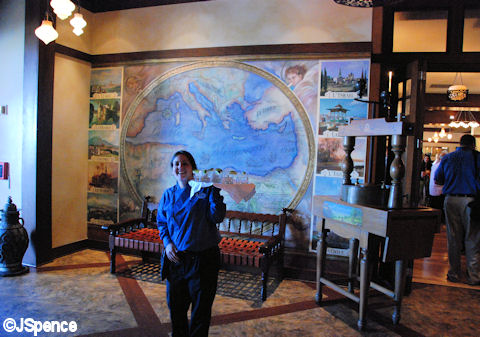 As soon as I entered the restaurant, I could tell a good time was in store. Greek music filled the air as a live combo entertained. (This was for the press event only.)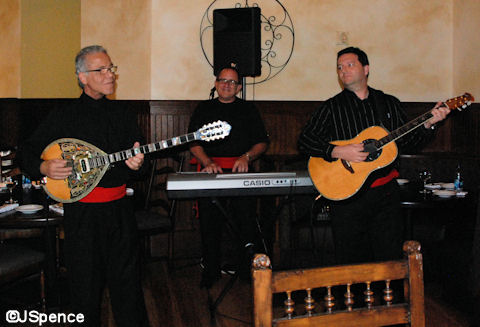 Before finding my table, I wandered the restaurant. I was able to snap several of the chefs preparing today's selections in the show kitchen.
A real wood-burning brick stove is on hand to provide authentic flavors to the breads and other oven dishes.
Eventually I found my table which was set for the abundance of food to come.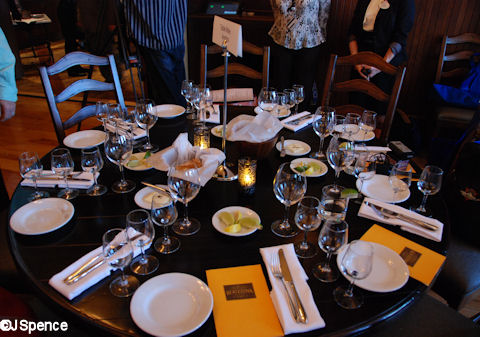 The afternoon started off with Al Weiss (President of Worldwide Operations for Walt Disney Parks and Resorts) welcoming Cat to the Disney family.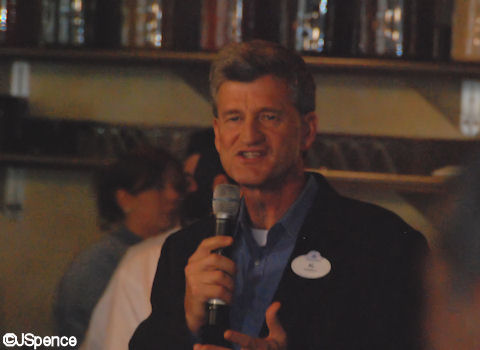 After his opening remarks, Cat took center stage and thanked us all for joining her on this special day. She also introduced her parents, her partner Jennifer, and their children.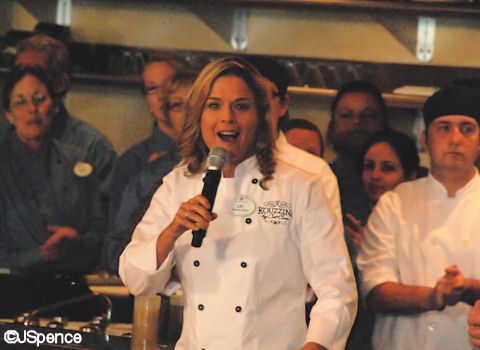 Next, Cat introduced Chef Dee, an eighteen year Disney veteran who will oversee the day-to-day operation of Kouzzina. We were then all asked to lift our glasses of ouzo and drink a toast to the success of this new venture.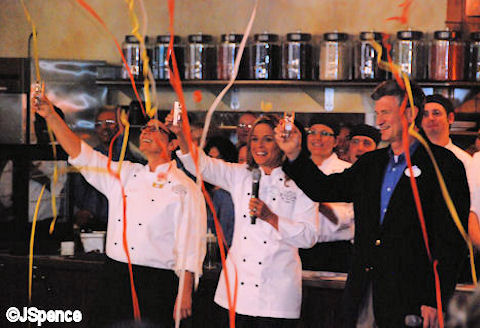 Today's event was intended to give the press a sampling of many of the delights available on the menu. Please remember, the pictures I'm showing you here may or may not be served to you as you see them photographed.
Our first dish was Spiro's Greek Salad. This contained vine-ripened tomatoes, arugula, cucumbers, red onions, Kalamanta olives, and feta cheese. This was a refreshing starter, simple, yet satisfying.
Served with the salad was Kouzzina Spreads. Here we had grilled pita bread with three toppings, Harissa Yogurt, Kalamata Fig, and Chickpea Hummus. Several of us agreed that we could make a meal out of this appetizer.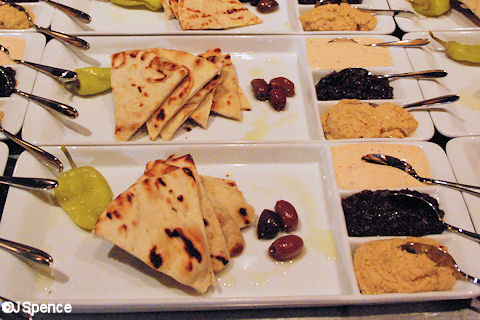 Another appetizer served was Spanakopita. This is a traditional Phyllo Pie filled with spinach, feta cheese, leeks, and dill. It was light and flakey, just like Phyllo should be. Sorry, I was so caught up in the moment I for got to take a picture.
Our first entrée sample was Pastitsio. This is a Greek-style lasagna with Bucatini pasta, cinnamon-stewed meat sauce, and Bechamel. When I saw the word "cinnamon" I was concerned, but needn't be. I could certainly taste this flavor, but it didn't overwhelm. I definitely think that this dish would be enjoyed by picky, younger eaters. Once again, I was caught up in the moment and forgot to take a picture.
Cat said she wanted to include a burger on her menu, but she wanted to do it with a twist. To that end she created the Oak-grilled Lamb Burger served with olives and feta. Now I'm not a fan of lamb, but this burger was okay. I could certainly taste the distinctive lamb flavor, but the garnishes made it more than palatable. Considering my feelings about this meat, this is high praise. Be forewarned. This sandwich has a spicy kick. We all said "whoa" and wiped out brows after the effect set in.
Fisherman's Stew was next. This contained a generous helping of scallops, seasonal fish, shellfish, fennel, grilled bread, and Ouzo butter. I found this stew to be very good, so good that I went back for seconds. However, I can't say that there was anything out of the ordinary about this dish. It was tasty, but something that I might find in any seafood restaurant.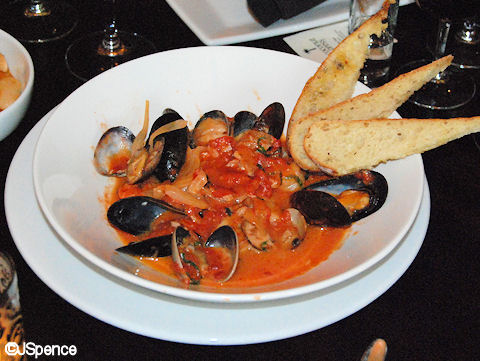 Our final entrée was the Cinnamon Stewed Chicken. Combined with tomatoes, herbed orzo, and Mizithra cheese, this was my favorite of the main dishes. Once again, the cinnamon added a nice flavor and the orzo was to die for.
A number of side dishes were also presented during the meal. The first was Chilled Salt-roasted Beets on Skordalia (a thick puree). If you like beets (I do), you'll like this sampling. The Skordalia had a mild flavor that complemented the stronger taste of the beets quite nicely.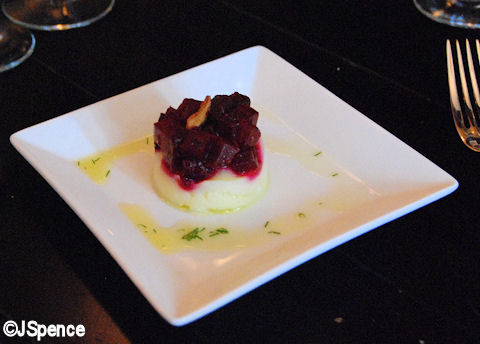 When the Sautéed Brussels Sprouts with capers and lemon were served, Cat made an announcement. She assured us that if we didn't like the Brussels sprouts that our mothers served us as a child (me), there was a good chance we'd like her recipe – and she was 100% correct. They were excellent. I went back for seconds.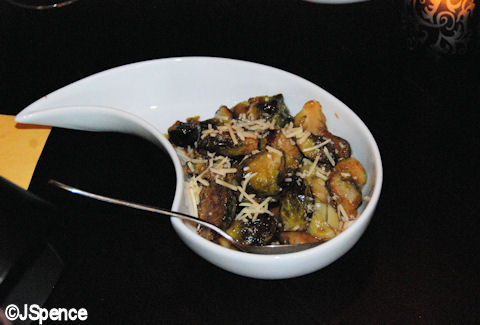 The final side dish served was the Oven-baked Gigantes Beans with tomato sauce and olive oil. Think big white-beans. I was pleased with this offering, but given a choice, I'd pick the Brussels sprouts.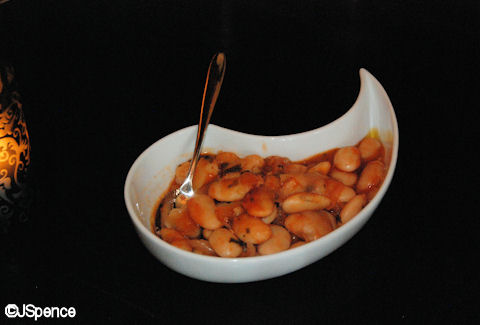 For dessert we were given a sampler plate that contained Chocolate Budino Cake, Baklava, and Greek-style Yogurt Sorbet. The Chocolate Budino Cake didn't do a thing for me. Maybe you have to be a chocoholic to really appreciate it. The Greek-style Yogurt Sorbet was good and lite. I could see myself ordering this. But the stand out was the Baklava. I was in heaven.
Also for dessert we were served Tableside Frappe. This drink contains coffee, milk, and natural sugar served over ice. I'm not a coffee drinker so any opinion I would offer would be meaningless. But it was served nicely.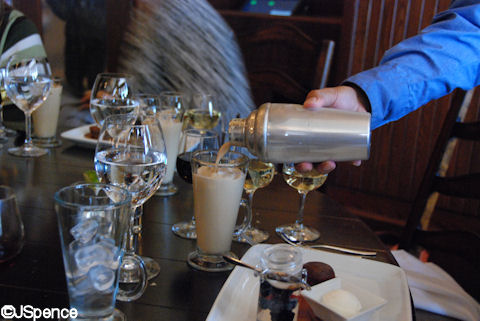 Cat also offers her own wine label called Coranation. These include Sauvignon Blanc from the Napa Valley, Chardonnay from the Russian River, and Pinot Noir, from the Sonoma Coast. All had nice bouquets and discernable flavors.
The afternoon ended with the servers, cooks, and Cat's mother taking to the floor and dancing around the tables while waving napkins. The mood was festive to say the least.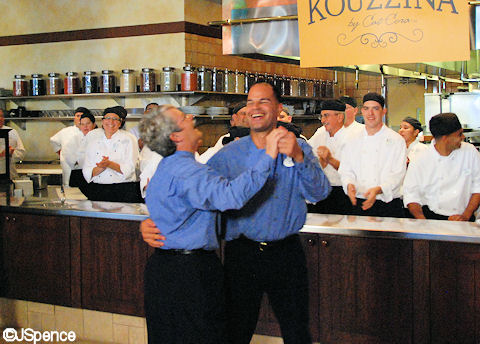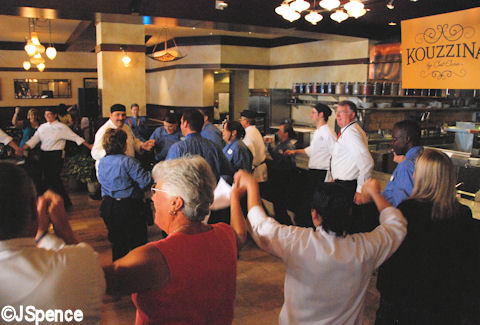 Cat Cora and Kouzzina are a nice addition to the Disney line-up of restaurants. I'm looking forward to coming back here and trying some new selections and some of the treats I learned about today.
For those of you who know little or nothing about Cat, here is a very brief synopsis of her career.
No stranger to Disney Magic, Cora has hosted instructional cooking demonstrations for Disney Video on Demand and has been a featured chef at both the EPCOT International Food & Wine Festival and Disney's California Food & Wine Festival at Disneyland.
It's no surprise Cat Cora has become a world renowned chef. Her culinary aspirations began at an early age, and by 15, she had developed a business plan for her own restaurant. In 2005, she made television history on Food Network's Iron Chef America as the first and only female Iron Chef, and in November 2006 Bon Appetit Magazine bestowed her with their Teacher of the Year Award, an award she calls, "the greatest recognition she could achieve as a chef." That month, she was also honored with another great culinary distinction when she was named Executive Chef of the magazine. With a new restaurant recently opened at Macy's South Coast Plaza and Kouzzina at Walt Disney World, Cat has brought a taste of her culinary influence to both coasts.