Emerald Isle – Day 6 – Ring around the Kenmare
It was 6 am when the alarm went off telling me to get out of bed and get ready for the final moving day of the adventure. Our next home away from home is a real castle " and I cannot tell you how excited I am about that!
But first there is breakfast at the hotel and a long drive and a lot of things to experience in front of us.
I crown thee, King Puck
One thing I learned" the Irish love their livestock. And not just for their wool. As we traveled through the little town of Killorglin we learned about an annual ritual where they actually crown a goat, King Puck. No.. really.
August 10th marks the beginning of a 3 day festival where a wild goat is crowned King Puck and is treated like royalty for the duration of the celebration that attracts up to 100,000 visitors. The festivities include music, drinking, a fair, a little more drinking, and dancing – with a side of drinking.
There are several theories about the origins but the tradition but one says it started back in the 1600s and its theorized that a goat alerted the town to the advancing military of pillager Oliver Cromwell. (never mind that Cromwell was likely never made it that far west". But that's not the point my friend. Pour those guys another Guinness!)
Surfing" In Ireland?
Really! Our first stop was Inch Beach. A 2 mile stretch of sand on the Dingle Peninsula where the tide can actually recede up to a mile out at low tide. The coach pulled up to a restaurant with a coffee bar so we grabbed a mocha and made our way out to beach.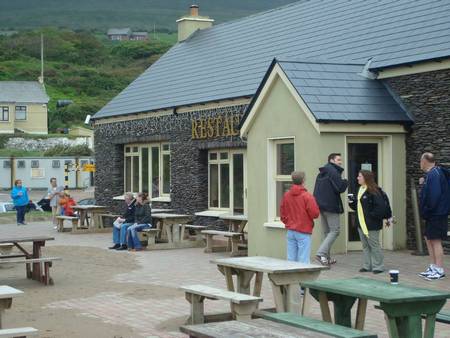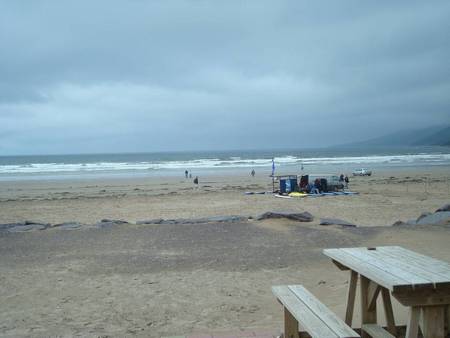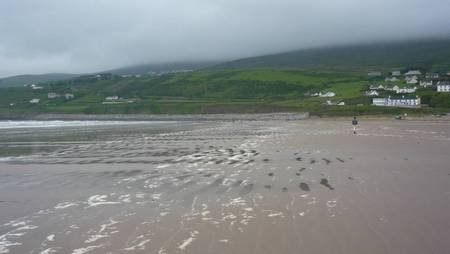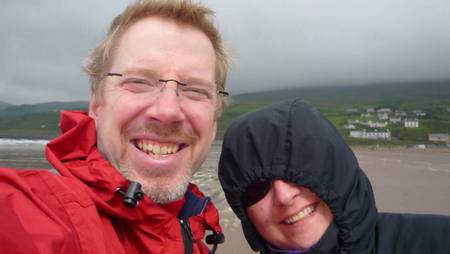 Adare
Just 10 miles from Limerick City, featuring thatched roof buildings and home to a major golf course, Adare is renowned as one of Irelands prettiest villages.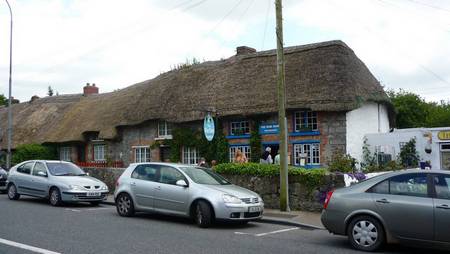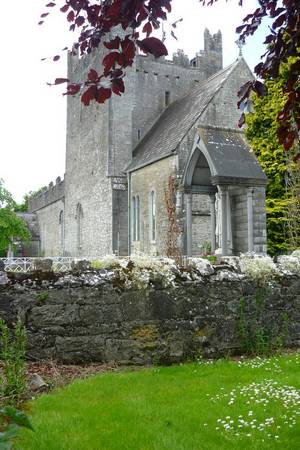 We were on our own to explore a little and find a spot for lunch. There were many places to choose from and we ended up at a corner pub. They had a nice selection of sandwiches, fish and chips, etc. And those who prefer liquid lunch, they seem to be really well stocked with Guinness.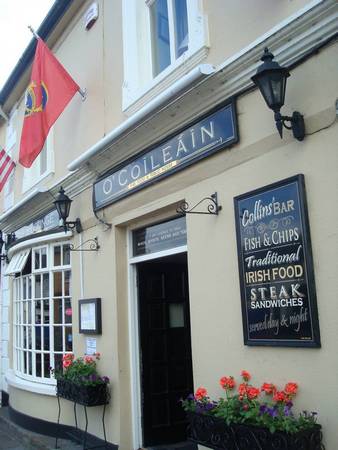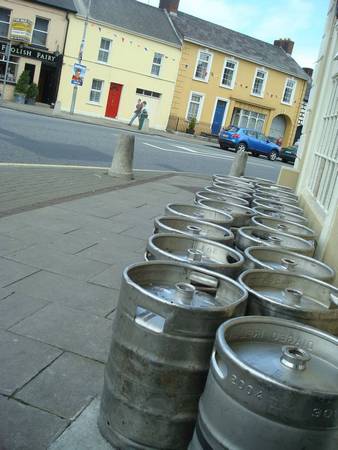 Random Ruin Alert!
After some time exploring the picturesque town, we climbed back on board for the coach for the last leg of the drive to Dromoland Castle.
One of the great things about traveling on a coach is that you are free to let your eyes wander and take in the beauty of this land. I must say, it's astonishing to see the number of random ruins along the journey. Of course we have seen many historical structures on this trip and you would expect to see these as a tourist attraction, or off limits due to safety issues, etc.
But it's amazing to see these incredible pieces of history, many dating back before the US was a twinkle in anyone imagination, just standing there. In the middle of a field, next to a river, or even next to a modern house.
Some out on the horizon and others just yards off the main road. What happened in these structures? If walls could talk – what a tale they would tell huh? Here are a couple we spotted today.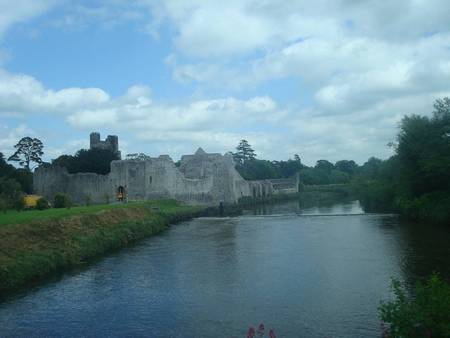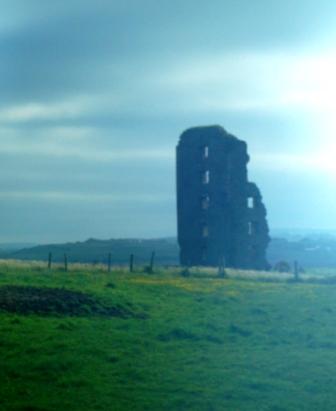 Missed an entry? Here's the link to the entire Emerald Isle Blog to date!
MouseFanTravel President Beci Mahnken is a veteran of 4 Adventures By Disney trips, more then 50 cruises including 18 with Disney and countless Walt Disney World and Disneyland adventures. Read her blog on the London and Paris Adventure by Disney. Here is her blog on the Backstage Magic Adventure!