In case you missed my first 2 blogs:
Part 1 – Event Eve and Saturday
It takes weeks to really absorb everything that happens on the Walk. Here I am 3 weeks later and the memories still fill my mind remembering people, stories and images… they stay with me for a long long time.
The Walk is a very emotional experience… from laughter to tears and all the emotions in between. One aspect I really really like is that this is NOT a race. It is a walk. We are all winners. From the moment you sign up for the event your personal experience begins and you have done more than most of the people you know to help fight a terrible disease.
For the first time ever, I signed up at Event Eve for 2010. What really surprised me were how many folks I met who signed up for 2010 and had never done a walk before, 2009 being their first. What drive and commitment.
Some folks are concerned about the fundraising. I know people for whom this has been the deterrent from signing up. I can only encourage you to face this fear and just DO IT. People will surprise you. For some, the money comes rolling in. For others, it requires more work. But hard work is part of the journey. We are not only raising funds but we are raising AWARENESS. There are lots of fundraising ideas out there…. and some take the extra effort. But, you CAN do it!
For others, the thought of walking so many miles is daunting. The simplest advice is to just take one step at a time. On my 2nd walk in 2002, we walked from Baltimore into Washington DC. When I look at the map I am blown away. If I had looked at the map before I started, I may have been scared and wondered, Can I Do This? Instead, I just started training; one step at a time. Find a team if you can.. they will help you a great deal and share their experiences with you. It IS very doable. Each year, thousands of people of all shapes and sizes walk many many miles to support the cause. You can too!
One of my teammates took this photo. No idea who these ladies are — it really shows the true grit and determination of those who walk.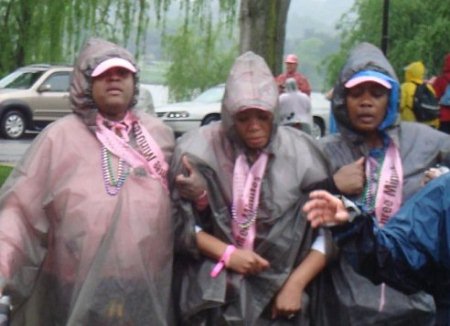 This year, one of my Seneca Sisters, Denise, had done something to her ankle playing volleyball a couple weeks before the event. She was in a pink cast. That would have stopped many people, may have even stopped me. But Denise went out and rented a small scooter. She walked many many miles, with her cast resting on the scooter and her good leg pushing her along. She could have chosen not to walk and no one would have thought less of her. Instead, she went out and walked. Even on Sunday in the pouring rain, she did 5 miles like that. There are no words to describe her courage and devotion to this cause.
In this photo, Helene is giving Denise a short break and pushing her along the route.
I suppose if I had any disappointment, it was not being able to stay for the Closing Ceremony on Sunday. For me, this is always the culmination and closure to an incredible weekend. As I mentioned in my Part 2 blog, it had poured rain most of the day. I was not only soaking wet but very cold. Had the weather been warm, I would have stayed. But I had been sick the week leading up to the walk with a bad cold. Even still, I did all my mileage. But, I didn't want to end up with pneumonia, so I left before closing. I know many of my Seneca Sister teammates stayed and represented those of us that needed to leave.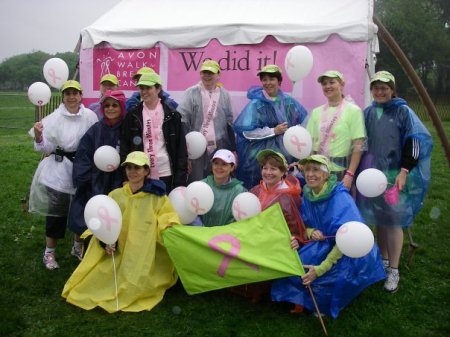 The monday after the walk, the Seneca Sisters have a luncheon – it's usually the first time we see each other in "real clothes" not training clothes. It's a wonderful opportunity to share stories.
At the luncheon, one of my fellow survivors, Hetty said it best: " Most people at the walk are not survivors; yet, you wouldn't know that because of the dedication and energy that you have that makes it so much easier for us survivors to keep on going!"
I want to thank everyone once again for all your support, financial and emotional! It means the world. To the over 870 donors we really kicked it up a notch this year! Thankyou.
I set a very very ambitious fundraising goal this year, especially considering the economy, $50,000! I am now 90% to my goal at $44,870! I will keep fundraising a while longer in hopes of reaching that goal. I should! I just sent checks in for over $2,500. I am so very very proud to be the #1 fundraiser in Washington DC – 3rd time in the last 4 years.
TOGETHER WE CAN AND DO MAKE A DIFFERENCE!
Over 870 of you supported my Walk with donations from around the world – US, Canada, the United Kingdom and Japan! That is amazing!!!!
I thank every person who thought of the walk, who donated, who sent emails and cards and who sent good thoughts and prayers.
I would be remiss if I didn't mention Team AllEars®. This is a group of 50 people who have signed up to run the Walt Disney World full or half marathon in January 2010. Led by co-captains Michelle Scribner-MacLean and Mike Scopa, each person on the team has committed to raising $500 for my Avon Walk for Breast Cancer. When Mike and Michelle approached me with the idea, I was humbled. What an amazing opportunity. I also knew I couldn't let these folks commit to this undertaking without joining them. So today, I am publically announcing that I have signed up for the January 2010 Half Marathon! I will be joining my fellow teammates, Team AllEars as we embark on this journey. While I have walked 13 miles, I had the leisure of time. The half marathon has a time limit you must finish in to get a medal. I have lots of work to do to improve my speed. But I take with me the memories and experience of 10 Avon walks and all the folks I have met on this journey. I'm sure you'll hear more about it in this blog over the next several months.
I would not have been able to raise this incredible amount of money without my business and Disney Community sponsors. I thank you SO much for joining me in this fight against Breast Cancer: MEI and MouseFanTravel, Gaylord Palms, Owners Locker, All Star Vacation Homes, MagicMeets fans, Celebrity MagicTunes, WDWToday Podcast, DVCbyResale, Celebration Magazine, Happy Limo, Koma Writing Services, Kissimmee Guest Services, Maple Leaf Tickets, DIS Community, Cruising Co, Effortless Events, Yesterland, and Tagrel.
Special thanks for all my friends (especially Linda) who support me every step of the way. A very special thanks to my dear friend Ms. Dee Vah who has been raising money for me each December on the Disney Wonder cruise ship! Here she is with Mike and Matt of WDWToday.com Podcast:
One never knows the people they touch with their lives. You also never know when breast cancer will touch someone you know! After the walk in 2001, the captain of my training team was diagnosed with breast cancer. She jokingly said "Haven't all these walks given me a Pass Card?"
Just in the time between finishing this walk and now, a dear friend of mine has been diagnosed. Good news is it was caught VERY early. Too many people, men and women, get breast cancer. The fight must continue!
My heartfelt thanks to all of you!